Land a cheap flight to Lisbon
With flights to Lisbon taking just under three hours, and plenty of direct flights there from the UK, it's an easily accessible city break for us Brits. The great weather is also a welcome perk.
Key points
Lisbon has one airport, which is close to the city and the Marina
Compare layover vs direct flights, ticket classes and various airlines to find the right flights for you, for a smashing price
Airlines can charge many prices for the same ticket during its shelf life, so don't rush into booking your flights to Lisbon and do your research!
Lisbon is a place where modern meets old, with the contemporary Parque das Nacoes just a 25-minute drive away from Belem, a historic area of Lisbon, with lots of landmarks and distinctive buildings.  
Flights to Lisbon 
Lisbon has one main airport, Humberto Delgado Airport, which is more commonly referred to as Lisbon Airport.  
The airport is located just over four miles from the city of Lisbon, and three miles away from Lisbon Marina. Pretty close, then. 
September and October seem to be the cheapest months to get flights to Lisbon, with the summer period (June, July and August) tending to be most expensive time to travel.  
Direct Lisbon flights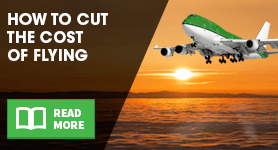 You can get direct flights to Lisbon from airports in London like London City, Gatwick, Heathrow, Luton and Stansted.  
Manchester, Bristol and Liverpool also have direct flights to Lisbon. But for other UK airports, you'll have to look into layover flights.  
Unless you can afford a private plane of course! #daydreaming 
Layover flights to Lisbon 
A layover, or multi-leg flight, involves stopping off at another airport before arriving at Lisbon, like going from Glasgow, to Amsterdam, to Lisbon.  
UK airports that offer indirect flights to Lisbon include: 
Birmingham 
Glasgow 
Cardiff 

Edinburgh 
Exeter 
Leeds 
Norwich 
Southampton 
Belfast 
Layover flights can work out cheaper than flying direct. But it's worth comparing various flights to Lisbon to see not only which options are cheaper, but also which options are more suitable for your needs.  
Splash out or save up? 
As well as choosing whether to pick a direct or multi-leg flight to Lisbon, your ticket class can affect the price too.  
Economy class tickets are usually the cheapest, and they get you standard seats and legroom, and a basic choice of food and drink. 
Premium economy costs a little more, but gets you slightly bigger seats.  
For the ultimate in-flight experience, first or business class are the options to go for, but be prepared to pay a fair bit for them. With first-class tickets, you get bigger, roomier seats, and more variety when it comes to buying food and drink. Sometimes extras, like free pillows, a glass of bubbly and snacks are included.  
As it only takes a short time to fly to Lisbon, getting extra-comfy seats and a wider selection of food doesn't matter so much, but on longer-haul flights it could make all the difference.  
If you want to get first-class tickets for less, have a look at what the perks are for a business-class ticket, as these are usually cheaper, and you may find the benefits are quite similar, if not a reasonable compromise.  
How to beat back the price of your flights to Lisbon 
Speaking of top tips for cheaper flights to Lisbon, here are a couple more: 
Go compare with GoCompare! Sorry, that was cheesy, but by comparing your flights to Lisbon, you can easily see cheap flights and most suitable options. Filter them by things like your budget and preferred airlines to see results that better suit your needs.  
Booking early could also save you some money through early-bird deals. If you're a daredevil, try looking for some last-minute savings.  
Airlines can charge a number of different prices for the same seat in the course of its shelf life, so shopping around and being as flexible as possible really could save you money! 
You could use the few extra quid saved to buy a famous custard tart from Lisbon, or an 'I love Lisbon' keyring. Who doesn't love a good holiday keyring?  
By Amy Smith