Compare flights to and from London
One of the busiest cities in the world, London is far more than just the capital of the UK. Buzzing with a lively variety of culture, history and art, it's one of the most-visited cities in the world. So, if you're wondering where to fly to, try London on for size.
Key points
You can get cheap flights into and out of any of the six London airports
Prices mainly vary depending on when you book your ticket, but are also affected by travel class and destination airport
London services flights to and from destinations all over the world
The six international airports of London make up the busiest airport system in the world. They handled 170,980,680 passengers in 2017, so if you fancy a flight to (or from), it's worth looking into all six to find the right one for you. 
That's where we come in. We can help you compare flights to London with ease. Sit back, put your seatbelts on, and put up your tray tables – we're flying to London. 
Flights to London 
London calling? If so, you can get to the city by plane from all over the world. Although the majority of destinations connected to London are in Europe, you can get direct flights into the city from as far away as Los Angeles. It can take 10 hours or more to do so, but it is feasible.  
The price of your flight is likely to vary depending on which airport you're flying from, but also which of the six destination airports you're flying into. Prices also differ between airlines, and even the time of day you fly can have an impact on the cost of your seat. 
Speaking of the six airports in and around The Big Smoke, they are:
Heathrow, 16 miles west of central London, which handles over 50% of the city's passengers
Gatwick, 28 miles south of the centre
Stansted, 39 miles north-east
Luton, 34 miles north(ish)
London City, just nine miles east of the centre
Southend, which is 40 miles - you guessed it - east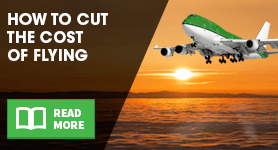 Lastly, we know London is one of the poshest cities ever, so if you want to go door-to-door in style and fly first class (or business class if you're attending a super-important business conference in The City), this will definitely affect the price of a ticket. But, if you're flying in to have lunch at the Ivy before taking in a West End show and enjoying a few nights in the Dorchester, this presumably won't be a problem! 
The following routes and rough prices were correct in June 2018. 
Cheap flights to London 
If you're planning to come to the UK for a holiday, or if you just fancy a truly British cup of tea, you can get some relatively cheap flights into the UK.  
Even flying from somewhere as far away as LA needn't break the bank. Depending on when you book your flight, you may only be paying as much as £160 for a single flight into Gatwick in an economy-class seat. 
From somewhere closer to home, you could get a direct flight from Lyon into London Southend for as little as £20. 
You can even enjoy a domestic flight within the UK for less than £70. Again, this does depend on how far ahead of time you book your flight.
Did you know...?
The London Underground is the oldest metro system in the world
If you're journeying from the other side of the world, or you can't avoid a flight with a changeover, you may end up paying more for your flight to London. 
From Auckland, for example, you might have to endure a changeover in Singapore before getting to London. For those choosing to make this trek in economy class, a seat could set you back as much as £380 one-way. 
If you want to fly in comfort and style in first class, the price is roughly ten times that much – though for all the pleasures of first class, this might just be worth it! 
Cheap flights from London 
Although London receives millions of flights a year, it also sends out just as many. After all, it's not like us Brits can get a bad suntan here at home! 
The airports of London mainly send flights out to Europe, but do send them further afield. You can, if you're lucky, get a direct flight as far as Perth, Australia. The first one of these flew in March 2018, but you'd usually change over in Singapore or Hong Kong. 
London's airports also act as hubs for a wide variety of British and international airlines. Examples include British Airways, Norwegian Air Shuttle, Virgin Atlantic (all at Gatwick), Emirates, Iran Air and Thai Airways (at Heathrow).  
See also:
The flights going out from London can be just as cheap as flights into the city. An economy seat on a flight to New York from London could be as little as £200 if booked far enough advance. It might not be direct (going with Norwegian Air Shuttle may result in a stopover in Oslo – some 762 miles in the wrong direction), but a long-haul flight doesn't have to be prohibitively expensive either. 
Tips for cheap London flights 
Flying to or from London, you can go all over the world. You can get a flight to Dublin, Edinburgh, Paris, Rome, Barcelona and Bali – name a city and you can fly there from London. You may not get a direct flight, but it won't necessarily break the bank either. 
So what's the best way of getting a cheap flight? Well, we know of this great comparison site that lets you rank by date, class, departure airport, and even whether the flight is direct or not. Yes, we're blowing our own trumpet – but it's a service worth shouting about. So go compare your London flights! 
By Nick Dunn