Find cheaper flights to Lyon in a flash
If you feel like a holiday in the hills, but with a particularly continental twist, you can't go far wrong with a trip to Lyon. Flights out can be very cheap, so we've come up with some tips for getting you the right one.
Key points
The price of a flight will mostly depend on when you book it
Which airport you depart from and which airline you fly with will also affect the ticket price, as will the travel class your seat is in
Getting a direct flight to Lyon could be cheaper than one with a changeover
Lyon, also known as the Capital of Lights, is famous as the birthplace of the film industry. So, if you're a film buff looking for a holiday with some history, look no further. With our flight comparisons, we can help you hop the Channel and get a plane there in no time. 
Cheap flights to Lyon 
A quick 460-mile journey is all that separates London and Lyon, so the flights out don't need to break the bank. The prices will vary by travel class, departure airport and airline, but will also differ depending on how far ahead of your chosen date you book the ticket. 
To save the most money on your flight, buy your ticket as far in advance as possible. If you're feeling brave, or spontaneous – or both – you might be lucky enough to get a cheap ticket two or three days before departure... Some airlines slash their prices in the run-up to take-off so as to fill any empty seats.  
All the following airlines and rough prices were correct in June 2018. 
London to Lyon Flights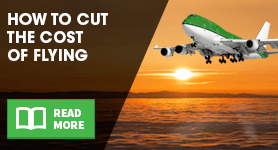 A return flight in an economy seat could be as cheap as £50 with Flybe. A night out in either city could cost as much, so a flight at this price is not to be sniffed at. 
Depending on how comfortably you like to travel, an economy seat might just be the best value for money. Although a first-class seat would make the flight pass by in the lap of luxury, you could be looking at having to take a platinum-priced flight on Emirates airlines. You'd then have to go all the way to Dubai, and then double-back on yourself, just to get to Lyon.  
So, although, a first class flight to Dubai would be a wonderful experience, it's perhaps not one to enjoy on the way to France when cheaper and quicker flights are readily available! A more economical choice might be a business-class ticket. It'll set you back about £200 or more, but will give you all the comforts of a business-class seat. 
Within London, the price of flights is as likely to differ based on which airport you go from as it is based on which airline you fly with, and when you book your flight. A single direct flight out of London Southend may be cheaper than one out of Gatwick, for example. Always compare first to be sure. 
Flights to Lyon from Manchester 
It's a touch more expensive to fly directly to Lyon from Manchester than from London. A return flight, going direct both ways, may be as expensive as £160. But, if you're willing to take your time in getting to Lyon, you could changeover in London Southend for about half that price.  
The prices mainly vary depending on when you book and which airline you fly with, so bear that in mind when looking up your flights. 
Flights from Birmingham to Lyon 
Journeying from the birthplace of heavy metal to the birthplace of cinema is also a tad more expensive. For a return flight in an economy-class seat, you might be looking at paying about £130 with Flybe.  An indirect flight with Lufthansa, changing over in Munich, could cost you about £170.  
Costs will differ depending on how far ahead you book your flight and which airline you fly with, as well as whether you get a direct flight. 
Top tips for a cheaper flight 
So, now you've read our info on the flights to Lyon, what are you waiting for? Go compare flights to Lyon! Our quick and easy flight comparison service should hopefully help you make the right choice. You can filter by departure airport, airline, price, travel class, and most importantly by date to get the right flight for you. 
By Nick Dunn