Flying to Madrid? Don't forget to GoCompare!
Madrid became a European Capital of Culture in 1992. Almost 30 years later, tourists from across the globe still flock to this beautiful city in droves. You can get there too by comparing flights.
Key points
Booking up early or at the very last minute could help you shave a notable amount off the cost of your airfare
Avoiding flying at weekends and during busy times of the day can also result in savings on flight costs
Comparing flight costs using our comparison service can easily help you identify some real bargains
Whether it's the allure of the culture, the draw of the city sport, or the scent of the chocolate-dipped churros, Madrid is a city loved by holidaymakers the world over. 
If you happen to fall into that category and are planning a trip to the Spanish capital, chances are that flights will be a necessary evil you'll need to check off your holiday checklist. 
Luckily, we've got the lowdown on your high flying right here. Read on for everything you need to know about booking up flights to Madrid. 
Where can I get direct flights to Madrid from UK? 
With just 786 miles separating the two, direct flights to Madrid from London typically last around two and a half hours from take-off to touchdown. Plus, as a popular European destination, direct UK flights to Madrid are also commonly available at a number of other airports nationwide.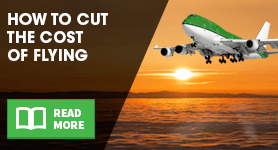 In addition to London Madrid flights, direct flights from Bristol to Madrid operate on a daily basis, as do flights from Edinburgh to Madrid. Meanwhile, flights to Madrid from Manchester are also available at different points throughout the week. Direct flights are also available from Birmingham, Liverpool and Glasgow, albeit on a less frequent basis. 
In addition to these cities, indirect Madrid flights are also available at a wide variety of airports nationwide. What's more, indirect flights can sometimes work out cheaper than direct routes, so these could be worth considering if you're playing with tight purse strings and loose change. 
How do I find the cheapest flights to Madrid? 
If you're on the hunt for a low-cost flight, being flexible can help you get a lot further, a lot quicker for a lot less. Flight costs can vary from one day to the next, and the ability to arrange a flight a day or two either side of your ideal departure day can be the difference between paying over the odds and bagging a real bargain. 
Flying outside of peak times can also yield a hefty saving. Avoiding busy times of day and opting for flights either late at night or early in the morning can be a simple way to schedule your flight economically. Similarly, avoiding the weekends can also prove fruitful, with Tuesday and Wednesdays typically the cheaper nights of the week. 
In addition to that, prices tend to fluctuate from one airline to the next. As such, Ryanair flights to Madrid could end up cheaper than BA flights to Madrid. If price is paramount, opting for a budget airline over a premium flight provider could be your cut-price ticket to a dream holiday. 
Did you know...?
Madrid is home to the largest bullring in Spain. The Plaza de Toros de Las Ventas has a seating capacity of 23,798, and has played host to a number of gigs as well. Previous performers include AC/DC, Coldplay and even The Beatles.
How to save even more money on Madrid flights 
When it comes to saving money on flights to Madrid, when you book your flights can have a profound effect on the overall cost of your airfare. 
For the prepared and organised, booking up early can be especially rewarding. Flight costs tend to creep up gradually as the weeks and months progress, so the earlier you book the better. An early booking can often translate into an early-bird price as well. 
On the other hand, leaving your booking until the very last minute can also result in a pleasantly surprising price. Airlines tend to cut the cost of unsold seats the closer it gets to departure day, so an opportunistic eye could well spot a bargain at the eleventh hour. Although, it's worth noting that this is a riskier option, as there may well be no seats available at all. 
Whether you're an early bird or a late bloomer, it's well worth taking your flight journey for a stop over at the GoCompare comparison lounge. A simple search could save you money in the blink of an eye and could help you find a cheap available price instantly. 
Prepare to land 
While there are technically over a dozen airports and helipads in Madrid, there's one that stands tall above all else as the true king of Madrid air travel. That airport is Adolfo Suárez Madrid–Barajas Airport (MAD). 
Commonly referred to as simply Madrid-Barajas Airport, this popular landing strip is the primary international airport in Madrid, the busiest airport in Spain and the largest airport in Europe. MAD is found within the city limits of Madrid, roughly eight miles north-east of the Puerta del Sol and just six miles from the city's financial district. 
With numerous shops on display and a comprehensive supply of duty-free outlets, you won't be stuck for places to go if you're looking to indulge in a dose of retail therapy. Meanwhile, the variety of restaurants and cafes on hand will satiate even the most insatiable of appetites, whether you're craving fast food and a beer, or a sit-down meal and a glass of wine. 
For the business minded, there's also a healthy supply of VIP lounges dotted throughout each terminal, with around half a dozen of these locations around the airport. These areas typically include free WiFi, catering and computer equipment – as well as other services such as showers and a relaxation area – should you need to unwind before or after a flight. 
By Martyn Grant