Find cheap flights to Malaga with GoCompare
If you feel like a sunny getaway, where better to go than the Coast of the Sun itself? Get your factor 50 on, pack your beach towel, and let's get you a good flight out of here... To Malaga!
Key points
The price of your ticket to Malaga will vary mostly by which airline, travel class and departure airport you use
Your flight date and time will also affect the price
You may have to endure a changeover somewhere like Paris or Brussels
Malaga is one of the oldest continually-inhabited cities in Europe, and a great holiday destination. It might have a reputation for boozy Brits on an all-inclusive holiday, but there's more to this city than meets the eye. Full of museums, historical landmarks and more besides, it's no wonder that holidaymakers flock here every summer. 
So what are you waiting for? Let's get you on a good flight over to the Costa del Sol! 
Cheap flights to Malaga 
Getting out to Malaga is a fairly simple affair, with plenty of direct flights going from all over the UK. Some will include changeovers in places like Brussels or Paris, but many of the cheap flights will go directly. 
Prices will vary based on which airport you fly from, how direct the journey is, and which airline you fly with. And, of course, how far ahead of your departure date you actually book your ticket.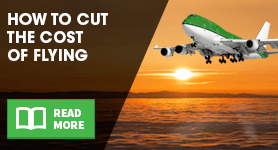 The following routes and rough prices were correct in summer 2018. 
Flights to Malaga from Manchester 
If you're looking to escape Manchester for a sunnier holiday in the Mediterranean, you can get a direct return flight with Ryanair for around £140 in an economy seat. The price might vary depending on when in the day you want to fly, however. Going earlier in the day may be more expensive than an evening flight. 
Those hopping over to Malaga for a business conference, and so looking to enjoy the benefits of a business-class seat, will be paying just a shade more than this. A business-class seat could be as expensive as £500, or more for a flight that involves stopping over briefly in Paris Charles de Gaulle airport. 
Did you know...?
Malaga enjoys an average of 300 days of sunshine every year
easyJet flights to Malaga 
Being a British company, easyJet can - *ahem* - easily meet the demand for cheap flights around Europe. It's fairly unsurprising to see them charge as little as £40 for a single economy flight direct to Malaga. 
For easyJet flights, the time of day your flight leaves, and which airport it leaves from are the main factors in the price difference. So it may be cheaper to leave Luton Airport at 7pm than it is to leave Gatwick at 4pm, for example.  
Flights to Malaga from London 
Because London's airports operate the lion's share of flights into and out of the UK, most of the direct flights to European destinations will leave from London. This tends to mean that flights from London are cheaper than from Birmingham or Edinburgh, for example, because you don't have to change over at a London airport. 
But for those Scots and Brummies looking to work on their tans, it might be much of a muchness whether you change over or not: the cost of transport to London may negate any savings on the price of a ticket. 
That said, it's hard to argue with the appeal of a £70 return flight direct from Luton when the same flight from Edinburgh is twice that amount and stops over in Paris both ways! Any differences in the price of tickets will largely depend on which airline you fly with, the airport you depart from, and what time of day the flight is. 
How to get cheap flights to Malaga 
So, if you feel like lounging on the sun-soaked beaches of Malaga, we can help you get there. With our handy flight comparison service, you can compare flights by travel class, airport, airline and date of departure. Then all that's left to do is to pack for your Costa del Soliday. Buen viaje! 
By Nick Dunn