Looking for a cheap flight to Menorca? Look no further...
Heading off on your summer holidays and want to find a great deal? Compare cheap flight prices to Menorca and see what you could save.
Key points
Take your pick from 21 UK airports for direct flights to Menorca during the peak summer season
Budget carriers, tour companies and premier airlines all offer direct flights to Menorca
There are no direct flights during winter – you'll probably transfer in Barcelona or Madrid
Menorca is the easternmost of Spain's Balearic Islands. Maybe that's why it's also the most chilled and the least developed of the Balearics? This rural island is charming, with beautiful beaches and prehistoric monuments protected from tourist sprawl. Since 1993 it's been a UNESCO Biosphere Reserve. So if you want to get back to nature, then you'll need to check out flights to Menorca. 
Menorca flights 
If you're flying to Menorca then there's only one place you'll be landing, and that's Menorca Airport, the only one on the island. 
Menorca Airport / Aeroport de Menorca (MAH) 
It's sometimes called Mahon Airport after the nearest city and capital of Menorca, Maó-Mahón. This small, tidy airport is three miles outside Mahon and has good connections to resorts around the island. You'll find a couple of cafes, bars and restaurants here, as well as the usual duty-free style shops.  
Which UK airports fly direct to Menorca?  
It might be easier to list where doesn't have direct flights to Menorca in the summer. Ready?  
Did you know...?
Mahon is the home of mayonnaise. France occupied Menorca in the 1700s and brought it back to Paris.
Belfast 
Birmingham 
Bournemouth 
Bristol 
Cardiff 
Doncaster-Sheffield 
East Midlands 
Edinburgh 
Exeter 
Glasgow 
Leeds-Bradford 
London (City, Gatwick, Heathrow, Luton, Southend, Stansted) 
Manchester 
Newcastle 
Norwich 
Southampton 
But if you're going in winter then there's no direct flights from anywhere in the UK. 
How long does it take to fly from the UK to Menorca? 
Flights to Menorca from London take two-and-a-quarter hours. The flight times from Glasgow to Menorca are closer to three hours.  
Compare the price of flights from UK airports to Menorca 
The following info on airlines and airports was correct in summer 2018. But things can change in the aviation game, so try a quick online comparison to see the latest routes and fares.  
Flights to Menorca from Manchester 
If you're leaving Lancashire for the Balearics then you've got the choice of three airlines. Jet2.com, Thomas Cook Airlines and TUI Airways have direct flights during the summer. 
Flights to Menorca from Birmingham 
The same three airlines as Manchester - Jet2.com, Thomas Cook Airlines, TUI Airways - fly direct out of Birmingham too. 
Flights to Menorca from East Midlands 
If East Midlands Airport is more convenient then Birmingham then you've got even more choice. Jet2.com, Ryanair, Thomas Cook Airlines and TUI Airways all fly direct in summer. 
Flights to Menorca from Bristol 
Menorca is also in easy reach for travellers in the West Country. Thomas Cook Airlines, easyJet and TUI Airways have direct flights during the summer holidays. 
Flights to Menorca from London 
Menorca is one of the few places that does the clean sweep of all six airports around London. 
City = British Airways 
Gatwick = British Airways, easyJet, Thomas Cook Airlines and TUI Airways 
Heathrow = British Airways 
Luton = easyJet and TUI Airways 
Southend = easyJet 
Stansted = easyJet, Jet2.com, Thomas Cook Airlines and TUI Airways 
Find the best dates and airline for you with a quick comparison. 
How do I get to Menorca in winter? 
The only flights to Menorca in winter are from Spanish cities: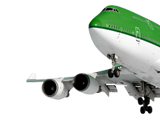 Barcelona 
Madrid 
Palma de Mallorca 
Valencia 
If you're flying from the UK then you're likely to be transferring in Barcelona, which is well connected to the UK throughout the year.  
Do I need a visa for Menorca?  
Menorca is part of Spain. As such you don't need a visa if your passport describes you as a British citizen or subject. If you plan to stay for more than three months, you'll need to contact your nearest Oficina de Extranjeros.  
Top tips for cheap flights to Menorca 
While lots of people head to the Balearics during the summer, the big increase in flights there means that prices don't shoot up. But if you can travel either side of the school holidays then your money will go further. 
Here's a few more things to think about when looking for cheap flights to Menorca: 
With a flight time of less than three hours, standard economy should be dandy 
International flights tend to cost less Monday to Thursday compared to weekends 
Flight tickets can be heavily discounted in the hours before they fly, if there's any left 
A less stressful method for cheaper tickets is to book well in advance  
If you can play around with your dates you're more likely to find a bargain 
Buying two singles rather than a return with one airline can be cheaper 
Flying indirect can be cheaper, but this tends to work better with long-haul flights 
Also find the time to fit in an online search – you might be surprised with what you could save.  
By Sam Easterbrook