Going to the shopping capital of the world? Go compare flights to Milan!
How can you save money on your flights to Milan? Be to flight comparison what Gigi Hadid is to modelling by having a gander at this.
Key points
Compare flights to Milan to view a variety of flights. Filter your results by things like flight type, airline and departure airport, to narrow down your search
You can get direct flights to Milan from UK departure airports like London, Manchester, Birmingham and Bristol, but you'll have to consider layover flights if you want to fly from places like Cardiff, Glasgow, Belfast or Southampton
Things like the month, day and your ticket class can also affect the price of your flights. If you can, try to be flexible with your travel plans so you can choose the cheapest dates to travel. And pick the cheapest ticket class if you don't want to splash out
With regular fashion shows, hundreds of shops, museums, art galleries, opera houses and two Champions League-winning football teams, we're not surprised you want to know more about flights to Milan.  
Cheap Milan flights 
Of course, our super-duper, number-one top tip is to compare flights to Milan using a price comparison site (ahoy there!). This allows you to easily see cheap flights that suit your needs in one place, rather than combing through the world wide web page by page. 
Filter your Milan flights by things like your budget and preferred airlines to see tickets that'll suit your needs down to the ground (before going up in the air).  
If you can be flexible with your flights to Milan – great! Browse around for different dates and times and keep an eye out for off-peak deals.  
Your ticket class can affect the price of your flights to Milan. The cheapest ticket type is economy, which gets you the standard fare. But if you want all the bells and whistles, opt for business or first class. Be prepared to pay top prices, mind.  
Milan airports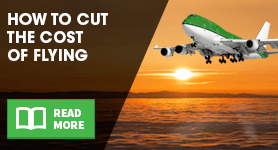 Milan has three main international airports. Linate Airport is the oldest airport, and the only one in the city limits. It's got one three-storey terminal, and is used as a base by Alitalia.  
Milan-Malpensa Airport is 30 miles away from Milan, and is connected to the city by a railway. It's got two terminals, two runways and a cargo terminal. 
Orio al Serio International Airport (sometimes called Milan/Bergamo Airport) mostly caters for Milan's budget airlines.  
All three airports have regular direct and layover flights between Milan and the UK.  
Direct flights 
A direct flight will take you straight to your destination without making any stops along the way. A direct flight from London to Milan will take just under two hours, travelling 591 miles.  
You can get direct flights to Milan from the following UK airports: 
London City, Heathrow, Gatwick, Luton, Southend, Stansted 
Manchester 
Birmingham  
Bristol 
Edinburgh 
Liverpool 
Nottingham  
If you want to fly to Milan from another UK airport, you may need to compare layover flights instead.  
Layover flights 
On a layover flight, there'll be a few stops on your journey. For example, you might fly from London Gatwick to Barcelona and then to Milan.  
For many destinations, layover flights tend to be cheaper than flying direct. But sometimes with short flights, like to Milan, it costs more money to get a layover flight, as it's easier to fly direct to Milan.  
You can get layover flights to Milan from the airports listed above, as well as:  
Cardiff 
Glasgow 
Leeds 

Newcastle 
Southampton 
Belfast 
Inverness 
Jersey 
Exeter 
Weigh up the prices of direct and layover flights to Milan, to see which is cheaper. Also consider whether you could save money by travelling to an airport that does direct flights. 
For example, if you live in Cardiff, is it cheaper to travel to Bristol or Manchester and get a direct flight to Milan, or should you take a layover flight from Cardiff?  
There's one easy way to find out – compare flights to Milan with us to see different options all in one place!
By Amy Smith