Attache ta tuque! It's time to look at flights to Montreal!
Is Quebec calling? Have a quick scan of flights to Montreal, compare fares and find cheap flights now!
Key points
You'll need to have an eTA before you board a plane to Canada
The only direct flights to Montreal from the UK are from London
Other popular routes to Montreal from the UK go via New York, Toronto or Paris
Bienvenue to Montreal, the second-biggest city in Canada and the largest in Quebec. This French-speaking city is arty, historic, and unlike anywhere else in North America. La métropole is a party town that pulses with great music, thrilling performances and creative cuisine. Let's see how to get there by looking into flights to Montreal. 
Montreal flights 
Flying to Montreal? Then it's likely you'll be landing at Montréal–Pierre Elliott Trudeau International Airport (YUL). Montreal Saint-Hubert Longueuil Airport (YHU) serves Montreal too but is mainly for internal flights. 
Montréal–Pierre Elliott Trudeau International Airport (YUL) 
Head 12 miles west of downtown Montreal and you'll find Montréal–Pierre Elliott Trudeau International Airport. That's its full name, but you'll also see it called Aéroport Montréal-Trudeau (French name), Trudeau Airport (nickname), and Dorval Airport (its old name). Canada's third-busiest airport has decent transport links to Montreal, but is it well connected for flights to the UK? Let's have a look... 
Compare the price of direct flights to Montreal from the UK  
Only two airports offer direct flights to Montreal from Britain. All flight details, airlines and airports were correct when we checked in June 2018.  
Flights to Montreal from London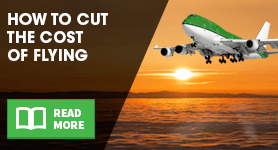 Heathrow is your likely departure point for direct flights from London to Montreal. Air Canada and British Airways fly direct throughout the year. The low-cost Canadian carrier Air Transat also offers a seasonal service out of Gatwick in the summer. 
And that's your lot for direct flights to Montreal from the UK. 
Still it's worth taking the time to shop around and compare prices to find a great deal for you. The flight time is about seven hours.  
Non-direct flights to Montreal 
Searching for flights to Montreal from Manchester? Or Glasgow? Perhaps Birmingham? Then these flights will involve a transfer. Popular places to change plane include Paris and Amsterdam on this side of the Atlantic. On the other side of the pond, New York and Toronto are often used. 
With a few different routes to choose from, an online comparison can help you find a gem of a deal on flights to Montreal. 
Do I need a visa for Canada?  
If you're a British citizen and visiting for a short period then you don't usually need a visa. But you will need an Electronic Travel Authorisation (eTA). If you do need a visa, keep an eye out for dodgy websites. Only apply for one with the Canadian High Commission. 
What's an eTA? 
The Electronic Travel Authorisation is a short form that you need to sort out before you go. You won't be allowed to board the flight to Canada if you don't have one. You apply online and it costs $7 (CAD). Again, watch out for fake websites and head to the Government of Canada site for more info.†
Top tips for cheap flights to Montreal 
Here's a few ways you can bring the cost down on flights to Montreal:
According to Skyscanner, the best time to book flights to Montreal is six weeks in advance. The worst is a week before.  
To guarantee a seat at a decent price though, book a flight as soon as they go on sale. 
Ticket prices can be slashed in the hours before a flight leaves - but a last-minute flight can be a dicey way to find a bargain. 
Don't always book a return with the same airline - sometimes two singles can work out less expensive. 
Fly on a Tuesday, Wednesday or Thursday. Midweek flights are often cheaper than weekend ones. 
Be flexible with your dates and play around to find a good deal. 
One more thing! A quick comparison can help you see all your options and find a good price on flights to Montreal. Bon voyage! 
By Sam Easterbrook