Compare flights to Moscow to find a great deal
With its vodka that helps you live a hundred years, and strange and mysterious towers of red and gold, Moscow is a mirror of the age of Tsars - and with our help, you can get a flight there without breaking the bank. 
Key points
Your ticket price will vary according to which airline you go with and which airport you fly from
Which travel class you fly in will also affect the cost of the flight
Getting a direct or indirect flight to Moscow can also have an impact on how much you pay
The capital of Russia, Moscow has sometimes been dubbed the Third Rome. Its impressive architecture and rich history make it a prime tourist destination. So, if you feel like a historical holiday, it might just be the place for you. And, as luck would have it, we can help you find the right flight out there that will fit your budget. 
Cheap flights to Moscow
Moscow has a handful of international airports, but only Sheremetyevo (SVO) and Domodedovo (DME) take flights directly from the UK. Flights that involve changeovers may go to the other airports – most likely Vnukovo (VKO), Moscow's third-busiest airport. 
Those direct flights to Moscow will only go from London, however, so bear that in mind if you're travelling from elsewhere in the UK. 
The following routes and rough prices were correct in summer 2018. 
Flights to Moscow from London 
If you want to get to Moscow direct from the UK, going from London Heathrow may just be the cheapest option. 
If you book your flight far enough ahead of its departure time, you'll likely pay less than you would if you paid within a week of take-off. However, some airlines slash their prices in the immediate two or three days prior to departure. So, if you feel like playing roulette with your Russian flights, you might just be lucky. 
A direct flight from London Heathrow could set you back as much as £680, whereas an indirect flight could be as cheap as £170. This does depend on when you book the flight, but also on which airline you fly with. Going with British Airways could be more expensive than flying with FinnAir, for example, despite having to go through a changeover in Helsinki with FinnAir. 
The time of day at which you fly will also affect the price of your ticket. A BA flight at 22:35 may not sound ideal, but it could be as cheap as £280 if you want to wake up to the smell of coffee and syrniki (cottage cheese dumplings). 
The destination and departure airports do also make a difference. Flying from Heathrow to Sheremetyevo could be as cheap as £160 with LOT Polish Airlines if you're happy to change over in Warsaw along the way. Or it might be closer to £300 to fly direct with BA. 
How classy you like to travel will definitely affect the price of the flight. A direct flight to Moscow from London takes slightly less than four hours. So, although not the most comfortable seat on the plane, a seat in economy class might be the most tolerable for being the cheapest in price. 
If you want to experience what life might be like as a Russian oligarch, you could get a business or first-class ticket instead. You'll need the income of one to afford it though – a flight in first class could be as expensive as £1,300!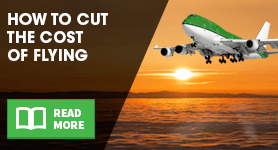 Flights to Moscow from the UK 
Going from any other city in the UK means you won't be able to get direct flights. But this doesn't mean the indirect flights will break the bank either. Flights to Moscow from Manchester may involve changeovers in places like Brussels or Frankfurt, but they could be as cheap as £200. 
BA flights to Moscow 
A flight to Moscow will also differ in price according to which airline you use. British Airways is the only British airline to offer flights to Moscow, direct or otherwise. It may be cheaper to go with a service like Aeroflot (the Russian national airline) or FinnAir. But always compare ahead of time to be sure. 
Top tips for cheap flights to Moscow 
If you feel like Russian away on holiday, then we can help you get there without having to spend too much money. With our flight comparison service, you can compare flights by departure and destination airport, airline and travel class. 
Now enjoy your mission to Moscow! 
By Nick Dunn