Start spreading the news... compare flights todayyyyy!
Prepare to take a bite out of the Big Apple with some top tips designed to get your New York flights wrapped up in a New York minute.
Key points
When coming to America (the US at least), it's important to remember you'll need to apply to ESTA beforehand to ensure you can enter the country
An early-bird booking made way in advance or a last-minute booking made late in the day can result in some great deals on your airfare
It's always worth comparing before you book – you could find a cheaper price than expected
Home of the Statue of Liberty, early advocate of the hot dog and a global bucket list mainstay, New York is one of the most iconic cities in the world. It's a destination that's virtually in a league of its own. 
New York is renowned throughout the world as 'the city that never sleeps', and it's easy to see why. With so much going on at all hours of the day, the last thing you want to do is blow your spending money on flights before you even arrive. 
So pop the top on a Brooklyn Lager, grab yourself a tasty bagel and carve up a hefty slice of vanilla cheesecake, as we take flight to NYC.  
How long are UK flights to New York? 
Clocking in at around 3,500 miles, flights to New York from London are quite a trek. Typical direct flights to New York last between eight hours and eight and a half hours. That said, the return flight is notably quicker, with flights from New York to London lasting just seven hours direct. Naturally, indirect flights will last longer when factoring in the layover. 
Which UK airports fly direct to New York? 
As one of the most popular city destinations in the entire world, New York is unsurprisingly well connected, with a varied selection of direct flights to New York from UK locations. In addition to London-New York flights, you can find direct flights to New York from Manchester, Edinburgh and Glasgow on most days throughout the week.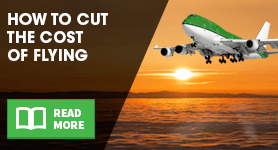 However, it's worth noting that the price difference from one venue to the next can be astronomical. Flights from London to New York and flights from Manchester to New York are typically a lot cheaper than flights to New York from Edinburgh or Glasgow – sometimes by as much as half the cost. 
If you live in Scotland and are planning a trip to New York, it may be worth checking out London or Manchester to New York flights. A trip south to an English departure airport could save you a bundle. Meanwhile, if you don't mind a layover en route to the Big Apple, you can find indirect flights to New York from most major airports across the UK. 
While indirect flights that stop off along the way usually tend to be cheaper, this is one occasion where the direct route is usually the cheapest. Return London to New York flights can be found for under £500 (before fees and tax), while the indirect route can be over double that from places like Newcastle. However, there are exceptions, so it's still worth checking your nearest airport on the off-chance an indirect flight is cheaper than a trip to London. 
Prepare to land 
The three main airports that serve New York City are JFK International, LaGuardia Airport and the neighbouring Newark Liberty International. The combination of the three airports together create the largest airport system in the US. 
LaGuardia Airport (LGA) 
Just 11 miles from Times Square, LaGuardia Airport seems like a logical destination for anyone visiting New York City. However, the location does come with quite a hefty asterisk attached. LaGuardia has often found itself ranked as one of the worst airports in the US for delays and flight cancellations.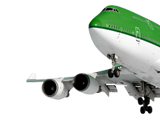 LaGuardia also doesn't currently offer any direct flights from the UK, meaning you'll only land in this airport if you fly indirectly. It's also the busiest airport in the US without any non-stop services to Europe, so if long lines, waiting around and busy malls are among your pet hates, this airport might not be for you. 
Luckily, reconstruction plans were announced in 2015 to completely replace the airport by 2021. Until then, LaGuardia isn't a great destination to find yourself, both in terms of footfall, punctuality and overall efficiency. 
Newark Liberty International Airport (EWR) 
The primary airport of New Jersey, Newark International finds itself around 15 miles southwest of Manhattan, New York. Newark is the third-largest hub for United Airlines, after Chicago's O'Hare and Houston Intercontinental airports. 
The word 'Liberty' was added to the airport's name in 2002 as a tribute to the victims of the September 11 terrorist attacks, and has remained ever since. 
With three terminals, Newark caters for 30 different airlines and boasts over 65 brands of restaurants, shops and kiosks throughout the airport. In 2017, well over 43 million passengers passed through Newark Airport. Virgin flights and BA flights to New York could see you touchdown in Newark, as it's a favoured airport of both airlines. 
Did you know...?
New York is perhaps more strongly associated with coffee than any other location in the US. The humble cup of Joe has been powering the city for decades, and even Starbucks made its debut on the Upper West Side of New York in 1994. Today, New Yorkers drink seven times more coffee than their fellow Americans. No wonder they call it 'The City That Never Sleeps'!
JFK International Airport (JFK) 
Roughly 16 miles from Times Square, JFK International Airport is located in Southern Queens, New York. In 2017, the airport handled over 59 million passengers and is considered to be the busiest international air passenger gateway in North America.  
Named after the iconic 35th President of the United States, over 90 airlines operate from JFK International, and it serves as a hub for both American Airlines and Delta. It also boasts a special private runway reserved for Air Force One – the president's famous private aircraft – while it also has an agreement in place that allows NASA space shuttles to land on the Bay Runway if necessary. 
The airport itself has a wide variety of places to eat, drink and relax, with varying amenities throughout the eight terminals. These range from the large food court and selection of bars in terminal 1 and the restaurants and burger joints in T4 to the variety of shops in T5, and the various spas and lounges dotted throughout JFK. 
Where can I find cheap New York flights? 
Keeping an open diary can make a big difference when it comes to bagging cheap New York flights. Prices often vary from one day to the next, so giving yourself the leeway to fly a day or two either side of your ideal departure date can totally pay off. 
Generally speaking, weekend flights tend to be more expensive than midweek flights. However, it's worth comparing flights for a variety of days to make sure. 
Similarly, flying at unsociable hours of the day can also translate to a cheaper price. Flights scheduled for the early morning or late at night are typically cheaper than those that take place during peak hours of the day. 
Meanwhile, it's also worth noting that prices can also vary depending on the airline and budget airlines are naturally a lot cheaper than premium flight providers. 
How can I get the cheapest flights to New York? 
Booking up early can have a tonne of benefits attached, not least when it comes to the price tag. Flights have a tendency to get more expensive as time goes by. As such, advanced flight bookings often come with an early-bird rate that's a chunk cheaper than the same trip if booked later on. 
On the other hand, last-minute flights to New York can be a real bargain if they're available. Airlines will often cut the price of flights in order to fill unsold seats if vacancy spaces remain unfilled close to flight day. However, this isn't foolproof, and flights aren't always guaranteed. So there's a risk involved, particularly if your holiday hinges on the flights. Nevertheless, it's a great option for those seeking an impromptu getaway. 
Regardless of which route you decide to go down, it's always helpful to compare flights to New York before you part with your cash. A quick comparison can highlight some great prices, and could see you walk away with a bargain in just a few simple clicks or taps of a screen. 
Why pay more for flights if you don't have to? Fuhgeddaboudit! Head over to GoCompare (wait... you're already here!) and cop some lit deals on flights today. 
By Martyn Grant