NY-See what you could save by comparing flights to Newark
Compare quotes on flights to Newark and start saving those dollars for New York. Start spreading the news, you're leaving today...
Key points
Newark is one of three main airports serving the New York area. If there's no flights on the dates you want or from your nearest airport, try JFK. Search, compare, and see what's out there
London Heathrow is by far the busiest airport with the most routes to Newark, New Jersey
But you can take your pick from five airports and five airlines for a direct flight to Newark from the UK
Newark, Newark, so good they named it once. Hey, we might be presumptuous here, but we're guessing you're looking at Newark as a gateway to New York rather than New Jersey. Despite Zach Braff's best efforts with Garden State, New Jersey tends to be somewhere you go through for British visitors.
So, let's look at how to get there when it comes to flights to Newark. 
Flights to Newark, NJ  
Newark Liberty International Airport (EWR) is the USA's 15th busiest airport and New York's second airstrip. If you're wondering, JFK wins glorious gold, while LaGuardia takes shameful bronze in the New York airport rankings. 
Not fussed where you land near New York? Then check out our lowdown on flights to New York. Still this is our Newark review and we think Newark has a lot going for it. 
Newark Liberty International Airport (EWR)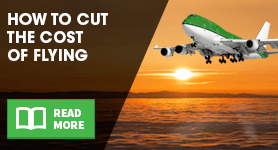 Despite being in New Jersey, EWR is the same distance from Manhattan as JFK, so it's a great option for flying to New York. LaGuardia is closer but is mainly for domestic flights and is the punchline to so many gags. 
If traffic is good in the Holland Tunnel then Newark can be quicker than the other airports in a race to Times Square. And you might want to get out of there quickly - AirHelp ranks Newark the fourth-worst major airport in the world. Still, who goes to New York to hang around the airport?  
How long is a flight from New York to the UK? 
It takes around eight hours to fly from London to Newark. Knock off 20 minutes for flights from Edinburgh. 
But the average flight time from Newark to London is six-and-a-half hours and a little bit less for Edinburgh. Three cheers for the jet stream! 
Which UK airports fly direct to Newark? 
Which airlines offer direct flights to Newark from the UK? 
Take your pick from some of the biggest names in aviation: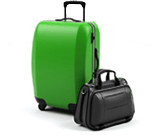 Air India 
British Airways 
Primera Air 
United Airlines 
Virgin Atlantic 
Compare the price of direct flights to Newark and New York from the UK  
London is the most popular international route from Newark so there's lots of competition for your business. And that makes an online comparison even more worthwhile. So search, compare, save.  
All the info on airlines and airports was correct when we put this together in June 2018. 
London to Newark flights 
Heathrow has the widest selection of airlines flying direct to Newark from the UK. Air India, British Airways, United Airlines and Virgin Atlantic can take you there from London's biggest airport. But it's not just Heathrow – Stansted is in on the Newark game too. Nordic airline Primera Air flies daily and direct from Stansted to Newark. 
Manchester to Newark flights 
United Airlines has one direct flight a day between Manchester and Newark. But there are other airlines that fly direct to New York's JFK from Manchester, so if you're flexible you have options. 
Flights from Edinburgh to Newark 
It's those cats at United Airlines again joining Midlothian and Manhattan via Newark. United offers a direct flight every day from Edinburgh. There's also seasonal services to JFK with other airlines, so compare what's out there and see what you could save. 
Flights from Glasgow to Newark  
The other big airport in Scotland also has a direct connection to Newark. And it's United Airlines again. But but but, it's summer only. Compare beforehand to see what the latest routes are from Glasgow to New York. 
Flights to Newark from Birmingham  
Primera Air suspended its service between Birmingham and Newark in June 2018. This was due to a delay in the delivery of new Airbus planes. Be sure to search first for the latest routes out of Birmingham, or consider travelling down to London. 
Did you know...?
The NFL's New York Jets play in New Jersey, just up the road from Newark. They were originally named the Jets as their old stadium was near LaGuardia. Now that's dedication to aviation.
Do I need a visa for New York?  
You will need to apply for a visa to enter the USA if you're turned down for an ESTA. But don't worry – most British passport holders can get an ESTA. 
What's an ESTA and are they free? 
ESTA stands for Electronic System for Travel Authorisation (ESTA), and no they're not. ESTA is part of the Visa Waiver Programme. You'll generally be accepted if your passport says you're a British citizen and has the ePassport logo on it. 
There's a couple more caveats, so check the official US government site where you buy one online. And only go through the official site – there are some scam websites doing the round.†
An ESTA will set you back $14, and apply for one well in advance of travelling. If you get turned down you'll have the time to apply for a visa instead. 
Top tips for cheap flights to Newark 
Go when the kids are in school. Average prices are highest in July, then April, then December. But New York is the City That Never Sleeps and there's no real low-season in NYC. Still, if you book in advance and keep an eye out for sales you could nab a bargain. Here's a couple more things to chew on while looking for cheap flights to Newark:
New York is long-haul - if you can't stretch your budget and go premium, at least stretch your legs occasionally 
Consider two singles over a return - splitting a journey this way can bring the cost down, especially if you use different airlines  
Keep some space in your diary - if you can be flexible when you fly you may open up more options 
Midweek is usually cheaper than the weekends for transatlantic flights 
A last-minute flight can be dirt cheap, but there's no guarantee seats will be available for the dates you want 
By Sam Easterbrook