Think you've found cheap Newcastle flights? Be Geordie sure with GoCompare
Whether you're flying to the other side of the world or the other side of the country, we're here to make your flight from Newcastle as smooth as possible.
Key points
Newcastle Airport is a popular destination for domestic flights as well as international air travel
Booking up flights in advance or at the very last minute can result in a lower airfare
Comparing flights with GoCompare can help highlight some bargain prices
Handling just under five million passengers a year, Newcastle International Airport (NCL) is one of the busiest airports in the UK, offering flights around the globe on a daily basis. 
If you're one of those five million planning a flight from Newcastle upon Tyne, why not bag yourself a belta of a bargain with this canny rundown of the Geordie runway?
Getting to Newcastle International Airport 
Situated just six miles north-west of Newcastle city centre, Newcastle International is well connected to the rest of the country, making getting there a breeze. 
For those travelling from either the north or south, the A1 links to the A4696, which leads directly to the airport. Meanwhile, those travelling from the west can take the A69 which links with the A1, once again taking you to Newcastle International via the A4696. Sat nav users can find it easily using the postcode NE14 8BZ. 
For non-drivers, public transport also offers a variety of options. Those travelling from outside of Newcastle can get a National Express, Megabus or train to central Newcastle relatively cheaply – particularly if you book in advance – which will then open you up to a number of routes to the airport.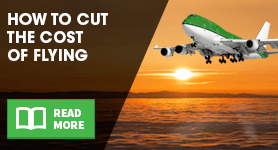 A train ride from Newcastle Central Station can get you to the airport in less than half an hour, while the Nexus bus service runs a number of buses that travel to Newcastle Airport, some of which will drop you right outside the terminal. If all else fails, a taxi ride will get your there in 15 to 20 minutes. 
Which airlines operate at Newcastle International? 
Most UK airlines operate at Newcastle International, including British staples such as Thomas Cook, TUI and British Airways. It's also home to a number of budget airlines and a go-to airport for those seeking bargain flights. 
In addition, easyJet flights from Newcastle are a popular option for those seeking cheap flights abroad, while Newcastle is also a notable airport for Jet2.com. Jet2 flights from Newcastle occur daily with a focus on Mediterranean destinations. Flights from Newcastle to Dublin are also popular, with Aer Lingus and Ryanair flights from Newcastle two common (and cost-effective) options for those Ireland-bound. 
The primary long-haul service that runs from Newcastle is Emirates, offering flights from Newcastle to Dubai. Direct flights from Newcastle to New York were previously offered by United Airlines. These were discontinued in 2016. Nevertheless, indirect flights to US from Newcastle are still available daily. 
In addition to flights outside the UK, Newcastle Airport is also used for domestic travel and UK flights from Newcastle are far from rare. For those travelling to Newcastle from the south and vice versa, a flight to/from Newcastle can often work out cheaper than alternative options. For instance, cheap flights from Newcastle to London can be a great option for those looking to avoid a lengthy bus or train journey. 
Finding cheap flights from Newcastle 
Finding cheap flights from Newcastle can be fairly straightforward, wherever you're heading. Simply being flexible on the departure date can have an instant effect on the price, and opening up your flight options by a day or two either side of your ideal date can make a big difference. 
Did you know...?
Newcastle Airport opened way back in 1935, costing just £35k to build. At the time, it had a grass runway and the runway lights consisted of a series of empty oil drums, filled with lit oil rags. Talk about blazing a trail!
As a rule of thumb, weekend flights are typically more expensive than midweek flights, with Tuesday and Wednesday commonly emerging as the cheapest days of the week to fly. However, this isn't always the case, so it's worth checking a variety of dates just to make sure. 
Similarly, the time of day you fly can also influence the overall price. Avoiding peak times of the day is a smart move, and opting to fly either late at night or early in the morning can see the price of your airfare plummet. 
How to save money on Newcastle flights 
As always, booking up flights early is one of the easiest ways to ensure a lower cost of flights. Advanced bookings usually translate into early-bird rates on flights, so the earlier you book the better. 
However, there's definitely something to be said for latecomers too. Airlines often slash their prices if seats remain unsold come flight day, making last-minute flights from Newcastle a great way of bagging a bargain. 
Regardless of when you book, it's always worth searching online before you finalise your flights. Comparing flights from Newcastle with GoCompare can help highlight some of the lowest prices instantly, potentially saving you a bundle in just a few simple clicks or taps. 
What facilities are available at Newcastle International Airport? 
Hanging around an airport waiting for flights can be a real chore at times. Luckily, Newcastle International Airport has more than enough to keep you busy and make your downtime between flights an experience in itself. 
With a generous selection of duty free and dozens of name-brand stores to choose from, shopaholics won't be short on places to part with their cash and indulge in a session of retail therapy. Meanwhile, there's a whole host of fast-food outlets, coffee shops and restaurants to get some scran and fill up before your flight. 
If you're looking for something a little more relaxing, there's a healthy selection of bars to choose from to kick back with a beer or a glass of wine, while there's even an Aerospa if you're looking to truly unwind. Free WiFi is also available throughout to ensure you stay connected during your stay. 
By Martyn Grant