Get your Osaka holiday off to a flying start with GoCompare
Flying to Osaka? Compare flights to Japan's third-largest city and get a great deal on your airfare. 
Key points
Booking up in advance can translate to an early-bird rate that's considerably cheaper than the same booking made later on
If you like to fly by the seat of your pants, leaving your booking until the eleventh hour could also see you bag a bargain on last-minute flights
A simple flight comparison with GoCompare can help identify some bargain flights instantly
Famed for its lively nightlife and drinking culture, Osaka has earnt itself the nickname of 'The Manchester of the Orient'. With a seemingly endless stream of watering holes – including countless bars dedicated to the dark art of karaoke – it's hard to argue with that party-centric label. 
Osaka is also widely known as 'The Nation's Kitchen', which – given the culinary renown of Japanese cuisine – is high praise indeed. 
The Japanese city also boasts one of Japan's most famous landmarks, the aesthetically awesome Osaka Castle, which dates back to the 16th century. 
Meanwhile, if you prefer your tourist attractions to be a little more modern, Osaka is also home to the first Universal Studios outside of the US. 
Whatever brings you to Osaka, chances are... it'll ultimately be a plane. So, without further ado, let's get down to business and run down the lowdown of flights to Osaka. 
How long are UK flights to Osaka? 
Flights to Osaka from London cover around 5,900 miles of skyline. For non-stop flights from London to Osaka, this translates to roughly 14 to 15 hours of airtime. However, London to Osaka direct flights are somewhat of a rarity. 
As such, if you're looking for flights from London to Osaka, chances are you'll need to make a connection along the way. Luckily, if you book smart, this won't affect the travel time too much. Indirect flights to Osaka from UK locations can take as little as 15.5 to 16 hours, even with the layover included.
Which UK airports fly to Osaka?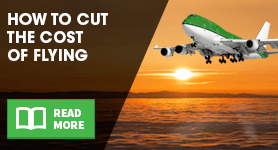 Direct flights to Osaka are fairly uncommon from the UK. As such, indirect routes are somewhat of a given, and a layover en route is a widely accepted part of the journey for those that make the trip regularly. Luckily, flying indirect on long-haul flights can often result in savings on your airfare. 
Indirect flights to Osaka can be found at most airports across the UK. However, you may be limited on the dates you can depart. For the most latitude on departure dates, London Heathrow offers the best variety and is the most common location to secure flights. 
Where you stop off depends largely on the flight provider. For example, typical connecting airports include stops at Amsterdam (KLM), Paris (Air France) and Manila (Philippine Airlines). It's also worth noting that the airline itself can also make a difference when it comes to the cost of flights, so it's worth shopping around. 
Finding cheap flights to Osaka 
With almost 6,000 miles separating the UK and Osaka, flights can be expensive and typical return flights to Osaka will see you down about £700. However, there are ways to increase your chances of finding a cheaper airfare. 
One of the easiest ways to shave a few pounds off the price is to be flexible. Giving yourself the freedom to fly a day or two either side of your ideal departure date can be a real difference maker, so clear that diary ahead of time – it could save you a bundle. 
Similarly, flying at unpopular hours of the day can also trim the edge of your bill in one clean, pain-free clip. If possible, it's worth trying to avoid peak hours. Scheduling your flights for the early morning or late evening could help crop your cost.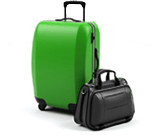 How to save money on Osaka flights 
US President Ben Franklin once famously said "By failing to prepare, you are preparing to fail." When it comes to booking flights, that saying definitely rings true. Flight providers often offer early-bird rates for those that secure their flights in advance.
As such, booking up early can prove to be both economical and tactical. So get ahead of the game: booking up early could pay off nicely. 
On the other hand, "There's more than one way to skin a cat" is another famous saying (there's some uncertainty over who said this first, but they clearly weren't an ailurophile). There are definitely alternative options to booking up early in the pursuit of savings, luckily none of which involve any cat skinning whatsoever. 
Airlines often lower their prices if seats remain unsold, and last-minute flights to Osaka can result in some tremendous deals. However, there's no guarantee that flights will be available if left too late, so there is a risk involved in this approach. 
Whether you choose to get ahead of the game or wait until overtime to make your play for flights, remember the golden rule of booking flights – never pay the airfare until you GoCompare! Comparing flights to Osaka prior to booking can help easily identify some of the cheapest options available, while also potentially highlighting routes you may not have considered.
Prepare to land 
Did you know...?
Osaka is a regular stop for the Great Japan Beer Festival, which takes place in the city every July. If your trip is lucky enough to coincide with this sud-soaked soiree, expect beers galore and samples aplenty, with over 100 different beers on hand for your palate's pleasure.
When it comes to touching down on Japanese soil, Osaka is primarily served by two key airports: Kansai International Airport (KIX) and Itami Airport (AKA Osaka International Airport - ITM). 
Despite the 'international' tag, the latter tends to predominantly cater for domestic flights, meaning a trip to Osaka will likely see you land in Kansai International. 
One of the more unusual airports in Japan, Kansai International is located on an artificial island in the middle of Osaka Bay. Opened in 1994 to relieve traffic at the overcrowded Itami Airport, Kansai has become the third-busiest airport in Japan, operating as a hub for a number of Japanese airlines. 
Kansai International comes fully equipped with all the mod cons you'd come to expect from a 21st-century airport, including WiFi, VIP lounges and a variety of business support. Better still, it offers a variety of duty-free shops, including those catering for alcohol, tobacco, cosmetics, perfumes, watches and general goods. Meanwhile, there are a wide range of other shopping outlets dedicated to everything from Japanese tea to Pokemon. 
Outside of shopping, there's also a huge selection of restaurants, offering a solution to every mealtime conundrum, from traditional Japanese dishes, Chinese takeaways and sushi to Italian pastas, burger joints and coffee shops. Meanwhile, if you're looking to quench a thirst, there's numerous pubs, taverns and wine bars to choose from, both western and traditional. 
By Martyn Grant