Find a great deal on your flights to Paphos
The gateway to western Cyprus, why not compare flights to Paphos to see if you could score a cheap deal?
Key points
British Airways, Jet2.com, Ryanair and TUI are just a few of the airlines that have routes between Paphos and the UK
Airports in Manchester, London, Leeds, Glasgow and Bristol do direct flights to Pathos, but you may have to catch a layover flight if you want to fly from Cardiff, Belfast or Liverpool
Some top tips for cheaper Paphos flights are to avoid flying at peak times where possible and, of course, compare a range of flight options to see what works best for you
Flights are a main part of your holiday, and they can cost a pretty penny – so you'll want to make sure you get the right flights for your needs.  
Luckily, if you're planning on travelling to Paphos, we can help you boost your flight comparison knowledge, so you know how to get a groovy deal on your flights to Paphos.  
If you're not looking for flights to Paphos, why not give it a read anyway – it's good for the brain. 
Anyway, back to Paphos flights.  
Paphos is a city (and a district) on the island of Cyprus in the Mediterranean Sea. The supposed birthplace of goddess Aphrodite is in Old Paphos (Kouklia).  
There's lots of archaeological sites, museums, beaches and attractive resorts and seafronts in Paphos, which – combined with warm to oven-like temperatures – makes it a dream holiday destination. We're certainly keen!  
Paphos flights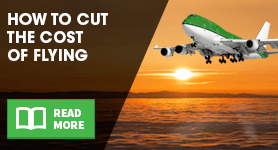 Paphos Airport has been open since 1982 and can be found six miles outside of Paphos. It's Cyprus' second-largest airport and is the main hub for holidays to western Cyprus.  
There's 1985 miles between Paphos and London and a direct flight could take around four and a half hours.  
Airlines that have routes between the UK and Paphos are British Airways, easyJet, Jet2.com, Norwegian Air Shuttle, Ryanair, Thomas Cook and TUI.  
Direct flights to Paphos 
Direct flights are the quickest way to get to Paphos, but they tend to be more expensive than layover flights.  
With a direct flight, your plane will go straight from A to B. For example, from Manchester to Paphos, without making any stops along the way.  
You can hop on a direct flight to Paphos from these UK airports: 
London City, Gatwick, Heathrow, Luton, Southend and Stansted 
Manchester 

Birmingham 
Nottingham 
Exeter  
Leeds 
Glasgow 
Bristol 
Edinburgh  
Nottingham 
Paphos layover flights 
With a layover flight, your plane will stop off at another airport before continuing the trip to Paphos.  
For example, you might catch your flight in London, and stop off in Berlin before carrying on to Paphos.  
Layover flights might take longer than direct ones, but they could be a bit cheaper. You can get layover flights to Paphos from the above airports, plus: 
Cardiff 
Liverpool 
Belfast 
Bournemouth 
Jersey 
Southampton 
Newcastle 
Aberdeen 
How to get cheap flights to Paphos 
Comparing flights to Paphos is one of the easiest ways to dig out some of the cheapest flight deals. Using a comparison site like us (hi there!) allows you to see various airlines, airports, flight times and direct vs layover flights.  
Our top tips for getting cheaper flights to Paphos include avoiding flights at peak times and booking in advance, or last minute if you're the spontaneous sort. 
Also consider your ticket class. If you want to compare some of the cheapest flights to Paphos, choose economy, or premium economy tickets and you'll get standard seats, legroom, food and drink choices.  
If you do want to travel in style, business or first class will see you well, but be prepared to pay for it!  
Don't forget to compare travel insurance to cover you against potential holiday mishaps. And keep an eye out for discount codes and savings deals on sites like MyVoucherCodes† which is part of the GoCompare family.  
By Amy Smith