Get Perth-ect flights to Perth!
Long-haul flights aren't most people's idea of fun, but they're necessary if you want to explore the further reaches of the world. Compare flights to Perth to discover the quickest and most cost-effective options.
Key points
You can get direct flights to Perth from London Gatwick, but you'll need to get a layover flight if you want to travel from places like Manchester or Glasgow
Business-class tickets let you fly in luxury, but it can be expensive. Economy or premium economy are more suited to those looking to save a few pounds
Compare flights to Perth to see a range of flights that suit your budget and class preference. Just remember to organise your travel insurance as soon as your holiday's booked!
Perth is the capital city of Western Australia, just over 9,000 miles away from the UK.  
One of the many perks of travelling there is it's the sunniest state capital in Australia, with an average of 8.8 hours of sunshine a day.  
It's also one of the more remote Australian cities, as it's closer to Dili and Jakarta than Sydney, Brisbane or Canberra.  
If you're planning a trip to visit, you'll need to look at flights to Perth, unless you want to go by boat, which would take around ten days (provided your boat sailed at 30mph, 24 hours a day)… 
Yeah, probably best check out some flights to Perth then.  
What flights can you get to Perth? 
Flights from the UK to Perth land at Perth Airport (PER), which has four terminals, with international flights arriving at terminal one.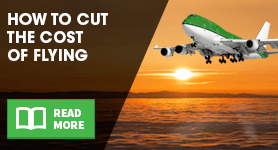 Layover flights are the most widely available way to get between the UK and Perth, but there are limited direct flights available from March 2018 – yay!   
Direct flights to Perth 
A direct flight will take you straight to your destination without making any stops along the way. A direct flight from London to Perth will take just under 17 hours to take you just over 9,000 miles!  
Qantas is the only airline currently offering direct flights to Perth, and you can only get one of these flights from London Heathrow Airport.  
Direct flights to Perth are more expensive, but they'll get you there faster than a layover flight. 
Perth layover flights 
On a layover flight, there'll be a few stops on your journey. For example, you might fly from Manchester to Abu Dhabi and then to Perth.  
Some routes might have two or more stops, like Glasgow to Dubai, to Kuala Lumpur, and finally to Perth.  
Layover flights tend to be the cheapest and most widely available option for flying to Perth, and you can hop on one from UK airports like: 
London City, Heathrow, Gatwick, Luton, Southend and Stansted 
Manchester 
Glasgow 

Leeds 
Newcastle 
Aberdeen 
Business-class flights to Perth 
If you want to travel in style and have the cash to burn, you might be interested in first or business-class flights to Perth. 
With business or first-class flights to Perth, you get wider seats, more legroom and a better selection of food and drink, and access to the business class lounge at your UK departure airport.  
Check with the airline what perks are on offer for first and business class – if there's not much difference, save yourself a few quid and opt for business class as it's usually cheaper.  
On the other end of the scale, the cheapest ticket type is economy, which gets you the standard fare. 
Cheap flights to Perth 
Compare flights to Perth to see a range of flights that suit your needs, whether that's a budget-friendly layover flight or a business-class direct flight.  
When you use a comparison site (like us – hi!) you can filter your results by things like your budget, preferred airlines and number of stops, to hone in on your ideal flight.  
Being flexible with your travel plans is another of our top tips for cheaper Perth flights. Avoiding peak travel times could see you bagging a bargain. 
Try looking around for some early savings or last-minute deals if you like a spontaneous adventure.  
Just don't forget your thongs, togs and travel insurance! That is, your flip-flops, swimwear and, erm, travel insurance…  
Have a great time down under!  
By Amy Smith