Get cheap flights to Prague with GoCompare
Once named the Heart of Europe, Prague is a prime tourist destination. If you're planning to Czech out this awesome capital city, we can help you get the right flights for your budget.
Key points
Booking up early is usually a safe bet if you're aiming for a cheaper flight to Prague
Ticket prices vary across airlines, so always compare flights to be sure
Different departure airports will also attract different prices of flights
Capital of the Czech Republic, Prague is one of Europe's top tourist destinations. If you're planning to join the millions who visit each year, we can help you get there quickly and easily. How? Well, we can compare flights for you, making it easier and hopefully cheaper to get away. 
Cheap flights to Prague 
Getting to Prague by plane takes about two hours from London, so the flights shouldn't be too expensive. 
Flights will differ in price based mainly on when you book them. A good rule of thumb is to book very far in advance: if you want a flight in October, consider booking it in June. Flights are cheaper further ahead of time, and increase in price the closer to departure you get.  
However, if you're feeling very lucky, you could always book your flight two or three days before departure. Some airlines drop their prices at this time in order to fill up empty seats. If your gamble pays off (and it is quite a gamble), you could buy your flight and Czech in online on the same day! 
The following routes and rough prices were correct in summer 2018. 
Flights to Prague from London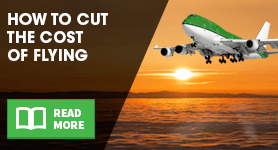 As the main hub for international traffic in the UK, flights from London tend to be the cheapest. They do differ in price between airports, however. For example, a return flight from Heathrow in economy class could be as cheap as £115, while a flight from Gatwick might be closer to £140. 
Prices will obviously differ across airlines too. A flight with Flybe may be cheaper than one with easyJet, but since both are budget airlines, it's likely that they'll both offer cheaper flights than British Airways or other national airlines.  
Which cabin class you fly in will also affect the cost of your flight. Economy flights are most often the cheapest flights. However, an economy cabin isn't always as comfortable as the other types on offer. The legroom may not be enough to accommodate you if you're tall, or there may not be enough room in the seat. 
Did you know...?
The Lennon Wall in Prague bears graffiti tributes to John Lennon
So, if you want a more pleasant flying experience, you might want to consider a different cabin class. Premium economy, when available, offers slightly more leg and seat-room, which helps give people a bit of breathing space to relax in on a flight. If you're flying for a business conference, or if your company has offices in different countries, you may want to fly in business class. For those who enjoy the finer things in life, there's always first class.  
The price of the flight will increase in line with the relative luxuries available in each cabin class. A direct return flight from London to Prague in business class could be as much as £460, for example. Premium economy can sometimes be more expensive than business class, but this depends on the airline as much as any other factors. So, if you want a cheap flight to Prague, the best bet is likely to be flying in economy class.  
Flights to Prague from Manchester 
When it comes to international airports, it's not all about London. Manchester also boasts a sizeable airport, so those in the north-west of England who want to get away from grey UK weather can easily hop on a flight to Prague.  
Similarly to London, the economy flights are the cheapest available. You could hop on a Jet2.com flight for around £130, for example.  
Worth noting is that more of the flights from Manchester go indirectly to Prague, stopping over in places like Frankfurt or Dusseldorf. This can affect the price of the flight as well. 
A direct return flight in economy class with Jet2.com might be £130, but an indirect flight in economy with Lufthansa might stop over in Frankfurt and cost £150. Lufthansa is the flag-carrying airline for Germany, so this may be a factor in the increased price. But when a Flybe flight that changes over in London Southend airport can cost more again, it's worth considering the changeover.  
Flights to Prague from Birmingham 
You can fly to Prague from almost any city in the UK. Escaping Birmingham may only cost £110 for an economy ticket, while a short hop from Bristol, via Amsterdam, might be closer to £160. A direct flight from Edinburgh, meanwhile, might be about £120.  
Top tips for cheap flights to Prague 
So, before you book your flights to Prague, let us give you some advice on how to get the best ones: compare them! We can help you review flights by price, by airline, departure airport, and more besides. Just tell us when and where you want to go, and we'll do the rest. Then all you have to do is sit back, relax, and look forward to Czeching out the bargains in duty-free. 
By Nick Dunn