Rotterdam Son, where'd you find these cheap flights?
Compare quotes on flights to Rotterdam and The Hague, and experience the Netherlands beyond Amsterdam.
Key points
Rotterdam The Hague Airport (RTM) is only four miles north of central Rotterdam and 12 miles south of The Hague.
Only one airline and airport in the UK offers direct flights to Rotterdam
However, Amsterdam Airport Schiphol is only 20 minutes away by high-speed train. Consider flying there from airports all over the UK to reach Rotterdam. Compare prices and see if you can find a bargain
Rotterdam, in the beautiful south of the Netherlands, is a remarkable city. Practically rebuilt from scratch after heavy bombing in World War II, the city is now a thriving, arty, modernist metropolis built around maritime trade. 
It has an impressive public art trail and a world-class gallery in Museum Boijmans Van Beuningen (look out for the iconic brick tower), and its multiculturalism has led to a diverse cuisine and nightclub scene. 
Rotterdam is a great place for a city break or to do business. So whatever your reason to come, let's look at how to get flights here from the UK, and by alternative means too.  
Flights to Rotterdam from the UK 
As the second-largest port in the world, Rotterdam is well served by ferries from the UK. Yet you can also fly to Holland's second city and you've got two options. The nearest airport is Rotterdam The Hague Airport (RTM) but there's also the mighty Schiphol (AMS), which is 20 minutes away by high-speed train.  
Rotterdam The Hague Airport (RTM) 
RTM is a small, tidy airport less than four miles from central Rotterdam. There's a bar, a cafe, a shop... look it's pretty small, but it is handy. 
As you might tell from the name, Rotterdam The Hague Airport is also the nearest airport to The Hague. It usually takes 20 minutes in the car to do the 12 miles to The Hague from the airport.  
Which airlines fly direct to Rotterdam from the UK?  
British Airways and... just them when we looked in June 2018. Flybe has a seasonal charter service from Jersey and Guernsey, but from mainland UK it's British Airways. For far more choice when it comes to airlines and departure airports, look at flying into Amsterdam Airport Schiphol (AMS) instead. 
But if you want a direct flight to Rotterdam and The Hague, then head to London City Airport. There's several flights a day on most days of the week. The flight time from London to Rotterdam is 50 minutes.
Top tips for cheap flights to Rotterdam   
With only one airline flying from an airport in central London, the cheapest way to fly to Rotterdam for most people will be to go via Schiphol. From there you can jump on a Thalys train, which takes 20 minutes to arrive at Rotterdam Centraal. 
But whether you're flying into Rotterdam or Schiphol, you can save money on flights by following these simple steps: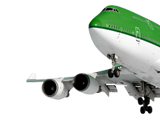 Book well in advance – the prices of flights only tend to go up 
That's until the last few hours when – if they're not sold – they can be super cheap 
Flying midweek is usually less than around the weekend 
As it's a super short flight, is it worth upgrading to business class? 
Try an online comparison to help you see all your options and compare prices 
Finally, we should say that there are other options for reaching Rotterdam other than flying. The car ferry is a popular option, especially out of Hull. Also, the Eurostar goes direct from London St Pancras to Rotterdam Centraal in three hours.  
By Sam Easterbrook