Compare flights then let's go to San Francisco!
Compare prices for flights to San Francisco and save your dollars for Oakland, Palo Alto and Frisco too. Just be sure to wear flowers in your hair.
Key points
Heathrow is the only airport in the UK with direct flights to San Francisco throughout the year. With a couple of airlines flying the route, shop around and see what you could save
Manchester Airport also has direct flights to San Francisco, but only in the summer. Alternatively, look at flying to Oakland or San Jose, which has direct flights from London
For the most options search for indirect flights. Not only will this open up more airlines and airports to depart from, but it can also bring the cost down
On a sliver of land in Northern California sits the USA's prettiest and most progressive city, San Francisco. The icons just roll off the tongue for a place made famous in film, music and politics. The Golden Gate Bridge, Alcatraz, the hippies and flower power, The Castro, Harvey Milk... There's nowhere in America like Frisco, maybe the entire world. If you want to experience it for yourself then here's our review of flights to San Francisco.
Flights to San Francisco, USA 
While the crown of busiest airport in California goes to LAX, you'll still find direct flights to San Francisco from the UK. If you're on board then you'll be landing at San Francisco International Airport. 
San Francisco International Airport (SFO) 
Found 13 miles south of downtown Frisco is the USA's seventh-busiest airport. Befitting a major international airport, you'll find restaurants, shops, and things to do to suit all tastes. There's an Aviation Museum & Library, children's play areas, and spas. Shops range from cosmetics to local souvenirs (Go Niners!) via San Franpsycho and Gucci. When it comes to eating, take your pick from Mexican, Vietnamese, classic American... you name it, it's probably here.  
SFO is also well connected to the city. We explore your options for airport transfers at San Francisco in our dedicated review, so check that out if you're hitting downtown.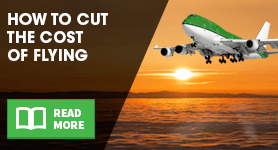 Compare the price of flights to San Francisco from the UK  
Whether you're flying direct or going with a transfer, it's always a good idea to try out an online comparison to find a great deal. All info on routes, airlines and airports was correct when we put this together in June 2018. But a quick search will show you the latest prices as well as route options. 
Which airlines and airports have direct flights to San Francisco from the UK?  
Depending on when you fly you've got the choice of two airports to leave from for a direct route to S.F:  
London Heathrow = British Airways, United Airlines, Virgin Atlantic 
Manchester = Thomas Cook Airlines and Virgin Atlantic 
You might also want to look at Aer Lingus's direct flights out of Dublin. 
Another route that might suit you is to land at the nearby Oakland International Airport (OAK). It's about 20 miles from San Francisco, and British Airways and Norwegian Air Shuttle flies to Oakland from London Gatwick. British Airways also flies to San Jose International Airport, which is 50 miles south of San Francisco.
Flights to San Francisco from London Heathrow 
Did you know...?
Locals call San Francisco 'S.F.' They're not keen on 'San Fran' or 'Frisco' (oops!)
Only the UK's busiest airport has direct flights to San Francisco throughout the year. You can select from British Airways, United Airlines and Virgin Atlantic. 
None of London's five other airports offer direct flights. Yet as it's a long-haul destination, you might want to look into flying with transfer. This not only opens up more routes, dates and airlines but can also bring the cost down.  
Flights to San Francisco from Manchester 
The only other option for a direct flight to Frisco is from Manchester and that's only at certain times of the year. Both Thomas Cook Airlines and Virgin Atlantic offer a summer service, which usually runs from May to October. If you want to fly outside of these times, look into flights with a transfer or head down to London. 
How long is the flight from London to San Francisco? 
The average flight time is 11 hours. And you can knock off an hour on the way back from Frisco to London thanks to the jet stream. San Francisco is in the Pacific Time Zone, which is seven or eight hours behind the UK depending on daylight saving.
Flights from Hawaii and Las Vegas to San Francisco  
It's a long old flight to San Francisco. Seeing that you're coming all this way, why not see a bit more of the USA by making it a multi-stop trip? Las Vegas and Hawaii are perennial favourites and lots of airlines fly between them and San Francisco. Shop around and compare prices to see more of America for less. 
Do I need a visa for California?  
Probably not. Most British passport holders can use the Visa Waiver Program. You'll be issued with an Electronic System for Travel Authorisation (ESTA) rather than a full-blown visa. It's mainly for tourism and lasts up to 90 days. Apply on the official website† before you fly.
Make sure it's the proper one from US Customs and Border Protection as there are scam sites out there. Scammers charge more for an ESTA or just take your money. In total an ESTA will cost $14. Apply well before you go, as if you're turned down you can still apply for a visa. 
Top tips for cheap flights to San Francisco 
August, September and October are the best months to experience San Francisco, but in truth any time's a good time to visit. There's more direct flights from the UK in the summer months, and more competition brings prices down. Here's a few more things to consider when looking for cheap flights to San Francisco: 
San Francisco is a long-haul destination - look at flying with a transfer as indirect flights can be cheaper 
Can you hack 11 hours in economy? See what upgrades are available for a more comfortable flight to Frisco 
Don't hit the return button straight away... Sometimes flying there and back with different airlines can bring flight prices lower 
If you're flexible with your dates, you'll have more wiggle room to find the best deals 
Transatlantic flights tend to cost less if you fly during the week rather than on or near the weekend 
Booking far in advance is usually a good way to guarantee a decent price for plane tickets 
Prices tend to go up the longer they're on sale - that is until the last minute when they can become super cheap if they haven't been sold
Whenever you decide to book, squeeze in a quick comparison and see what you might save. 
By Sam Easterbrook