Thinking of jetting off to Santorini? Compare flights to find a great deal before you go!
Looking for a sunlit getaway? We can help you get to Santorini easily for a great price.
Key points
Flights to Santorini will vary in price based on which airport you go from and which airline you fly with. Always compare to make sure you're getting the right deal
How far ahead you book your flight will affect how much it costs, as will the time of day you want to depart
A direct flight might be cheaper than an indirect flight. Again, weigh up your options before you commit
If you're eager to get to the famous red beach and beautiful cliffside buildings of Santorini, we can find you a fab flight for your budget and needs. Compare flights on a variety of factors to find a great bargain. 
The following routes and rough prices were correct in summer 2018. 
Cheap flights to Santorini 
It takes about four hours to get to Santorini (Thira) National Airport (JTR) from London, and a flight there may not be as expensive as it might seem. A single flight from London via easyJet could be as cheap as £80 – or £60 in the off-season – if you book far enough in advance. 
Booking ahead is the ultimate key to a cheap flight. Airlines release their cheapest seats several months in advance. Although the price of a flight can fluctuate depending on which day of the week you book it, and when exactly you want to fly out, it's generally best to book as far ahead as possible.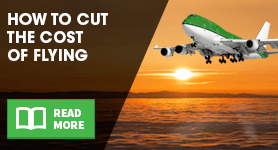 However, the more adventurous among you may want to try your luck on a time-sensitive gamble. To fill up any empty seats remaining, some airlines slash their prices in the couple of days immediately prior to departure. This is quite a risky gamble, so we don't necessarily recommend it – but if you like flying by the seat of your pants, then it could pay off. 
Even the time of day can affect the price of your ticket. If you want a cheaper flight, you might have to sacrifice some sacred hours of shut-eye and get a flight early in the morning or very late at night. 
Flights to Santorini from London 
If you want cheap flights to Santorini, we can also recommend choosing your departure airport carefully. Flights going from London are usually the cheapest, mostly because London has the most international airports from which flights can depart.
A flight from London could be as cheap as £60, especially if you don't want to return (and given your destination is Santorini, we wouldn't blame you for wanting to stay). Getting a return flight will naturally cost more, with tickets potentially costing up to and over £200.
If you're looking to pinch some pennies on the price of your flight, choosing the right London airport could be helpful. Depending on when you want to fly, it might be cheaper to go from Gatwick over Heathrow – and it's nearly always more expensive to go from one of the smaller ones like Luton or Southend.  
Did you know...?
The volcanic eruption that helped form Santorini as it is today inspired the legend of the lost city of Atlantis
Athens to Santorini flights 
If you're on a Greek holiday anyway, enjoying the sights and sounds of Athens, you might fancy hopping over to Santorini as a little break away from the hustle and bustle of the capital. 
Getting from Athens to Santorini can be very cheap, with return tickets on Olympic Air potentially as little as £80. So, if you fancy getting away from your getaway, you could do so relatively inexpensively. 
Flights to Santorini from Manchester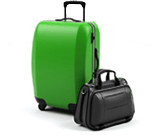 London isn't the only UK city to offer flights to Santorini. You can also get there direct from Manchester. The price of a return flight is relatively similar to London – about £200 – so if you're looking to escape the north of England for sunnier climes, you won't have to endure an expensive journey to London to do so. 
Just as it differs between airports, your ticket price can also vary by which airline and which cabin class you choose. The prices quoted so far have all been economy seats with budget airlines. If you wanted to fly in comfort and style, you could get a business-class ticket. However, this would raise the price of a return flight to more like £500. Comparing cabin classes will help ensure your flight is as cheap as chips. 
Your economy ticket will vary in price between airlines. As a budget airline, easyJet is often cheaper than most other airlines. Flying from Manchester with Aegean Airlines, for example, might be closer to £300. Iberia Airlines, the flag-carrier airline for Spain, might offer its economy flights at around £460. It's worth checking which airline is cheapest when you book your flight from Manchester. 
Direct flights to Santorini 
As mentioned, it's not a terribly long flight from the UK to Santorini. On a direct flight, it's about four hours away – just enough time to read a good book, or enjoy an in-flight movie if the airline offers them.  
However, the cost of a ticket can change depending on how direct your flight is. An indirect flight might well cost more – going from London with Aegean Airlines might result in a couple of stops along the way, resulting in a ticket that could cost up to £440 or more.  
For Brits, there's plenty of demand to get to Santorini – so there's plenty of direct flights. But those flights that change over do so in popular places: you might bounce from London Gatwick to Milan to Athens to Santorini, for example. Sometimes several different flights can bump up the cost of a ticket, but occasionally it works out cheaper. Compare a range of flight options to see what works out best for you. 
Top tips for cheap flights to Santorini 
Seriously sure you want to slip away to sunny Santorini? We certainly are. To get as cheap a flight as possible, we recommend comparing them. We can help you compare flights by departure airport, time of day, airline, and more. What could be simpler? Sunning yourself in Santorini, that's what. 
By Nick Dunn