Weigh up your options and compare flights to Spain
You'll be flying high when you get a great deal on your flights. Read on to learn a bit about how to save time and money when comparing flights to Spain.
Key points
It's important to remember that flight prices, carriers and routes can change, so keep an eye out for good deals
Try to be flexible as certain times and destinations may cost more, so being adaptable could help you save money
Don't forget your travel insurance - it's handy to have if you're stuck
Before you can enjoy your Spanish holiday, you have to sort out the more mundane things, like travel insurance, hotels and flights.  
But where do you start when it comes to arranging your flights?  
Planes to Spain 
Where you're coming from and where you're flying into will affect the price of your flight to Spain. In addition, the type of flight will have an impact – whether it's direct, non-stop, connecting, round-the-world or multi-leg.
And there's the question of whether you're on a budget, or want to splash out.
How to get a cheaper return flight to Spain 
Because airline prices vary so much, we thought we'd give you a few tips to getting cheaper flights to Spain and back.  
Compare UK departure airports 
With the variety of airports in the UK, there are usually lots of flights going to and from Spain.  
Be aware that things like ticket prices, carriers and routes can change at the drop of a hat, so make sure you double-check the flight details before you book.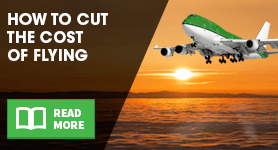 Cardiff and Bristol 
You might find that Cardiff Airport (CWL) only has a few carriers offering direct routes to Barcelona, but lots of multi-leg options to places like Alicante, Ibiza and the Canary Islands.  
There's a selection of carriers offering direct flights from Bristol (BRS), with destinations like Majorca, Tenerife and Alicante among them.  
If you don't want to take a long scenic route from Cardiff, it might be more cost-effective to travel from an airport that offers different carriers, routes and prices - like Bristol or Manchester. 
London 
There are six main airports in London: Gatwick, Heathrow, Stansted, Luton, London City and London Southend.  
Gatwick (LGW) and Heathrow (LHR) have many direct or one-stop return flights to popular destinations like Madrid, Fuerteventura and Ibiza.  
This is also the case with Stansted (STN), Luton (LTN), London City (LCY) and London Southend (SEN). 
Direct and one-stop flights are also available to get you to lesser-known destinations, like Asturias (OVD) Airport, which puts you close to Gijon and Selorio.  
Edinburgh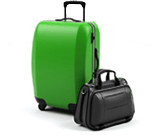 Like the London airports, Edinburgh (EDI) has many direct and multi-leg flights to destinations like Malaga, Alicante (for Benidorm) and San Sebastian. 
Birmingham, Manchester and Newcastle 
There are a variety of carriers that do direct and one-stop flights to the Spanish Mainland, Balearic Islands (like Majorca) and the Canaries from Manchester (MAN), Newcastle (NCL) and Birmingham (BHX). 
Be flexible 
Be flexible with your travel dates and try to avoid peak times. 
Don't always go for the airport closest to you – it may be more convenient, but it could be cheaper to travel to an airport further afield.  
You don't have to book your flights with the same carrier there and back – go with the flights that suit you best.  
Where are you going? 
Because there are so many great destinations in Spain, we've grouped them by the most popular regions to make things a bit easier. 
Andalusia 
Home of the Marbella, Seville and Granada, the region of Andalusia has a variety of airports to get you home such as Gibraltar International (GIB), Malaga (AGP) and Jerez (XRY).  
Aragon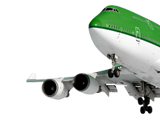 The capital of the region is Zaragoza which has its own airport (ZAZ), making it a convenient place to travel to and from. 
Asturias and Cantabria 
As these are less touristy regions, the best-placed airports with links to the UK would be the Asturias (OVD) and Santander (SDR) airports, giving you easy access to places like Bilbao and Sebastian.  
Balearic Islands and Canary Islands 
Palma de Mallorca (PMI), Menorca Airport (MAH) and Ibiza Airport (IBZ) all have a variety of carriers doing direct and one-stop flights to the UK. And you can get to Formentera by ferry transfer from Ibiza.  
Like the Balearic Islands, the Canaries are holiday hotspots, so there are usually plenty of cheap direct and multi-leg flights available from airports like Gran Canaria (LPA) and Tenerife (TFS and TFN). 
Catalonia 
There are lots of things to do in and around the Catalonian region, which means good flight links with the UK from airports like Barcelona (BCN).
See also:
Travel insurance for Spain
This puts you right on the Costa Brava, with easy travel to Girona and Reus.  
Galicia 
The Santiago (SCL) airport offers many multi-leg flights back to the UK, and La Coruna (LCG) has plenty of direct and one-stop flights to various UK airports.  
Madrid 
You're sure to find many cheap flight options from Madrid Airport (MAD) to most UK airports. 
Murcia and Valencia  
Home of places like Costa Blanca and Mazarron, lots of flights come and go from Alicante (ALC) and Mercia (MJV), so you should be able to find a great deal on your flights.  
Before you go 
It bears repeating that flights, prices, carriers and routes can quickly change, so make sure you compare flights to ensure you get a good deal for your Spanish holiday.  
By Amy Smith