Off to The Harbour City? You might wanna compare flights to Sydney
If you're looking to save money on flights to Sydney, we'll see you right with our info on flights down under. 
Key points
Sydney has one international airport at the mo' (Sydney Airport), but it's due to be joined by a new airport – Western Sydney Airport – in 2026
To try and save (hopefully a lot) of money on your flights to Sydney, compare flights to view some deals!
Direct flights to Sydney aren't available, but there are plenty of layover flights, so shop around to find the balance between a quick route and a cheap price
The Sydney Opera House, national parks, the Great Barrier Reef, the central business district, museums, galleries, Sydney Festival and Australian Fashion Week are just a few reasons why tourists flock to Sydney.  
Without further ado, let's get in to the nitty gritty – cheap Sydney flights.  
Cheap flights to Sydney 
We've got some tips for saving money on your Sydney flights. Ready?  
If you can, be flexible with your travel plans and avoid peak times like school holidays and Christmas. Travelling off-peak means you might be able to benefit from discounted flights.  
Find out whether it's cheaper to book return flights or one-way tickets. It might also be worth checking if you could save by getting your accommodation and flights together as part of a Sydney package holiday.  
The early bird may catch the worm, but it's also never too late. Keep an eye out for early savings or last-minute cheap flight prices to take advantage of discounted fares.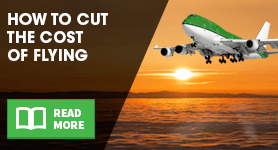 Comparing flights to Sydney with a comparison site (hello!) can help you narrow down cheap flights that suit your needs much quicker than searching through various websites yourself.  
And just in case something doesn't quite go to plan on your trip, don't forget to compare travel insurance for Sydney!  
Direct flights to Sydney  
Sydney is around 10,566 miles away from the UK, and it takes just under 22 hours to fly there on average, which unfortunately means there aren't any direct flights to Sydney.  
There are direct flights between Heathrow and Perth, so it hopefully won't be too long for there to be direct flights to other Australian destinations like Sydney.  
For Sydney flights from airports in the British Isles, you'll have to take a layover flight.  
Layover flights to Sydney 
A layover flight just means there'll be one or two stops along your journey before you get to Sydney. For example, you might fly from London to Singapore and then to Sydney.  
Common layover locations for Sydney flights include Perth, Singapore, Taiwan, Dubai, San Francisco and Bangkok.  
You can get cheap layover flights to Sydney from places in the UK like London, Manchester, Birmingham, Cardiff, Edinburgh, Glasgow, Leeds, Newcastle and Belfast.  
From the UK to Sydney, and beyond 
You can travel to Sydney and use it as a base to fly to other places in Australia and New Zealand.  
You can fly from Sydney to Melbourne, Brisbane, Adelaide, Darwin, Auckland and Wellington. You can even fly to nearby islands like Tasmania and Fiji.  
Airports in Sydney 
There are five public airports around the area of Sydney, with nine airports in total and one (Western Sydney Airport) set to begin construction at the end of 2018, to be completed in 2026.  
The main international airport is commonly known as Sydney Airport, but officially named Sydney Kingsford Smith Airport (SYD).  
Did you know...?
Sydney was named after the 1st Viscount Sydney, Thomas Townshend, and residents are known as 'Sydneysiders'
It's the busiest airport in Australia and has been operating regular flights since 1924. The international terminal is separated from the other two terminals by a runway, so transfer times are slightly longer.  
The other public airports in Sydney are mainly used for domestic flights and general aviation (Bankstown and Camden), and there are two water plane airports (Palm Beach and Rose Bay).  
Just a money-saving note on ticket classes 
Usually, the cheapest ticket type is economy, which gets you the standard fare. Premium economy tickets are also usually available for a little more room. 
If you want a fancy flight, business and first-class seats offer comfier and larger seats, more legroom and a wider choice of food and drink.  
First-class tickets tend to be pricier than business, so check to see what airlines are offering for both ticket classes. If the perks aren't much different, but the pricing is, then opt for business class, to get similar benefits while saving yourself some money.  
By Amy Smith