Compare cheap camera insurance
A dedicated camera insurance policy could protect your tech, or a home insurance policy might offer sufficient cover.
Key points
Think about whether your camera is covered while you're away from home, for example on holiday
Look at your home insurance and see if your camera might be covered already
Bear in mind your camera comes with a warranty, which will cover you if it needs to be repaired
With the rise of Instagram and the increasing quality of mobile phone cameras, everyone and their dog thinks they're a photographer these days.
But what if you've taken the plunge and invested in an expensive piece of kit?
There are lots of different things to consider when buying a camera, but at the top of your list should be insuring your new fancy gadget. It could be vulnerable to dangers such as theft, accidental damage and loss - after all, it'll spend a lot of time hanging off your neck and in your hands.
Camera insurance
When you buy your camera, the retailer or sales person may ask whether you'd like to add insurance to your purchase for a set monthly amount or a one-off payment.
The costs and levels can vary massively from provider to provider, so while this may seem like the easy option you could end up paying over the odds for a policy that won't cover you in the way you need.
Compare and shop around before you decide - look at general providers and specific camera insurance providers, depending on the value of your camera.
Think about whether you need a dedicated policy, or whether your camera could be protected under gadget insurance or an existing home insurance policy.
What does camera insurance cover?
If you think you need a dedicated camera insurance policy, check what's included thoroughly before taking out cover.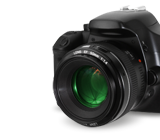 For example, one of the main reasons to take out cover is to quickly fix or replace your camera if you accidentally drop it, but not all policies offer this as standard. Some may take weeks to fix your camera, or may try to replace it with a refurbished second-hand model instead of a new version.
Think about how important things like international cover, 48-hour guaranteed replacement and extended warranty are.
Accidental damage
Consider whether you want to include accidental damage cover for your camera. This may not come as standard with some policies and some insurers may explicitly exclude it, but you'll want to make sure you have it as cameras can be especially vulnerable.
Accessories
While researching your new toy it may have come as a surprise that the elements of a camera that can sometimes be costly are in fact lenses. If you want to photograph close ups of your favourite flowers or take up-close portrait shots, you might need to purchase additional lenses which will need to be covered under your policy.
Other equipment that can add up in cost includes a tripod, a camera bag etc.
Check the excess
If you do decide to take out camera insurance, make sure you check the excess on the policy beforehand. The excess needs to be affordable and not more than the value of your gadget, but not so low that it pushes up the cost of your policy.
Gadget insurance
There are lots of providers who offer dedicated gadget cover for your tech items, including:
These providers will specialise in gadget cover and should be able to offer quick repair and replacement for multiple devices.
Adding a camera to your home insurance policy
If you're considering taking out a camera insurance policy, it's likely you're already sorted when it comes to home insurance.
Did you know...?
Most cameras will come with a warranty, which you may have the option to extend
You're probably the kind of person who has totted up their home's contents using our nifty home contents calculator, so you'll know that adding your camera to your home insurance could be the right option for you.
Remember that you'll need to describe any individual items that are worth over £1,000 and whether you want those items to be covered away from home.
This is perfect for things like laptops, but unless your camera is worth over £1,000 you may not even need to name it individually. It could be included in the total amount of contents cover you have under your home insurance policy.
It's important to note that some insurers may apply a 'single article limit' to items, which means the maximum amount they're willing to pay for an item.
It's also important to remember accidental damage cover and how much your home insurance policy excess is. If it's a lot, you might be better off fixing or replacing the camera yourself.
Finally, remember that if you make a claim on your home insurance it may push up the cost of your policy if you decide to renew. Bear this in mind before claiming.
Cover outside the home
If you do decide to cover your camera under your home insurance, make sure it's covered while you're away from home. You'll need to list it under your possessions to cover outside the home on your home insurance policy, along with laptops, mobile phones and bicycles.
Insurance cover outside the home can protect such things against loss or accidental damage when you take them out and about with you.
Don't forget your warranty
Remember that when you buy your camera it'll come with a warranty, which you may have the option to extend. Cover that offers just repair in the event your camera is broken won't necessarily be worthwhile.
Insurance for professional photographers
The kind of camera you need will also depend on whether you're an amateur or a professional photographer.
If you're a professional photographer you'll need to insure your thousands of pounds worth of kit, which can include multiple cameras, lenses, lights and flashes. You'll also want to make sure you're protected while travelling and while working for other people.
Not only will you need professional photographer insurance, but you'll also want to make sure you're protected with business insurance, including public liability insurance and professional indemnity cover.
More than money
Remember that it's not all about insurance. Especially when it comes to your camera, the gadget itself isn't as valuable as the photographs on it.
Your camera holds memories of holidays, special family days and the joys of everyday life. Many cameras are now connected to wi-fi, so make sure you upload photos to the cloud regularly and store your photos on physical hard drive too, just in case.
By Emily Bater
[SeanSocialShare]