Learn more about the basics of gas and electricity, including the different tariffs available, how to decipher your energy bill and how to switch providers.
Did you know...?
By 2018 customers should be able to switch energy suppliers in a day
Standing charges are not included on all energy plans, but if they're not then you're likely to be charged more per unit to compensate
Gas and electricity bills explained
Below are the common features of your gas and electricity bills and what they actually mean.
Your account number
Your account or reference number will be essential if you need to speak to your energy provider as you'll be asked to quote it to identify yourself and your account.
Supply number
The supply number or MPAN (Meter Point Administration Number) for electricity, MPRN (Meter Point Reference Number) for gas, is a unique number which is assigned to identify your property. You'll use the same number even if you switch suppliers.
Standing charges
Standing charges are the fixed costs required for supplying energy to your home, including general maintenance, meter reading and keeping you connected to the network.
The cost can vary between suppliers, so always check how much you'll be charged. Standing charges are not included on all energy plans, but if they're not then you're likely to be charged more per unit to compensate.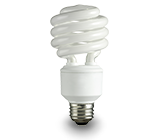 Bill period
The period which you're paying for will be displayed, so you know exactly when you've been charged for, making it easier to compare with previous bills.
Payment slip
A payment slip may be included with your bill, should you want to pay by cash or cheque.
Estimated and actual readings
If you don't provide your energy supplier with accurate meter readings on a regular basis then your usage will be based on estimates. These could be predicted by how you've used energy in the past, or by national average figures.
To find out what figures your bill is based on, there'll either be the words 'Estimated' or 'Actual' shown on your bill, or alternatively the letters 'E' or 'A'.
VAT
You'll have to pay value added tax (VAT) on your energy, but at a reduced rate of 5% (in comparison to the normal 20% on most other products and services). This will be detailed on your bill.
How is energy usage calculated?
Units of gas and electricity are measured in kilowatt hours (kWh).
Your gas meter will either display your consumption in cubic metres (m3) or cubic feet (ft3) and your energy company will then convert your usage to kilowatt hours.
If you don't provide your energy supplier with accurate meter readings on a regular basis then your usage will be based on estimates
Your electricity meter usually measures your consumption in terms of kilowatt hours.
Gas and electricity price plans
Different price plans or tariffs are available from energy suppliers:
Standard price plans
This is a variable tariff, which will change according to the market - it's often your supplier's default price plan.
These don't typically have a term period or require an exit charge to be paid if you want to switch tariffs, so they can be quite flexible.
However, standard tariffs do tend to be at a higher rate than other tariffs and aren't usually the cheapest option on offer.
Also, the price can fluctuate according to the energy market.
Fixed energy plan
Fixed energy rates set how much you pay for gas and electricity at a certain price for a set period of time, for example 18 months.
So if the market price of energy goes up or down within this period, it won't affect the price of your tariff.
Be aware that at the end of the period you may automatically be switched to a higher-tariff standard price plan.
Also note that fixed rates usually apply to the price of energy per unit plus the standing charge.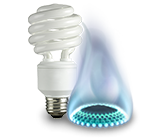 However, some fixed rates only apply to the price of energy per unit so, if the standing charge is increased, you'll have to pay more.
Dual fuel plan
Having a dual fuel plan can make it easier when you need to deal with your supplier, as you'll only need to contact one company instead of two.
Most standard, fixed and online tariffs will have a dual fuel option to choose from and you may enjoy a discount for using the same provider.
Historically, dual-fuel plans tended to be better value than sourcing gas and electricity separately, but that is no longer necessarily the case.
Complex pricing and the growth of firms specialising in just supplying gas or just electricity may mean that you could find cheaper deals by arranging cover for each utility separately.
Capped plans
A capped price tariff means that the price you pay for each unit of electricity is variable but it's also capped at a certain level, above which it can't rise.
This means that you'll benefit from any falls in energy prices during your term, unlike with a fixed-rate plan.
If you decide to leave the capped plan before the end of the tariff period, you may be charged a fee.
Economy 7 plan
This type of tariff is only for electricity and offers a cheaper tariff at night than through the day, but you must have a special economy 7 meter fitted in your house.
The plan gets its name from the fact that there's seven hours of cheaper electricity available, usually between 01:00 and 08:00, although this is dependent on the supplier.
Did you know...?
Some green tariffs will use a mixture of renewable and non-renewable sources of energy, whereas some could be 100% renewable
Those with an electric storage heater and a hot water tank will benefit the most from this tariff as the storage heater can be warmed up overnight during the cheaper rate hours and used slowly throughout the day.
Economy 10 plan
The economy 10 plan is similar to the economy 7 tariff, but the number of off-peak hours is increased.
This makes energy cheaper for three hours in the afternoon, two hours in the evening and five hours overnight.
The specific off-peak times will change from supplier to supplier, so always check the terms and conditions.
As economy 10 meters are less prevalent, it can be difficult to switch providers - not all will be able to offer this option.
There could also be a charge for installing the meter, so make sure that you consider how much energy you normally use at the specified off-peak hours .
Prepayment energy tariffs
Prepayment energy tariffs enable you to pay for gas and electricity in advance by topping up a card or key with money.
This can be done at participating shops, post offices, garages and, in some cases, online.
If you have a poor credit score or struggle with a low income, this may be one of the only options available to you.
Prepayment tariffs are more commonplace in rental properties and they can help reduce the risk of running into debt by only letting you use energy that's already paid for. They can also help to ensure that there are no steep bills to shock you at the end of the month.
However,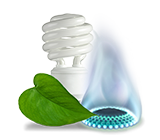 the average cost of energy does tend to be quite high on prepaid meters and you won't benefit from any price deals that your supplier has to offer.
Green energy tariff
A green energy tariff is one that's believed to help the environment through the use of renewable sources of energy like wind and solar power, as an alternative to traditional fossil fuels.
Some tariffs will use a mixture of renewable and non-renewable sources of energy, whereas some could be 100% renewable.
Online plans
If you sign up for a tariff with an online plan, you'll manage your account completely through the internet. This includes everything from completing payments to entering your meter readings regularly.
This means that you could be offered discounted rates because the supplier will have lower administrative costs.
Remember that, if you sign up for an online deal, you'll no longer receive correspondence via post, so you'll need to check your email inbox regularly to avoid missing any important information.
Social plans
Social plans may be suitable for those whose energy bill takes up at least 10% of their income and who may struggle to keep on top of their payments, for example pensioners and low-income households.
However, social tariffs are being phased out by suppliers and will be replaced by the Warm Home Discount, which provides those who qualify with rebates on their electricity bills.
Did you know...?
When changing suppliers there should be no disruption to your energy supply during the switchover period
For more information, read our guide on help with winter fuel bills.
The Ofgem Confidence Code
The Ofgem Confidence Code† governs independent energy price comparison sites, such as Gocompare.com's partner Runpath.[1]
The sites covered by the Confidence Code act independently of suppliers, so you can be sure that when you're presented with options and prices they've been calculated and are displayed in a fair and unbiased way.
Switching tariffs
Shopping around and switching providers can be a much simpler process than many people imagine.
Finding the right utilities supplier and tariff through a comparison website such as Gocompare.com is a simple task, and the energy regulator Ofgem is working with utilities companies to streamline and clarify the process further.
It's worth checking your options every six months or so, and with Gocompare.com you can review prices and plans from all UK energy suppliers, including small firms.
Just input your consumption, which you should be able to find on your bill.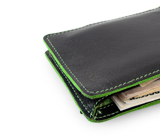 If this isn't possible, we can help you make an estimation of your usage.
When you've reviewed your options and made your choice of supplier and tariff you'll be asked to complete a short application form.
Customers then get a two-week cooling-off period to ensure they've made the right choice, and if they're happy to continue the switch should be completed within three days - so it'll take no more than 17 days overall, including the initial two weeks.
The switch period will be cut from three days to one day by the end of 2018 (at the latest).
Remember that there should be no disruption to your energy supply during the switchover period and you won't need to contact your existing provider to end your contract - this will be done by your new supplier.
Once the transfer of your supply has been confirmed, you should ensure that the final payment to your current supplier has been made before cancelling any direct debits.
Collective switching
Collective switching offers an innovative approach to switching tariffs that could save you even more money.
If you register for a scheme you become part of a 'community' and the community leader will use the collective bargaining power of the group to try to negotiate the best deals with energy suppliers.
Such arrangements can also work well for the suppliers themselves, meaning that you and your community may gain access to tariffs that beat those on offer to the wider market.
Tips for cheaper gas and electricity
Apart from shopping around for a cheap energy tariff, there are lots of different things you could do around the home to help lower your bills.
Take a look at our tips for saving money on your gas and electricity.
By Abbie Laughton-Coles