Guide to boiler cover and central heating insurance
Key points
A policy can provide peace of mind that you won't be left for long without heating or hot water, but be wary of terms, conditions, exclusions and cover levels
Our service helps you compare policies and prices from multiple providers to help you find the right deal
Take care not to double up on cover - are you already protected by your home insurance, or by a home emergency cover policy?
Tenants should not need to buy this sort of cover as ensuring the property has appropriate heating is likely to be the landlord's responsibility
Watch out for pushy sales lines from providers and/or engineers trying to sell you new boilers and more
Boiler and central heating cover is designed to give you peace of mind that - if there's a problem with your home heating - it'll be resolved as quickly as possible without the need for you to do a lot of leg work phoning local plumbers and heating engineers.
By paying a yearly premium or monthly direct debit instalments for the appropriate cover, you could avoid being landed with a hefty bill in the event of an expensive breakdown.
How do I compare boiling and central heating cover?
Gocompare.com's heating and boiler comparison service asks you to fill in a simple online form before reviewing quotes.
You'll be asked for your basic personal and contact details and when you'd like the policy to start.
Please note that our service is currently only available to cover your main residence and you must be the homeowner.
We can't quote for landlords or tenants, although this may be something we'll be able to offer in the future.
You'll also be asked whether your property is a house, a bungalow, or a flat/apartment, before choosing the sort of cover you'd like.
Note that our service offers options for a wide range of home emergency cover, meaning that you'll have the chance to see quotes for covering plumbing and electrics in your property as well as heating and boilers.
Policies we compare for heating and boilers cover a complete/partial or intermittent failure of your primary heating or hot water system which would leave you without heating or hot water.
You'll be asked whether you'd like an annual boiler service to be included as part of the policy.
Need more information?
Please note that if you want your boiler to be covered it must have been serviced within the last year; if you can't provide evidence of this, a claim may be invalidated.
Age restrictions on your boiler also apply and you'll be asked whether it's less than 12 years old, 12-to-15 years old, or over 15 years old.
You WON'T be able to get a quote for boilers over 15 years old, and if your boiler is in the 12-to-15 category you're likely to see a smaller choice of cover providers charging higher prices than for customers with newer boilers.
You'll be asked to choose the make of your boiler from a drop-down list; if you're uncertain you can select 'unknown', but for a better comparison try to find out this detail.
When you've completed the questions, click through to get quotes from our easy-to-use comparison table which will show: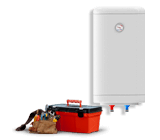 Details of the provider
Annual premium
Cover level
Whether call-outs are unlimited or restricted
Any excess that has to be paid
If you'll get an annual boiler service
If a policy includes cover for electrics
If a policy includes cover for plumbing
One of the key fields to take note of is the level of cover; some home emergency policies have been criticised for offering paltry cover levels, perhaps just a couple of hundred pounds that wouldn't get you far in an emergency, so look for a decent protection level.
If you see an option you like you can click through for a more detailed consideration of the policy and the opportunity to buy.
Do I need boiler cover and central heating insurance?
If you're a tenant in a rented property, the answer is most probably no. It's your landlord's responsibility, so check with him or her that cover is in place and find out what the terms are.
How long would you have to wait, for example, for work to be carried out if your heating breaks down? If you're a homeowner, you're responsible for boiler and central heating breakdowns, so you may want to consider insurance.
Take into account the age and condition of your boiler and other essential services, whether they're covered by guarantees, and how reliable you consider them to be. Ultimately the decision on whether to take out boiler cover is down to you weighing up the balances of outlay, risk and return.
Taking out a policy may mean that you pay more, but it's also likely to offer peace of mind and you should have the worry of securing the services of tradespeople in an emergency situation taken away from you.
Isn't boiler and central heating cover included on my home insurance policy?
If you have home insurance, check your policy carefully. Some policies do include boiler breakdown and home heating insurance, although you might have to pay a greater excess and the level of cover provided might not be as high as with a specific boiler policy.
Did you know...?
Exclusions on older systems could include your provider not guaranteeing that they'll be able to fix your boiler
Some home insurance policies include home emergency cover, whilst others won't cover your boiler and heating at all in the event of a breakdown.
On 2 October, 2014, Gocompare.com analysed 329 home buildings insurance policies listed on the matrix of independent financial researcher Defaqto.
It was found that 20% covered home emergencies as a standard feature, while 51% offered such cover as an optional extra for an additional fee.
Of those policies protecting against home emergencies, 98% covered the home's main central heating system and 72% provided insurance against hot water failure.
How can I keep my premiums to a minimum?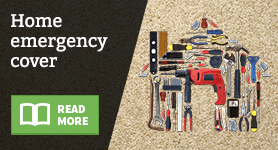 The cost and type of policy you opt for should depend on the age of your boiler and central heating.
Appliances installed a long time ago might be less reliable than newer versions and replacement parts might be difficult to get hold of, so comprehensive cover might be the most cost-effective option, if not the cheapest.
If you have an old system, be extra wary when it comes to the terms and conditions - there may be exclusions, and it's possible that your provider will not guarantee that they can fix your existing system.
It's also likely that your policy provider will be keen to guide you in the direction of purchasing a new boiler and/or central heating system.
If you're tempted, make sure you do your own, independent research - only you can decide when it makes sense to change your system, and you should shop around for the right deal on hardware and installation.
If your boiler or central heating system was recently replaced, remember that it might still be under guarantee.
If the guarantee has expired but the heating system is still relatively new, it might be worth considering the minimum level of cover available, on the basis that emergencies are less likely to occur.
Beware the second-year hike
If you have taken out boiler cover, bear in mind that most policies auto-renew and premiums may rise in the second year and beyond - regularly shop around to make sure you're getting the right deal.
Pricing policies will vary significantly between different providers. For example, SSE told Gocompare.com in December 2014 that it didn't have a policy of increasing the cost of boiler cover after the first year, although it did offer discounts or free periods in the first year as an incentive.
Npower said that it lowered prices in the first year as part of an 'introductory offer', and a spokesperson said: "Before auto-renewals, we also write to our customers twice advising them of their renewal price.
"Our boiler and central heating care plans are non-insurance products, so they are not aligned to whether the customer makes a claim or not."
This 'non-insurance product' distinction is important - whether or not your boiler cover is classed as insurance or a 'service agreement' will affect the level of cover and protection you receive if your provider goes bust.
If your boiler cover is a service agreement, like Npower's, then it isn't regulated by the Financial Conduct Authority (FCA) and so you'll be left wanting if the company goes under.
British Gas on the other hand operates what it calls a 'risk-based pricing approach', meaning that for some customers prices increase while for others they drop.
"This provides a fairer system as the price paid better reflects the likely future cost to serve our customers," a spokesperson for British Gas said.
When researching boiler cover options offered by the big six in December 2014, information on how much their cover was likely to increase or decrease by in the second year - what the 'undiscounted' price was, as some providers would put it - was hard to come by.
Did you know...?
In February 2014, Homeserve were fined £30.6m by the FCA for questionable sales techniques to elderly customers and poor complaints handling procedures
Boiler and home heating cover specialist Homeserve and Npower were the only providers we spoke to that clearly stated the likely price of cover in the second year to customers on their websites.
The cost of cover doubled in the second year with Homeserve, but spokesman John Greaves pointed out that they made it clear what the second year price was likely to be.
"We want our customers to know all the relevant information in advance so that they can make an informed decision," said Greaves.
Self-insuring as an alternative to boiler cover
Self-insuring is where you save money into a contingency savings account instead of paying a premium to an insurance provider.
If your heating breaks down and you need to pay a call-out charge or spend money on repairs, the cash will be there waiting.
However, some homeowners might consider this too much of a gamble and would prefer the peace of mind that the right home heating cover plan can bring.
According to a survey by Gocompare.com, only 27% of people said they'd have enough money set aside if they had to pay a £300 bill to get their boiler fixed.[1]
Of those asked, 23% held specific boiler cover, while 10% would have to pay by credit card.
One of the main arguments for specific heating cover ahead of self-insuring is the convenience of having an emergency helpline with rapid access to trained engineers.
Bear in mind, though, that there have been reports that such emergency service hasn't always been as forthcoming as customers might expect, plus suggestions of hard-sell tactics pushed on customers by engineers for non-essential services such as a 'power flush'.
Remember...
If you are considering taking out specific boiler and central heating insurance, don't assume that your own energy supplier will offer the cheapest cover.
There are deals to be done if you shop around and compare prices.
And remember, if your boiler does break down or your home heating stops working, don't try to fix it yourself - always use an engineer who's on the Gas Safe Register.†
"Boilers are one of the most expensive items in your home to replace or repair, but many people don't give them a thought until they let them down," said energy expert Jeremy Cryer.
"I'd recommend that people have their system checked on an annual basis as this helps ensure that it's running safely and efficiently.
"Several energy suppliers offer specialist boiler insurance which covers you against the cost of emergency repairs and the price usually provides an annual service.
"If you're considering insurance, you should check your household buildings insurance policy for home emergency cover first - because your boiler might already be protected.
"But, while insurance covers the failure of, or accidents to, essential services to your home, policies generally exclude problems which result from systems not being properly maintained.
"So, for example, the failure of boilers or heating systems are usually only covered when they've been inspected or serviced by a qualified person within the preceding 12 months."
By Rebecca Lees and Emily Bater