Ever heard of E energy? It may light up your day
Switching energy providers? Find out whether E might be the right choice for your gas and electricity.
Key points
By 2018 over 200,000 customers in the UK had used E
Shopping around to find the cheapest tariff from different providers before choosing could save you money
With no exit fees or termination charges, you won't be penalised if you change your mind about E
Founded in 2014, E is a relatively new energy supplier situated in Birmingham. 
Having grown its customer base to over 200,000 homes by 2018, this young energy provider offers an alternative to the 'big six' energy suppliers.
Types of E energy tariffs
Despite being one of the new kids on the block, E has a number of tariffs for you to consider.
Take a look at what's available and decide which option best fits your needs. 
E offers all the usual energy tariff options, such as:
Standard variable rate
Often the most expensive rate available, which you're likely to be moved to when your initial deal or fixed rate ends.
Fixed rate
With this type of tariff, the unit cost of gas and electricity will stay the same.
This means that even if E's wholesale prices go up or down, you'll owe the same amount for each unit you consume. 
Note that when your fixed period comes to an end, you may be switched to a standard variable tariff, so make sure to shop around for a cheaper deal before this happens.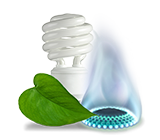 Green
If you want an option that's easier on the environment, you may want to consider a green tariff.
Be aware that green energy deals won't necessarily be the cheapest, though, so it's a good idea to compare and check the options.
Prepayment
A prepayment tariff is one where you're required to top-up a meter with money before you'll be supplied with gas or electricity, usually with a payment card or tag.
This option is usually given to those struggling to make payments but can work out to be more expensive, so consider asking whether you can be switched to a standard meter. 
E may offer emergency meter credit and 'friendly credit' hours as a safety net, ensuring you don't lose power when you really need it. 
You may want to check the smart meter options available with E too, as this can help you keep your bills accurate, preventing you from overpaying or underpaying. 
Switch to E energy
If you do decide to switch, you could be up and running with E energy within 17 days.
You don't even have to inform your current supplier that you're leaving - E will say all your goodbyes for you.
However, it's important that you shop around before taking the plunge.
You may just find a tempting cheaper tariff elsewhere.
Be sure to check customer service reviews and make an informed choice.
If it's E energy you wish to leave, it won't penalise you for doing so, with no exit fees on your way out.
What are people saying about E?
With only a few years behind them, E is still a young company compared to industry giants like British Gas. As such, reviews aren't as readily available as their larger rivals.
Those that have used E have shared mixed opinions - with some claiming they're far better than their previous supplier and others claiming far worse.
With the jury out on E, it's best to make sure you are totally clear with what you're getting before you sign on the dotted line.
By Martyn Grant