Stay toasty with energy-saving heaters
Learn more about energy-saving heaters and find out which one is right for you.
Key points
Choose the type of heater for your needs
Short-term options include electric fires and gas bottle heaters
Portable heaters are also an alternative 
The average temperature of a home in the UK during the winter months is around 20°C. Central heating is commonplace in most homes, but there are an abundance of other heating appliances vying for our attention.
The kind of heater you choose will be influenced by what you're going to use it for. 
Short term 
Need a short blast to warm your feet up under your desk? Or to take the chill off your garage turned home gym before you hit the treadmill? Then a fan or radiant heater will do the job.
This type of heater will direct a quick fix of warmth to a specific area. We're talking:
electric fires
open gas fires
halogen heaters
gas bottle heaters
No thermostat? No problem. They're designed for quick bursts of short-term action, not to keep a room at an ambient temperature.
This also means using them as your main form of heating would be a costly exercise, with little control over temperature, and therefore cost.
Longer periods
This is where your thermostat or timer-controlled heater comes into play. Want the house warm when you get back from work? It's central heating that'll turn the heat up while keeping costs down.
Known as convection heaters, these babies warm air (or water or oil) inside them, then circulate it through a room.
Think of a radiator. It heats up its surface, which warms the air around it.
Other examples are solid fuel fires, underfloor heating and electric storage heaters.
Fixed heaters
Cheaper to run and more energy efficient than most portable heaters, fixed heaters can be powered by gas, electricity, coal and wood. 
You can usually find them fixed to a wall, or in a fireplace. 
Electric fixed heaters
There are two common types:
wall panel heaters which usually partner storage heaters to give an extra boost of heat when needed

wall fan heaters like the ones found in bathrooms
They're 100% energy efficient, as all the electricity they use is turned into heat. But generally they're expensive to run.
Gas fixed heaters
The gas fire is a familiar sight in many living rooms across the UK. They come in many shapes and sizes, including: 
open flame (don't forget your fire guard) 
glass fronted 
radiant
flueless - self-contained, with a catalytic converter that burns off the gas
balanced flue - has two pipes, one brings the air in to fuel the fire, the other vents to the outside
A balanced flue fire will benefit your pocket more than the other fires, as no heat is lost through ventilation.
Solid fuel heaters
Ah, the solid fuel fire can be a thing of beauty. Who doesn't love to see coal burning on a cold winter's night? And a log fire is the focal point of so many romantic daydreams.
Lugging the coal in or chopping the firewood is a different matter.
Best to get yourself an enclosed or glass-fronted model, to avoid any issues in smoke control areas. In these places, you can only burn authorised fuels.†
Portable heaters
Not at the top of the list for cost-effective heating, the portable heater does have its uses.
Sometimes you just need heating for a short time, or maybe you're working in one room and don't want to heat the whole house. This is when a portable device comes into its own.
Portable electric heaters
There are numerous options to choose from when it comes to your portable electric appliance: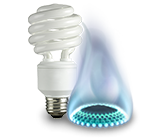 bar heaters
fan heaters
oil-filled radiators
halogen heaters
convector heaters
Portable heaters get hot quickly so you might want to avoid using them around children, pets and drunk Uncle George at Christmas.
They need plenty of space to work effectively – so just like Baby, don't put it in a corner.
Portable gas heaters
If we're honest, a portable gas heater may turn out to be a bit of a pain – what will you do if your gas bottle runs out at 6am on a frosty morning? 
You'll need to leave the window open for ventilation too, which sort of defeats the point of using a heater in the first place. 
Gas vs electric - the big debate?
Time to put your money where your mouth is, and choose a heater that suits your needs. But which fuel works out more cost effective?
Phil Wicks, managing director of Focal Point Fires told us:†
"When it comes to saving money on your heating, there are a couple of different options to be considered. In the traditional argument of gas versus electric, gas almost always comes out as the cheaper choice. 
"However, as electric heaters and fires themselves tend to be cheaper, people often opt for the initial lower cost, rather than the long-term savings."
The last word
There's no doubt about it... As far as heating your home goes, gas central heating comes out on top.
If you don't have mains gas, then why not take a look at the Economy 7 tariff? It might save you some dosh.
Whatever heating you use, make sure you're on the best value tariff for your home by using our handy energy comparison service.
You might just save some time and money. 
By Kath Denton