Guide to switching energy if you're renting a property
Key points
Ofgem research highlights significant savings that can be made by tenants changing their energy tariff and/or supplier
If you're responsible for paying the energy bill, you're entitled to switch tariffs with the same supplier
If you're planning to change supplier, you can still switch but should first speak to your landlord
Your landlord can't unreasonably prevent you from switching, but they should be informed of planned changes to ensure you don't fall foul of any clauses in your tenancy agreement
You'll need your landlord's permission if you intend to change meter, perhaps from a prepayment meter to a credit one
If you're a tenant it's important to remember that you have as much right to switch your energy supplier as a homeowner, and that it should be a reasonably simple process.
Unfortunately such knowledge seems to be lacking among the UK's tenants and March 2014 research conducted on behalf of energy regulator Ofgem† suggested that an average of £200 could be saved by the nation's nine million bill-paying renters.
What's more the research, part of Ofgem's 'Be An Energy Shopper' campaign,† suggested that 20% of tenants were unaware they had the right to switch supplier and a huge 77% had never changed.
"The number of British households renting stands at nine million and counting, yet research has shown that this group is not shopping around for their energy, and missing out on savings," said Ofgem boss Dermot Nolan.
If you're just switching tariffs with the same supplier, you should be able to do it at any time, and this in itself can lead to savings. However, there's also the potential to make greater savings by switching suppliers, which can be done with your landlord's consent.
Above all, remember that if you're responsible for paying the gas and electricity bill you're entitled to switch, and your landlord can't unreasonably prevent you from doing so.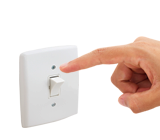 Ofgem tips for tenants seeking cheaper energy
Take meter readings when moving in and out of rented accommodation
Ask your landlord to highlight any supplier tie-ins up front, including any exit fees which you'd have to pay if you wanted to switch suppliers
Let your landlord know if you're intending to switch supplier
Meter changes for tenants
It's possible that a tenant will find themselves with a meter they'd like to change, such as a prepayment meter; prepayment tariffs are typically more expensive and inconvenient than credit options.
Need more information?
However, prepayment meters are popular with some landlords as they offer the security of knowing that their tenants won't depart without paying the energy bills.
If you're a tenant who would like to change the meter you have, the first step is again to speak to your landlord.
Even if they won't allow you to change meter, remember that you should still be allowed to shop around for tariffs and suppliers, and there are savings to be made by finding the right prepayment deal.
Shop around for a better deal
If you're the person who pays the energy bill then you have the right to shop around and switch to a better deal.
No bill payer should feel trapped in a situation where they have to pay more for their outgoings than they have to if cheaper alternatives are available. Tightening of mortgage lending rules and rising house prices mean that it's likely that the number of people living in rented accommodation is only set to increase.
So it's vital that renters familiarise themselves with their rights so they can avoid feeling trapped by paying a premium for their gas and electricity and other bills. Whether you're a homeowner or a tenant, shopping around for energy is quick and easy using a reputable comparison site.
As soon as you move in, take a meter reading and let your landlord know that you intend to shop around. Your landlord should tell you who the current supplier is, and whether there are any exit fees or other considerations you'd need to bear in mind in if you do decide to switch.
When you call the existing provider you can ask for estimated energy usage figures, which will help you compare tariffs more accurately to find the one that's best for you. If you find a better deal elsewhere then switch there and then, but remember switching suppliers isn't instant, so you won't benefit from the new tariff rates immediately.
Know your rights
Try not to feel like you're trapped by terms and conditions in your contract. If you're paying the bills yourself, rather than through the landlord as part of a 'rent plus bills' arrangement, then you have a right to decide how you spend your money and who you get your services from.
However, it's a good idea to inform your landlord of any changes you want to make - whether before or after you've moved in - to ensure you don't fall foul of any clauses in your tenancy agreement.
By Sean Davies