Switching your energy supplier is likely to be a much easier process than you imagine - take out the mystery with our FAQs, then see if you could save money by changing tariffs.
See also:
Why should I switch suppliers?
Switching energy suppliers is quite a straightforward process, it could save you a lot of money in the long term and it helps to encourage competition and fair play in the energy market.
How do I switch suppliers?
The switching process can be simpler than you think - just enter your postcode and details of your energy usage. If you don't have a bill to hand to find out your energy use, you can use our energy calculator to estimate it.
Do you show all available tariffs?
You'll automatically be shown the tariffs that you can switch to through Gocompare.com on the results page. However, you have the option to toggle between this view and seeing all other tariffs by clicking 'See all tariffs on the market'.
Do you take a commission if I switch energy through you?
Our partner, Runpath[1], receives a commission payment for each fuel switch successfully completed through Gocompare.com and we receive a proportion of this commission. The commission we receive doesn't affect the price you pay; it's not added on and the unit rates for the tariff would be the same if you applied directly.
What is dual fuel?
Dual fuel tariffs are when gas and electricity are provided by the same supplier on one contract. This is likely to be the most convenient option, but if you prefer you can switch gas and/or electricity separately, and it's possible that sourcing each utility separately could prove cheaper.
What's a cooling-off period?
If you apply to switch suppliers there'll be a cooling-off period of up to 14 days to allow you to change your mind if you think you've made a mistake.
How long does switching energy supplier take?
After the cooling off period, the switch should take three days - so the whole process should take around 17 days. By 2018 it's hoped to cut the switch period to just one day (15 days including the cooling off period).
How are my energy bills calculated?
Many suppliers impose a standing charge - a fixed charge per day - with the price varying between tariffs and suppliers. Units of gas and electricity are measured in kilowatt hours (kWh) and your bill will show the unit rate, in pence, for each kWh of gas or electricity used. If you have an electricity meter that records the units used at night and day separately, your tariff is likely to be a 'time of use' tariff, typically known as Economy7 or Economy10 tariffs. On these tariffs, the rate for the electricity you use at night tends to differ from the day rate.
Did you know...?
Energy prices in different regions of the UK vary significantly
Technology such as mobile phones, smart meters and energy monitors can help you control your bills
What energy tariffs are available?
The main tariffs available are:
Variable price tariff
Standard tariff
Capped plans
Economy 7 plans (for electricity only)
Social plans
Other tariffs are available but they're not as common and aren't currently available through Gocompare.com. When you obtain quotes through us, you'll be asked if you currently pay for your energy by monthly direct debit or prepayment meter and your answer will be reflected in the results you see.
What's collective switching?
Collective switching is when a large group of people (a 'community') uses its collective purchasing power to negotiate its own tariff with energy suppliers, potentially securing more attractive deals than those advertised to the wider market. It typically works in the following stages:
A registration stage where the community is gathered
A negotiation stage where the group uses its collective power to negotiate deals with energy suppliers
A switching stage where members of the community decide whether or not to take up the deal
Are there alternatives to the 'big six'?
There are small energy firms who can supply the same gas and electricity as the so-called 'big six'. Search through Gocompare.com and you can review prices and plans from all UK energy suppliers.
Can tenants switch energy suppliers?
Yes, tenants have as much right to switch energy supplier as homeowners - and there are potentially significant savings to be made.
Do I need to read my meter?
If you want accurate bills, read your energy meters regularly and provide your energy supplier(s) with the reading. Paying for your actual energy usage will help you to stop paying too much or too little, something that could result in a large bill later on. Also, make sure you read your bills.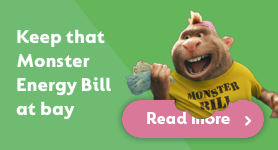 Can I save money by using renewable energy?
Investing in renewable technology could have environmental and financial benefits, but up-front costs can be significant.
Will my energy tariff depend on where I live?
Yes, UK regional energy prices will vary significantly.
What support with energy bills does the government offer?
Take a look at our article on help with winter fuel bills.
Can technology help me cut bills?
Options such as smart meters and energy monitors could help you control your energy costs.
Any more questions?
See if you can find the answers in our gas and electricity guides.
By Sean Davies