LPG (liquid petroleum gas) such as Calor Gas is used by some as a source of home heating. Try our money-saving tips for LPG customers…
Key points
LPG is typically a more expensive heating choice than mains gas, but it may be the right option for those off the gas network
Bulk LPG should be cheaper than cylinder LPG
LPG customers can still shop around for electricity as a way of cutting energy bills
There are a number of ways to cut the cost of LPG heating, including shopping around, haggling, collective buying and getting the timing of a purchase right
LPG is a common and versatile energy source that may be most often associated with camping and caravanning, or as an alternative to petrol and diesel for vehicles.
However, it's also a method of heating homes and their hot water, an option likely to be of particular relevance to the millions of UK households that aren't connected to the mains gas grid.
Such households are particularly prevalent in Northern Ireland and in rural areas such as parts of Scotland, mid Wales, Yorkshire, Cornwall and Devon.
Although it's a home heating source that's in decline, an Office of Fair Trading (OFT) report estimated† that in 2011 there were around 150,000 households using what's known as bulk LPG for heating purposes, while a further 25-50,000 used cylinder LPG.
The gas itself is created as a by-product when crude oil is refined, and it can also be extracted from natural gas streams or petroleum.
It's considered to be a comparatively clean fuel to burn when compared to other fossil fuels - it emits less carbon than oil, for example - but it does contribute to air pollution. Other downsides include the fact that it can be one of the most expensive options, and it may be inconvenient.
Bulk LPG
Households using so-called bulk LPG have a tank to store the gas, which may be above or below ground.
This is likely to be cheaper and more convenient than relying on cylinders, which are typically only used when there are problems arranging delivery of bulk LPG, or space restrictions when it comes to storing it.
In its report published in April 2012, the OFT noted features of the domestic bulk LPG market that adversely affected competition, highlighting the fact that only 3% of the major suppliers' customers ended their supply arrangements every year, and just 0.5% did this to switch to an alternative LPG supplier.
This was despite frequent complaints raised with OFT with regard to regular and significant increases in the prices of bulk LPG, including sharp rises when introductory price offers expired.
Reasons for the low switching levels included poor customer information concerning the right to switch and the potential benefits of it, plus contractual restrictions (typically lengthy fixed contracts). The latter reason was related to the major issue of supplier-owned LPG storage tanks.
Supplier-owned LPG storage tanks
Although LPG storage tanks are typically sited on a customer's land, the tank itself is likely to be owned by the supplier.
Did you know...?
After the initial contract period, customers wishing to switch bulk LPG supplier shouldn't have to pay for the transfer or removal of the tank
The LPG supplier will have agreed to the customer's use of the tank in return for an exclusive contract to supply domestic bulk LPG. Such an exclusive contract may be expected to last for two years.
The supplier is required to ensure that the tank is safe to receive and store the LPG.
OFT reform of the bulk LPG market
In April 2012, the OFT secured voluntary agreements from the major LPG suppliers to help customers understand their contracts, how prices can change in the two-year period, switching and cancellation rights, and exit costs.
After the initial lock-in period, while some customers may want to continue with their existing supplier they should have the ability to cancel their supply or switch at any time.
When they switch to a new LPG supplier they shouldn't have to bear the costs of the transfer of their tank to the new supplier, nor any direct costs associated with the removal of their tank in order for a new tank to be installed.
If, however, a customer wants a tank removed because they're switching to another fuel source, it's possible that the customer will have to pay for the tank uplift and removal.
The companies associated with this agreement were BP Gas, Avanti Gas Limited, Flogas UK Limited and its sister company DCC Energy Limited (trading as Flogas Northern Ireland), and Calor Gas Limited and its sister company Calor Gas Northern Ireland.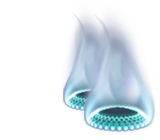 Cylinder LPG
Cylinder LPG is mainly used for home heating where bulk LPG can't be supplied, for example due to space constraints.
It's considered one of the more expensive ways to heat a home - even more expensive than bulk LPG - and the OFT has noted that "LPG consumers are more likely than average to struggle with their heating costs".
Customers face particular problems when it comes to switching, and the OFT was clear that "cylinder LPG is not the most suitable alternative fuel choice for many off-grid households".
Most of the market is in Great Britain, not Northern Ireland, and it's a market that's expected to see ongoing decline as households update their heating systems.
While small, butane cylinders are often used for LPG patio heaters and stoves, when it comes to central heating it typically involves large propane cylinders of over 40kg, with 47kg cylinders most common.
The handling of such large cylinders requires care, and customers typically need to organise delivery and collection. It's also important to remember that the cylinder remains the property of the supplier, and will need to be returned when finished with.
Cylinder LPG users may have only a limited number of local suppliers, may pay higher heating costs on average than any other off-grid consumers, may be less able to readily switch to a different fuel type and are susceptible to road delivery disruptions
According to the OFT, in 2010 total UK sales of all propane cylinder sizes were around 250,000 tonnes, of which around 50% were 47kg cylinders.
It estimated that a typical domestic customer consumed 24 of these 47kg cylinders in a year.
The cylinders are usually delivered in pairs and then sit in banks of four, connected via a changeover valve and pigtails.
Two cylinders are connected and two cylinders disconnected at any time, allowing customers to replace the empty two when they still have a plentiful supply available.
In summing up the state of the cylinder LPG market, the OFT concluded that: "Cylinder LPG users may have only a limited number of local suppliers, may pay higher heating costs on average than any other off-grid consumers, may be less able to readily switch to a different fuel type and are susceptible to road delivery disruptions."
The OFT suggested that customers shop around as much as they are able, that they should look to make energy efficiencies and should maximise any available grants that could help, but concluded: "In light of the potential challenges faced by cylinder LPG consumers, this group could be a candidate for targeted assistance or support, for example from policymakers or consumer organisations."
LPG cylinder users on metered estates
A significant proportion of LPG cylinder heating customers are found on metered estates, which are often park home or holiday home sites.
Such consumers face further challenges in switching and/or getting a competitive deal as the estate owner may have entered their own contract with the LPG supplier for the whole estate.
In such cases it may be possible for the estate residents to collectively ask the estate owner to switch supplier in order to obtain a better deal.
Money saving for LPG heating customers
The challenges facing LPG consumers are many and obvious, but there are ways for such people to save on their energy bills.
Perhaps the first and most obvious point to note is that LPG customers should still be able to shop around for electricity, comparing tariffs and suppliers to find the right deal.
Saving money on heating bills may require a bit more thought, but here are some things to think about…
Can LPG customers change their heating source?
If an LPG household is connected to the main gas network then switching to a gas boiler and heating system should be a relatively straightforward - if initially expensive - exercise.
Heating oil is one of the cheaper and more widespread options for those off the gas network, although there are a number of downsides to consider
Some more modern boilers, fires and cookers burn mains gas as well as LPG, something that could help cut switching costs.
Mains gas should be a cheaper fuel source than LPG, it should make shopping around for energy more straightforward and it's possible that switching to a mains gas boiler will add to the value of a property.
If, on the other hand, the home isn't connected to mains gas, it may well be that LPG is the right heating choice, but there are other options to consider…
Heating oil is one of the cheaper and more widespread options for those off the gas network, although there are a number of downsides and it's not one of the more environmentally friendly choices.
Electrical heating is worth thinking about; it's not necessarily a cheaper option, but it may be more convenient and easier to budget and shop around for. Electric may also prove to be a better long-term option with the rise of time-of-use tariffs, feed-in tariffs and smart meters.
Feed-in tariffs are connected with the growth of renewable energy being created by domestic customers; while initial set-up costs for such energy generation can be expensive, households that are off the gas network may potentially have the most to gain from things like their own solar, wind and hydro power.
If such options seem to point to the future, more traditional alternatives to LPG include solid-fuel options such as coal-fired boilers and biomass boilers.
These may share some of the downsides of LPG, but - depending on your circumstances - they could be the right option.
Cutting the cost of LPG heating
If LPG is your heating source of choice - or you have no other options - think about some of these money-saving tips.
Shop around for LPG suppliers
The LPG market may be limited, but work it to your best advantage. Research the available suppliers and play them off against each other.
Bulk LPG customers should note the information with regard to tanks above; although the tank is owned by the supplier, after your initial contract period is over you shouldn't be penalised for switching suppliers.
Don't assume the price is set
Remember that haggling is almost always an option when you're shopping around, and the very nature of the unregulated LPG market may make it particularly conducive to a bit of price-wrangling.
The more you order in one go, the stronger your bargaining position, so see if you can organise a community purchase; by buying with neighbours, family, friends, or others in your community, you may benefit from the scale of the purchase and be able to negotiate a cheaper delivery fee.
Did you know...?
If your LPG runs too low and you need to organise an emergency delivery, you may need to pay an additional fee
Timing is crucial
A general rule of thumb to think about is that buying gas in summer is typically when it's at its cheapest, and midwinter is when it's most expensive.
Such a rule cannot, of course, be guaranteed as prices can change at any time, but it may be worth trying to top up in summer, while remembering that bulk-buying can secure a discount.
This could mean that it's advantageous to buy when your LPG supply is close to empty… but leave it too late and you may have to pay a surcharge for an emergency delivery.
Think about how you pay
Each LPG order is likely to be a significant purchase, so try to pay for it in the way that works to your best advantage.
If you have the discipline to pay off the balance in full every month, it may be worth thinking about using a cashback credit card; as well as offering certain levels of consumer protection, this will allow you to claw back a proportion of your outlay when the cashback bonus is applied.
Government help
While government grants for energy improvement† have been subject to many cutbacks, it's always worth checking whether there's any help on offer.
This may be to fund a major change in energy supply, but it can also work on a more basic level - read our article on help with fuel bills.
With specific regard to LPG users, the government has a page offering help for customers wanting to switch suppliers, including a bulk LPG tank transfer price calculator.†
By Sean Davies