Compare energy tariffs from OVO
Thinking of switching energy companies? OVO is one of the smaller and newer suppliers you might consider for gas and electricity.
Key points
OVO was set up in 2009 in Bristol
This 'challenger' supplier has its own charity, the OVO foundation
It boasts modern initiatives, like an app to manage pay-as-you-go top ups
OVO is a smaller energy supplier based in Bristol, and created in 2009. It operates solely within the UK.
It supplies gas and electricity across the UK, and it's committed to eco-friendly energy production. 
OVO's charity, the OVO Foundation, is dedicated to improving energy access in developing countries, supports the eradication of youth poverty, and is committed to improving education worldwide. 
OVO tariffs
OVO offers a number of fixed rate and variable rate tariffs.
Using a comparison site, you can browse and compare OVO's tariffs to find the right one for you.
You may find that OVO's fixed rate tariffs last as long as two years, but watch out and budget for additional exit fees if you plan to leave before the end of your plan. 
Alternatively, you may choose a flexible OVO plan that doesn't charge exit fees, although it might be more expensive.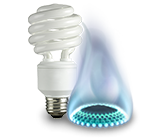 OVO's payment options include monthly billing and pay as you go. 
Customers can manage their pay as you go account from their phone using the Boost App, which negates the need to visit a Payzone or PayPoint-affiliated shop.
How does OVO treat its customers?
Being a smaller energy company, OVO isn't as well-known as British Gas or Scottish Power. 
However, it's compensated with customer review scores.
In January, 2017, according to the independent reviews on Trustpilot, 81.7% gave Ovo a five-star review, while only 2.6% gave it one star.[1] 
Likewise, in November, 2017, data provided by the energy regulator Ofgem shows that the number of complaints received by OVO is much smaller than the numbers received by both the bigger providers like British Gas and OVO's more immediate competitors like Co-Operative or First Utility.† 
OVO also offers a variety of incentives and benefits to customers.
For instance, you may receive a percentage of credit for every year you're a customer, and those who have an electric car with Xstorage capabilities may transfer stored energy back to the National Grid and get paid for it.
But, benefits and offers are quick to change, so it's always worth comparing your energy tariff each year to see if you could save more money elsewhere.
How can I switch to OVO?
Switching suppliers is relatively simple, especially if you follow our guide.
It takes around 17 days to switch your gas and electricity provider, so if you think OVO may be the supplier for you, compare the competition with GoCompare and see how much you could save.  
By Nick Dunn