What are the pros and cons of choosing a small energy firm? Find out then compare tariffs against the 'big six' gas and electricity suppliers.
Key points
It's simple to compare deals from small energy firms alongside those of the 'big six' - they may be cheaper
There's no difference in the energy that's delivered to you and all suppliers are regulated by Ofgem
Choose your tariff based on price, service and other factors - the right deal for you could be with a small or large supplier, so look at all options
As energy prices have soared in recent years, so have the profits of the UK's leading gas and electricity suppliers.
The so-called 'big six' energy companies - British Gas, Npower, SSE, Scottish Power, E.On and EDF - have also received more than their fair share of complaints.†
It's taken some time for consumers to realise that there are alternative energy firms, companies which have the potential to deliver exactly the same product at cheaper prices and with better levels of service.
There are plenty of choices out there when it comes to small energy firms, including - but not limited to - First Utility, Extra Energy, Ovo Energy, Green Star Energy, Good Energy, Ebico, Ecotricity, Extraenergy, Pioneer Energy and Utility Warehouse.
What's more, it's easy to compare and switch. For example, Gocompare.com can help you search all mainland Britain's energy suppliers.
Our results page displays options from both the 'big six' and small energy companies, with the chance to review detailed information on products and suppliers.
There's no risk of your energy being cut off simply by switching to a small supplier - your gas and electricity will continue to flow through the same pipes and wires
Growth of small suppliers
Based on customers who switched energy provider using Gocompare.com between 20 February and 30 June, 2014, 70.5% chose a small provider and 29.5% one of the 'big six'.
"People are getting the message that the gas and electricity they get is largely the same irrespective of what company's logo they see on their bills," said energy expert Jeremy Cryer.
"All suppliers, large and small, are regulated by Ofgem and, as such, consumers are protected in the same way, no matter who they buy their energy from.
"The main thing when shopping around for energy is to look for the tariff that represents the best value for money, not necessarily who's offering it.
"But also make sure that your needs will be met in terms of service and the way you prefer to manage your account, and look for any early exit fees or other charges."
How can small energy firms offer cheaper prices?
At the most basic level, the limited size of small energy firms means that they may lack the bureaucracy of larger companies, helping them to keep prices down.
What's more, the government's desire to increase competition in the energy market has meant that small suppliers are exempt from paying into schemes such as the Energy Company Obligation which the 'big six' help to fund.†
"Below a threshold of 250,000 customers, suppliers are not obligated to meet certain licence conditions such as the paying of green levies and this can help them to offer more competitive tariffs," said Cryer.
What are the other advantages of small energy suppliers?
Price aside, there are a wide variety of factors that have helped small energy firms become an attractive and viable alternative.
On the level of trust, the sprawling businesses operated by the 'big six' have left them open to charges of a lack of transparency.
What's more, small companies can offer niche products suitable to certain types of customers, or focused on a particular market.
Some, for example, are keen to push their green credentials.
Definitions of so-called green energy tariffs can vary enormously, so choosing a firm with a verifiable green agenda could help you get the environmentally friendly product you may be seeking.
At a more general level, the rise of small firms has increased competition in the energy market place, and there have been signs that this is impacting on 'big six' prices.
Why have consumers taken so long to consider small firms?
According to research conducted by Gocompare.com in December 2013, just 25% of 'big six' customers said they would be happy to switch to a small supplier.[1]
This was despite widespread dissatisfaction with the practices of the 'big six' - just 4% of those surveyed felt that the six companies were trying to keep prices down for customers.
There's no single tariff from any supplier, large or small, that's best for everyone
The reluctance to consider smaller firms seemed to be based on a lack of confidence, as revealed in the following responses:
I've never heard of them (68%)
All energy companies are the same - I'll stick to what I know (22%)
I don't trust them (19%)
They don't have enough customers to be financially stable (15%)
If they go out of business my gas/electricity will be cut off (9%)
They don't have as many staff, so their service will be bad (4%)
Of course, many of these fears may be misplaced and/or erroneous.
"In terms of service, smaller providers often fare better than their 'big six' counterparts in customer satisfaction surveys, but of course everyone's experiences are different," said Cryer.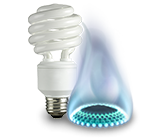 "There's no need to fear moving to a smaller provider and there's no risk of your energy being cut off simply by switching.
"Your gas and electricity will continue to flow through the same pipes and wires, so if you can save money by taking your business elsewhere, you should."
Are there any downsides to choosing a small energy supplier?
While we would always suggest shopping around and comparing all the energy options on the market, there's no guarantee that a small firm will be the right one for you.
How much energy you use, where you live, service, support and other factors all determine what energy deal is best for you, and it's perfectly possible that the right tariff will be with one of the 'big six'.
See also:
"While some smaller providers are competitive across the board, offering good deals for many customers, others will target specific customer types," said Cryer.
"There's no single tariff from any supplier, large or small, that's best for everyone, so it's important that people compare tariffs from as many providers as possible to find the one that is best for them."
It's also important to remember that - as relative newcomers to the market - small firms have not yet been subject to the same level of scrutiny as the 'big six'.
In 2014, the Times reported on a row between Ovo Energy and rivals Ecotricity concerning the former's use of direct debits and its interpretation of licence conditions, and suggested that small suppliers could be more vulnerable to increases in wholesale energy prices.†
Warm Home Discount Scheme
One particular factor to consider if you're thinking about a small energy supplier is the Warm Home Discount scheme, which is government-backed and offers electricity discounts for vulnerable customers.
Unfortunately, eligibility criteria are particularly confusing - they will depend on you and the electricity supplier you're with. If the supplier is below a certain size, it may not be taking part in the scheme.
However, smaller energy suppliers who are not part of the scheme may offer added inducements to get your custom if it's something you'd otherwise miss out on.
Note that switching to a supplier that doesn't offer the scheme may cost you... or it may still work out cheaper to make such a switch.
To find out more about the things to consider and the complexities, read our guide to the Warm Home Discount scheme.
By Sean Davies