The majority of homes in the UK are set to have a smart energy meter by 2020, but what are they exactly and could having one save you money?
Key points
Smart meters are seen as a key tool in attempts to reform the energy market and most households should have one by 2020
They can give suppliers and customers real-time information on their energy usage
This can have a number of potential benefits, including helping people cut energy cost and usage
There have been criticisms of both the method of smart meter roll-out and the performance of some meters
When it comes to ways of increasing energy efficiency and potentially reducing gas and electricity bills, the smart money is on the smart meter.
Smart energy meters are seen as the way forward, with the vast majority of homes in the UK due to have one by 2020... although there have been warnings that this timescale may slip.
The Competition and Markets Authority (CMA) is engaged in ongoing attempts to reform the energy market and sees smart meters as a key tool in its plans.
"We want to look at ways we can make customers more active," said Roger Witcomb, chairman of the energy market investigation.
"Smart meters have the potential to transform customer understanding and engagement and their speedier introduction could have particular benefits for prepayment customers, who undoubtedly get the worst of things at present."
The government has estimated that the roll-out of smart meters could generate more than £17bn in energy savings for the country, while they should help the development of feed-in tariffs and benefit those on a variety of restricted meters, including Economy 7.
But what exactly are smart meters and, importantly, will they help deliver the promised benefits for consumers?
There's no up-front cost to customers for smart meters as energy companies are obliged to install them under the government programme
What is a smart meter?
Smart meters are the next generation of gas and electricity meters.
They record a property's exact energy usage and relay it to the energy provider without the need for meter readings and estimated bills.
How do smart meters work?
Smart meters use advanced technology to take real-time gas and electricity readings, which are sent to the energy provider by wireless technology similar to that used for mobile phones.
A smart energy report is created online and customers receive accurate bills.
Smart meters come with an in-home display (IHD) showing the consumer how many units are being used and how much they'll be charged.
Benefits of smart meters
The benefits of a smart meter include:
No manual readings
No estimated bills
A digital display to keep track of energy consumption
Better energy management
Flexible payment options
While some have suggested that seeing the energy they're using will lead to the poorest people in the country turning off power to save money, others claim that smart meters will help vulnerable groups.
"We want people to see what the actual cost of what they're using is so they can keep their energy under control," said Sacha Deshmukh, chief executive of Smart Energy GB.
"We want to use smart meter data to help support people who are more vulnerable by using the data - with their permission - to get help to them if they're starting to get too cold in times when it's going to damage their health. Smart meters will be a really big benefit for this country in being able to target support for people."
Will a smart meter save me money?
The smart meter alone won't have an impact on your energy bill, as you'll still pay for the gas and electricity you use.
But the accurate and real-time data a meter gives can help consumers make informed decisions by looking at the breakdown of their household energy use and making changes, such as turning off lights when not in use or switching the settings on their washing machine to an eco cycle.
Another financial benefit of smart meters is that they should eliminate energy overpayments made by customers to their energy provider.
I've yet to hear any convincing argument why we need smart meters for gas
Professor Stephen Thomas
It has been estimated that UK gas and electricity firms were, in 2012, sitting on overpayments worth £1.2bn.[1]
Your money could be working better in your bank account than theirs, and smart meters should help stop overpayments from happening in the future.
Electricity settlement reform
Smart meters are also expected to help more accurate recording of energy consumption in an area that's known as 'electricity settlement', which relates energy prices to demand and is based on consumption in half-hour periods.
As most non-smart meters aren't capable of recording a user's half-hourly consumption, domestic and microbusiness customers are assigned to one of eight profile classes, and there's no guarantee that the class they're placed in will match their actual energy use.
What's more, customers are unlikely to know at what time of day energy is cheaper and - even if they did know this - there's currently no incentive for them to change their consumption pattern because the price they pay is based on their pre-defined profile class.
If this problem can be addressed, suppliers may be encouraged to bring in new products and services such as advanced time-of-use tariffs, which reward customers for shifting consumption away from peak periods.
Is a smart meter the same as an energy monitor?
No. An energy monitor is a plug-in device which reads your energy usage.
Smart water meters
In November 2013, Thames Water† became the first water company to start rolling out smart water meters in homes in south-east London.
Water organisations have called for smart gas and electricity meters to be adaptable enough so that, in the future, they could integrate with water meters.
If needed, this could provide customers with a single information point that covers the three main utilities.
Whilst it can help identify energy-saving measures, it doesn't send information to your provider or show the cost of energy used to date.
Energy monitors are provided by energy firms as part of certain tariffs and can also be bought in shops and online.
Will I have to pay for the smart meter?
There's no up-front cost to customers for smart meters as energy companies are obliged to install them under the government programme.
It's possible, however, that the firms' costs might be recouped from future bills.
According to the Energy Saving Trust,† 50 million smart gas and electricity meters will be installed in 27 million homes across the UK by 2020.
Will I pay my bills in the same way?
Having a smart meter will make no difference to the way you pay for your gas and electricity, with customers still able to choose to pay quarterly or by monthly direct debit.
Prepayment is also still available and smart meters might even make this more flexible, including facilities such as remote top up.
The CMA has proposed that those on prepayment meters, who are often charged the highest tariffs, should be the first to receive smart meters.
"We expect smart pay-as-you-go to be transformational for people on prepayment meters," said Rosie McGlynn, director of new energy service at Energy UK.
"It'll take away the hassle of going to the shops for tokens and it'll mean there'll be far more tariffs and meters available to prepayment customers.
"We're expecting tariffs to equalise out with smart prepayment meters where you should pay the same price as a credit pay-as-you-go meter, so there'll be a cost saving for pay-as-you-go with smart."
How do I get a smart meter installed?
If you live in one of the trial areas, you might already have a smart meter or have been told that one is due to be installed soon.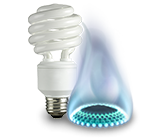 The upgrade should be fully rolled out through the rest of the UK between 2015 and 2020, so speak to your energy provider for more details.
I don't want a smart meter - can I say no?
Yes. Consumers are under no obligation to have a new energy meter installed.
If you want to opt out just contact your supplier and ask them to remove your details from their installation schedule.
Will having a smart meter prevent me from switching energy supplier?
If you have a smart meter, you'll still be able to switch energy provider.
From the end of 2013, once a smart meter has been installed it cannot be replaced with a 'dumb', or traditional, meter, but the new provider can either rent the smart meter from the previous energy firm or install their own.
Criticism of smart meters
Although there are many potential benefits associated with smart meters, the nationwide roll-out of them has also attracted criticism.
It's been pointed out that the German government analysed the case for smart meters before rejecting it, and a successful scheme in Italy was based around a much simpler form of smart meter that transmits information through the power lines, not over a mobile network.
Did you know...?
The return on the suggested £11bn investment in smart meters has been estimated at around 2-3% on an average household's annual energy bills
The cost to the UK has been estimated at around £11bn, although some have suggested that this will climb unless the private sector is allowed to play a part in the roll-out.
As of June 2015, around 1.6 million of the UK's proposed 26 million smart meters had been installed and the timescale was felt to be slipping.
The return on the suggested £11bn investment has been estimated at around 2-3% on an average household's annual energy bills, leading some to question whether it's worthwhile.
"[The argument for smart meters] very much relies on behavioural change," said Stephen Thomas, Emeritus Professor of energy policy at the University of Greenwich.
"But that doesn't really address what smart meters are for, which is to smooth out peaks in demand. If I look at a smart meter in the middle of winter on the coldest day at six in the evening and I see I'm using a lot of energy, do I turn my heating off and have a salad instead of a warm meal?
"Think of a pensioner or vulnerable household looking at a smart meter at that time and being scared to death of not being able to pay the bill, so switching things off to the damage of their welfare.
"There's no intellectual case for smart meters unless you have time-of-day tariffs. That relates to electricity because electricity demand and supply have to match every second of every day. It doesn't apply to gas, and I've yet to hear any convincing argument why we need smart meters for gas, the pressure in the gas network can accommodate switches in demand and supply very happily."
There has also been criticism of the performance of some of the early smart meters,† that have been installed.
What's more, some consumers have said that smart meters installed by one energy supplier have not worked when they've switched to another supplier, a worrying problem that may discourage people from shopping around.
Are smart meters safe?
Questions about smart meter dangers have arisen because they rely on radio waves to relay readings to the energy provider.
Officials say that they are safe and that the level of radiation they give off is less than that of a mobile phone.
Smart meters are covered by UK and EU safety laws, under which products placed in the market by manufacturers must be safe.
Public Health England† gives more information about the use of radio waves and smart meters.
By Rebecca Lees