Dental insurance plans can vary considerably in the cover they offer - make sure you know how to compare the cost of safeguarding your smile.
Key points
Dental insurance can help with the cost of NHS and/or private treatments
Shop around for the best policy but beware of exclusions such as age limits and excesses for certain treatment types
You'll have to pay for treatment up front then claim it back
Getting work done on your teeth can be costly - even if you're entitled to NHS treatment, many people still have to pay for it.
Dental care is also usually excluded from health insurance policies, although some may be able to include it as an optional extra at an additional cost.
Dental insurance lets you pay a monthly premium to cover the cost of any dental treatment you might need in a year.
It's available at different levels of cover, to pay for both NHS and private treatment.
Who needs dental insurance?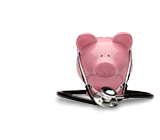 Although it's possible to receive dental care on the NHS, for most people this doesn't mean it's free.
Even if you can see an NHS dentist, the cost of dental treatment can be expensive - in 2016 the highest band of treatment, which includes crowns, dentures and bridges, cost £233.70 in England.
There may also be a waiting list for treatment and only certain treatments will be available on the NHS.
For instance, you'll only be able to get braces if there's a medical need - if you want your teeth straightened for cosmetic purposes you'll need to pay for private treatment.
You can get dental insurance for NHS-only or NHS and private treatments.
It'll help cover the costs and for policies that include private treatment, it might mean faster treatment too.
What does dental insurance cover?
Be aware that dental insurance is available with several different levels of cover.
Make sure you check your chosen policy has the level of cover you need.
NHS dental treatment policies
NHS-only dental insurance will cover the cost of your NHS treatments in return for paying a monthly premium.
Make sure you weigh up whether this will be worth it for you – if you think you'll only need routine check-ups, you might want to think about how much this would cost you spread over a year and perhaps put some money away each month to self-insure, in case you need more expensive treatment.
Beware of any excesses on policies. Some policies will pay the full cost of routine treatment but ask that you pay an excess on emergency dental procedures and more expensive treatments.
Private dental treatment policies
If you want to cover more than the basics, some dental policies will also contribute to private treatment, on top of NHS costs.
Be aware that some policies only pay a contribution towards treatment rather than the full cost - you should check carefully what you're getting before you take out cover.
What isn't included in dental insurance?
Exclusions to dental insurance will vary from policy to policy, so make sure you check the terms of your policy for what's included.
Pre-existing dental conditions
Most policies won't cover pre-existing conditions, so you can't take out cover to try to fix an expensive dental disaster that you're already aware of.
Did you know...?
Only 10% of adults with natural teeth have excellent oral health
Almost a third (31%) have obvious tooth decay
The majority (84%) have at least one filling
From the Adult Dental Health Survey 2009, published each decade †
Insurers may also require you to have had a dental check-up fairly recently - typically within the last 12 months.
Time limits for treatment
Dental insurance policies usually have a time restriction on them that prohibits you from claiming within a short time of taking out the policy - around one-three months.
This is to prevent people with pre-existing conditions from taking out a policy to get treatment for problems they already know about.
Excesses on dental insurance
Some policies may also have an excess, so you'll have to pay the first part of any claim.
For instance, if your excess is £50 and a treatment costs £250, you'll only receive £200 for your claim.
Age limits
Some, but not all, policies have age limits, for instance they'll only cover people aged 18-65.
Make sure you don't fall outside the upper age limit of your policy, or you'll be wasting money on cover you can't use.
Cosmetic dental treatments
Some dental insurance policies exclude purely cosmetic treatments such as teeth whitening or veneers.
Check the terms of your dental policy to find out what's included before going ahead with expensive treatments that might not be covered.
How to claim on dental insurance
If you need to make a claim on your dental insurance, you'll usually still have to pay up front initially, then claim the money back before a certain time limit, such as six months.
When you have the treatment done, make sure you ask your dentist for a full itemised receipt as you'll need this to make a claim.
You may be able to download a claim form from your provider online, or call it and ask it to send the form to you.
Dental capitation plan
Capitation plans, or dental plans, are different from dental insurance and are frequently sold direct by dentist practices.
Capitation plans work by your dentist examining your teeth and setting a monthly fee based on your oral health and dental history.
They're a way of spreading the cost of your dental care through the year so you don't need to worry about high lump-sum payments.
However, prices are set individually by dentists and they may not offer good value for money.
Because the levels of payment are calculated by grouping people together in payment bands, your payments may be supplementing treatment for people with poor oral care if you keep your own teeth in top condition.
Check whether a dental insurance policy might offer you better value and if you're worried about not being able to pay up-front for treatment before reclaiming,consider using a  0% purchases credit card to help cover the initial cost while your claim is processed.
Where to buy dental insurance
If it's dental insurance you're after, rather than a capitation plan, beware of signing up for anything in your dental surgery as it's likely you'll be buying the former not the latter.
See also:
Insurers' access to medical records
To buy a dental insurance policy you should shop around online and be mindful of the limits and exclusions mentioned when comparing policies.
Check if your employer offers a discounted dental plan and if you have health insurance, find out whether it's economical to add it as an optional extra.
Make sure the policy you choose is suitable for your age, previous treatment history and current situation.
Please remove this final line. 
By Derri Dunn
[SeanSocialShare]