The Association of British Travel Agents (ABTA) can offer valuable services and support to supplement travel insurance if you've been left unhappy with a holiday experience.
Key points
Booking through an ABTA member offers financial protection and an expected level of customer service
Do not see ABTA protection as a replacement for travel insurance
ABTA† is the UK travel association for tour operators and travel agents, and its aim is to provide protection to the UK's holidaymakers.
It tries to enforce high standards from its members, so when booking a holiday going through a provider that's an ABTA member can offer some serious benefits.
For example, you should then be confident that the travel agent is financially sound and will try to handle your booking with the highest standard of service.
Many of the holidays sold by ABTA members are protected in the event of the travel company going out of business.
ABTA itself protects around 3.7 million holidaymakers every year, and from 2008 to 2013 ABTA paid out £19m to travellers whose holidays were cancelled or in jeopardy.[2]
Does that mean I don't need travel insurance?
You should not consider booking through an ABTA member as being in any way a substitute for travel insurance.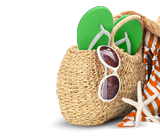 While ABTA can offer outstanding protection in terms of financial compensation and customer service, you should consider a suitable travel policy for things such as cancellation, personal belongings and - perhaps most importantly - medical cover.
Why book with an ABTA member?
Buying a package holiday from an ABTA member should mean you're entitled to a refund or repatriation in the event that your travel company goes out of business, and you could benefit from additional legal protection should there be a problem with your holiday.
A flight-plus package is where you book a flight, accommodation and/or car hire from one company, but they haven't been packaged together. These arrangements can benefit from financial protection.
In addition to financial protection, ABTA members adhere to a code of conduct,† meaning you should expect help in the event of something going wrong with your holiday.
Unlike ABTA, ATOL does not provide anything other than financial assistance
The code of conduct includes rules governing advertising and changes to bookings, plus guidance on providing travellers with the right paperwork and handling complaints.
Your money can also be protected when buying charter flights in the event that the airline goes bust.
While ATOL gives financial protection for flight-based holidays, if you buy land- or sea-based holidays (including rail, coach or cruise) from an ABTA member, your money will be protected by the ABTA scheme of financial protection.
This means that if the travel company fails you'll be entitled to a refund, or if you're already on holiday when the provider goes bust it'll make sure you're not left stranded.
If your travel agent fails financially, this shouldn't affect your travel plans. You should contact the tour operator to ensure that they have your contact details and that your booking is in place.
If your tour operator fails financially, contact your travel agent for assistance. If you booked with the tour operator direct, you can search for the company on the ABTA website† to find the right course of action.
Unlike ABTA, ATOL does not provide anything other than financial assistance, and will not help if there are any other problems with your holiday.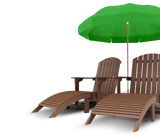 Booking with an ABTA member means that if you've had a problem with your holiday that you haven't been able to resolve, you'll also be able to use ABTA's independent complaint and arbitration service.
Checklist when buying a holiday through ABTA
When booking through an ABTA travel agent, check that you get a receipt for any money you've paid and ensure that the name that appears on the receipt is the name of the company to which the payment is made.
Ensure that the receipt also shows the name of the company that's providing the holiday service - for example, the tour operator or airline. Where your holiday services are being provided by more than one company, you should receive a separate receipt for each service.
On some bookings you should receive an ATOL certificate immediately when you make a payment. This applies to bookings after 1 October, 2012, for flight-based holidays and flights that have ATOL protection.
Many additional travel arrangements may be financially protected, but not by ATOL, so you don't need its certificate for these arrangements.
After booking, you should receive a confirmation document from the company that's actually providing the holiday services.
In the event that something goes wrong during your holiday, ABTA have a three-step complaints-handling process
Make sure you receive the original, and not a copy. These requirements apply equally to e-tickets.
When making a direct booking with an ABTA travel operator, run through the same checklist as above.
If the tour operator is selling you its own holiday arrangements (for example, a package holiday or accommodation only) and also offers to sell you the services of other companies (for example, flights or car hire), make sure that you get a separate receipt for those services, showing the names of the other companies and the amounts paid for those services.
Complaints
In the event that something goes wrong during your holiday, ABTA have a three-step complaints-handling process.†
Arbitration
If your complaint can't be resolved using the complaints procedure, ABTA's arbitration scheme is the next step. Administered independently of the travel industry, it's only available if your complaint is regarding an ABTA member.
Claims regarding minor illness or personal injury can be considered, subject to financial limits.
If mediation does not result in a settlement then claimants can take their cases to court.
Appeal
There are only two routes for challenging an award - you can appeal through the High Court within 28 days of receiving the award, or you can request an appeal under the ABTA arbitration scheme appeal procedure.
Any application for appeal must be made within 14 days of receiving the award.
Mediation
Mediation can be used for claims not covered by the ABTA arbitration scheme. Personal injury, serious illness, nervous shock, death or the consequences of these may come under mediation.
By Emily Bater
[SeanSocialShare]