Top up your tan with Algarve holidays
Sandy beaches, clear ocean, fancy hotels, brilliant cuisine, and fiery water – Algarve holidays sound just the ticket!
Key points
A package holiday to the Algarve may be the most convenient way to organise your trip – the most difficult bit will be deciding where to stay!
An all-inclusive holiday is convenient if you don't plan on exploring too far from your hotel. But a more flexible option, like a B&B, might be better for wider roaming
Don't forget to avoid peak travel times, take advantage of discounted rates and compare travel insurance for your Algarve holiday
The Algarve (the Faro District) is in a super handy location, about two and a half hours away from the UK. It covers an area in the south of Portugal, from Sagres to Odeceixe, to Alcoutim to Monte Gordo.  
It's well known for its golf courses and is a hotspot for surfing. While most areas have been commercially developed, you should still be able to find the odd out-of-the-way hotel, if you want something a bit quieter.  
Holidays to the Algarve don't have to cost the earth, so here's a few Algarve-llous ways you can save money on your Portuguese trip.  
Cheap holidays to the Algarve 
If you're not interested in saving money on an Algarve holiday, we'll assume you're either barmy, super-rich or just not interested in holidaying in the Algarve (see: barmy). For those of you who love nothing more than the smug joy that accompanies saving money, here's some tip top tips for you to bear in mind:  
GoCompare – View Algarve holidays that suit your needs, and get more specific results by using the filters.
Flexibility – If you can be adaptable with your travel dates, you could reap the benefits of low-season deals. 
Early or late – You might be lucky enough to come across some first-come-first-served or last-minute Algarve holidays, which could save you heaps. 
Got your back – Get some travel insurance to give you peace of mind, in case something doesn't go to plan.  
It's also worth considering your holiday plans – will you be out and about all day, or are you planning on staying poolside?  
What you decide to do and where you want to go will have an impact on your meal requirements, which will determine the board type you'll need (and how expensive it'll be), whether that's all inclusive, B&B or room-only.  
All-inclusive Algarve holidays 
A board type refers to what meals you get included in the cost of your hotel (or package holiday).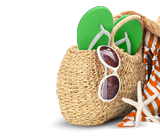 If you do plan on spending your days in and around your hotel then all-inclusive might be the board type for you. You'll get breakfast, lunch, dinner and (usually) drinks included in the cost of your hotel. 
All-inclusive holidays to the Algarve will probably be the most expensive option initially, because (pretty much) everything is included! But do your sums, as they may save you money in the long run. Especially if you've got a healthy appetite.
Most hotels in the Algarve will offer all-inclusive as an option, but if you wanted more flexibility with your meals, other board options include: 
Half-board – breakfast and an evening meal 
B&B – bed and breakfast 
Room-only – no meals will be included in the price of your room 
Self-catering – your room (or villa) will have kitchen facilities for you to use 
While we're on the subject of villas…  
Villa holidays in the Algarve 
If you're going on a holiday to the Algarve with a large group, booking a villa might be a more cost-effective option than having individual hotel rooms.  
With a villa, you can split the cost between all of you, and you can stay all together, rather than being scattered around a hotel.  
Most villas will come with kitchen facilities for you to make your own meals, but some villas are situated in villa villages which have a range of amenities, usually including a restaurant (or two), cafe or bar.  
Did you know...?
The Algarve has a potent secret... It's the home of a strong – 48% alcohol – spirit called 'Aguardente de Medronho'. In English, it's known as 'firewater', and it really is.
Algarve golf holidays 
The Algarve is famous for its surfing and its golf. It's got great weather and lots of great courses that are frequently ranked within the top 100 in Europe. 
San Lorenzo Golf Course is one of the most well known in the Algarve, and is exclusive to Dona Filipa Hotel and Amarante Formosa Park Hotel guests, and private members. It was ranked 15th in the 'Top European Golf Resorts in Continental Europe 2017' by Golf World magazine. It's got 18 holes (classic), meandering through a pine forest and views of the Ria Formosa Estuary. 
In the Eastern Algarve, the Monte Rei Golf and Country Club is located at the foot of the Serra do Caldeirao Mountains, with views of the Atlantic Ocean. Like San Lorenzo, Monte Rei golf course has 18 holes and water is involved in 11 of the holes. It's also got a villa village too, if you want to stay there.  
Onyria Palmares Golf Course has views over the Bay of Lagos and a whopping 27 holes! It's designed to have three returning nine-hole loops that can be played in any sequence. It's got a train line running through part of it, which could make for some interesting tee-offs!  
These are just three of the many golf courses in the Algarve, so there's lots of choice.  
Package holidays to the Algarve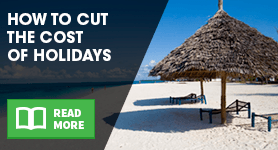 Booking a holiday, while exciting, can be a bit inconvenient – you look at flights, and then see what hotels are available on the dates you've chosen and then look for airport transfers or car hire, while trying to keep all of the details straight and work out how much it's all going to cost. Eek.  
Alternatively, you could get an Algarve package holiday, which will save you the hassle of searching for everything individually – and it could save you money too!  
When you compare package holidays to the Algarve, you can select the most suitable flights for your needs and choose from a variety of hotels and airport transfers. 
Package holidays suppliers for the Algarve include Jet2.com, TUI (formerly Thomson), Thomas Cook and British Airways.  
When should I visit the Algarve? 
Due to the Algarve's fantastic year-round good weather (don't you just love the Med?), there's really no bad time to visit.  
Summer (June to September) is the high season and when most of the tourists flock there. The humidity is fairly low and there's usually a bit of a breeze. 
See also:
Flights to Faro
Faro airport transfers
Most of the summer is free of rain, although it's more likely around the Atlantic Ocean.  
Autumn (October and November) and spring (March to May) are the shoulder seasons, where the crowds die down and the weather starts to heat up or cool down. 
Rain is more common, but it's usually a huge downpour or noisy thunderstorm, which clears up again later. Because of the increased moisture in the air, the humidity may be a bit higher than in the summer, but usually nothing significant.  
Winters (December to February) are mild and it doesn't tend to get as cold as it is in the UK. Due to climate change, freezing temperatures are more likely, but it's more common to get gusts of hot air blowing over from Africa, which can see winter temperatures soar.  
There's so much to see and do in the Algarve, so we've complied a small list with a few activities and sights to keep in mind:  
Animal and bird-watching tours 
Go to a waterpark or amusement park (Zoomarine and Slide & Splash are popular) 
Try some water sports – surfing, jet-skiing, snorkelling, kayaking, banana boat rides…  

Take a day cruise on a yacht or luxury boat 
Play golf!  
Venture off the beaten track with 4x4 tours 
Visit a nature park  
Tickle your taste buds in a Michelin-Star restaurant 
Sample some Portuguese wine 
Wander around a marina or two 
Discover the history of the Algarve by visiting old towns, castles, forts and landmarks 
Laze the day away on one of the Algarve's beaches 
Whether you're travelling with family, friends, as a couple or by yourself (everyone needs some 'me' time), you're going to be spoilt for choice when comparing holidays to the Algarve – and choosing what you're going to do while you're there!  
At least you can rely on the weather (mostly)!  
By Amy Smith