Get your beach on in the Bahamas
White sand beaches, clear blue seas, towering palm trees and a great climate – there's lots to like about holidaying in the Bahamas!
Key points
You can get all kinds of board options in the Bahamas to suit your holiday plans
As well as the iconic Atlantis, Paradise Island resort, there are plenty of cultural and natural sights to take in too
Comparing different hotels could help you save time and money, as well being the cherry on top of your holiday cake
It's a long flight to the Bahamas, so you'll want to make sure you've organised a fab holiday when you get there, to help with the jet lag and distract you from the heat.  
There's plenty to do in the Bahamas, fantastic weather (for the most part) and plenty of accommodation options to suit your needs.  
So grab a cuppa (or a pre-holiday cocktail), sit back and relax, as we unscramble some common holiday jargon. Plus we'll discuss some of the things you can do in the Bahamas, to help you plan a super holiday – we're excited already! 
Accommodation and board types 
You might be wondering what a 'board type' is. Well, board type refers to the meals you'll get included in the price when you book your hotel room. There are four main types: self-catering, bed and breakfast (B&B), half-board and all-inclusive.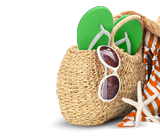 Self-catering means you get a room with a basic kitchen, which allows you to cook your own meals and not have to rely on the hotel.  
A B&B board type will include only your breakfast in the price. This can be a handy option if you aren't planning on being in the hotel very much, and is usually pretty cheap.  
Did you know...?
If you're expecting some vibrant pink sand beaches in the Bahamas (as shown on social media) you might be a bit disappointed. The sand isn't as bright as the images would suggest, as it's a more subtle tint of pink in reality
Half-board includes your breakfast and evening dinner, but not lunch. Like B&B, this option is useful if you plan to explore away from your accommodation during the day.  
Usually the most expensive option, all-inclusive does what it says on the tin – you get breakfast, lunch and dinner included, plus a range of drinks. Some hotels even offer snacks and ice cream included in the price.  
With the Bahamas being such a popular tourist destination (and for good reason!), you're sure to find accommodation that suits your needs, from family-friendly hotels, cosy local-run B&Bs to luxury adult-only resorts.  
Don't forget to compare holidays! 
Before we get too distracted learning about all the things you can do in the Bahamas, you could save yourself time and money by comparing different holiday deals. 
By doing this, you'll be able to see what options are available for certain hotels, star ratings, board types and destinations. Plus you can compare package holidays vs getting your flights and accommodation separately.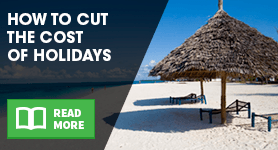 Now let's look at some of the things you can do in the Bahamas – yay!  
Atlantis 
No, not the one you're likely thinking of!  
Atlantis is a resort on Paradise Island in the Bahamas that incorporates accommodation, a waterpark, beaches, marine habitats, a marina and restaurants.  
Atlantis, Paradise Island has a wide variety of places to stay for all kinds of budgets. Access to the resort's amenities and the Aquaventure waterpark is included in the price of a room – awesome!  
There's also a similar hotel that used to be part of the same group in Dubai - called Atlantis, The Palm - which also has a waterpark and marine habitats.  
Forts and Museums  
If you fancy something a bit more cultural, the Bahamas has a few museums, forts and other historical sites dotted around the islands for you to explore. You could also go on boat trips to discover all the coves, islands and bays in the Bahamas.  
There's also Ardastra Gardens, Zoo and Conservation Centre in Nassau, the capital city. 
Sun, sea and sunbeds 
As you'd expect from the Bahamas, there's beautiful beaches and nature aplenty.  
You could do things like snorkelling, jet skiing and other adventurous sports, as the waters are perfectly clear.  
If you're worn out from all that adventuring, you could grab a sun lounger, sit back and relax the day away by your hotel pool - or on one of the wondrous white sand beaches.  
By Amy Smith