Thai and stop me – compare holidays to Bangkok
From nearby beach holidays nearby to city breaks, buzzing nightlife or relaxing vibes in a resort spa – holidaying in Bangkok offers something for everyone.
Key points
Bangkok has a monsoon climate, so for the best weather, travel between November and March
For cheaper flights and accommodation, travel between April and October, if you don't mind the heat or rain
You can various types of holidays to Bangkok, including package holidays, backpacking tours and beach resort holidays (although you'll have to skip the city)
Incorporating the very modern with the very old and the very urban with the very rural (and beachy!)… you're sure to find something to enjoy and plenty of sights to feast your eyes upon.  
2018 holidays to Bangkok 
Bangkok has a hot, humid, monsoon climate. The best time to go there would be between November and March, as the rainfall and humidity are pretty low but the temperatures are still toasty.  
The Thai New Year (Songkran) starts in April, one of the hottest months of the year. If you can stand the heat, it might be a good time to go for a great atmosphere, a huge water fight, and potentially cheaper flights and accommodation.  
Rainstorms are more frequent from July onwards, but the air is still warm. You could get a pretty cheap holiday around this time if you wanted to brave the monsoon and enjoy Bangkok's many indoor activities.  
Things to do in Bangkok 
"Sounds exciting! What other things are there to do in Bangkok?" we hear you ask. Well, here's a quick list:  
Culture – Buddhist temples and ancient buildings can be found in abundance in Bangkok. 
Nightlife – Grab your suit and Thai (haha), and get ready for Bangkok's nightlife! There are plenty of hotels and resorts near the exciting nightlife scene in Bangkok, whether you're looking to splash out or party on a budget.  
Adventure – Chiang Mai and Hua Hin are the places to go for things like trekking, river rafting with a bit of culture thrown in for good measure.  
Shopping – There are plenty of ultra-modern shopping malls in Bangkok and a bustling market in Chatuchak.  

By the seaside – Phuket and Koh Samui, with its luxury resorts, might be of interest if you're looking to relax by the sea.  
Nature trips – While holidaying near Bangkok, the Khao Yai National Park, the Elephant Haven or travelling on to somewhere like Krabi could help you get your nature fix. 
Types of holidays to Bangkok 
If you want to visit Bangkok for something specific or you have a certain type of holiday in mind, you may want to check out some of the different types of holidays you can get to Bangkok.  
Package holidays 
Don't want the inconvenience of booking your flights and accommodation separately? You could get a package holiday, which might also include airport transfers too!  
Package holidays come in many forms, from city breaks to beach resorts, adult only to family-friendly. Compare holiday types, star ratings and different Bangkok locations to find your ideal getaway location.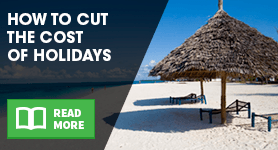 Beach resorts 
If sun, sea and sand are your thing, a beach resort sounds like the ideal choice! Despite being the capital city of Thailand, Bangkok has plenty of beach resorts nearby.  
Tours and backpacking  
You can get guided tour holidays for Bangkok, where your flights, accommodation and itinerary are planned out beforehand, so you'll know where you're going and what you're going to see.  
You'll be accompanied by a tour guide to give you insights into the places you'll visit and you can even choose the type of tour you go on, such as nature, adventure or cultural.  
If you fancy going off the beaten track, or you prefer hostels to hotels, backpacking holidays in Bangkok are an option. You can get guided backpacking holidays, or choose your own route to explore.  
This is a popular option for students and adventurers, or those on a bit of a budget, and could give you the opportunity to meet (and travel with) other like-minded people.  
Comparing holidays to Bangkok 
Whether you're travelling from London, Birmingham, Edinburgh or Cardiff, you should compare holidays to Bangkok (along with flights and travel insurance *wink*) to see what options there are, and which might suit you best.  
By Amy Smith