Discover holidays to Benidorm with our handy guide
It's one of the most famous destinations for British holidaymakers, so we've put together a guide to the holidays you can enjoy in Benidorm.
Key points
Prices vary according to when you book and when you plan to go on holiday
Benidorm is mainly known for package holidays, but also offers self-catering apartments
There are plenty of activities for those who do not want the package holiday experience
One of Spain's most popular tourist resorts, Benidorm is a famous destination amongst Brits for cheap holidays. In recent years, it has managed to shed this particular reputation whilst maintaining its popularity among holidaymakers. 
It now boasts the Low Festival, plenty of beaches to relax on, and much more besides. 
Holidays to Benidorm 
Benidorm is best known to Brits as a cheap, package holiday resort. During the 1980s and 1990s it suffered from an invasion of binge-drinking British youths on cheap holidays. It has now shed that reputation, and is a thriving holiday resort, replete with beach-front hotels, and full of adventures off the beaten track.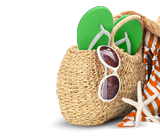 All-inclusive holidays to Benidorm 
At the time of writing (April 2018), prices for all-inclusive hotels range from upwards of £120 per person, so a holiday in the sun doesn't need to cost an arm and a leg. Just make sure you keep them slathered in sun cream! 
Did you know...?
Benidorm is known as the 'Manhattan of Spain' because it has the most high-rise buildings per capita in the world, and is home to Europe's tallest hotel
Prices will vary depending on when you book, and when you actually want to go. 
Peak holiday season is summertime, between June and August, so prices are very likely to be more expensive in that time. This is partly because Benidorm is popular as a family resort and families tend to be restricted to school summer holiday schedules.  
However, an all-inclusive hotel package isn't for everyone. There are plenty of apartments that allow self-catering, with prices ranging from £300 per person upwards. 
Things to do in Benidorm 
Widely famed for its nightlife, Benidorm holidaymakers can also enjoy many other adventures that go slightly off the beaten track. 
Those interested in flora and fauna can check out the Jardi Botanic Cactus D'Algar, a botanical garden dedicated to cacti and other rare tropical plants and wildlife.  
History buffs will enjoy visits to Busot and its Museum of Ethnic Music, or a jaunt to the Placa del Castell to visit the site of Benidorm's castle, destroyed during the Napoleonic Wars.  
Those who want to get away from the hustle and bustle can go walking through the Sierra Helada, a large natural park which allows tourists to trade sky-scraping towers and hotels for Aleppo pine trees and cloud-busting cliffs. Mixing the natural with the modern, the Canelobre Caves are only 15 miles from Alicante, and the enormous entrance cave is occasionally used as a concert venue. 
By Nick Dunn