Print off or download our one-page holiday checklist so you have the essentials to tick off when packing and travelling, or read our guide for more information.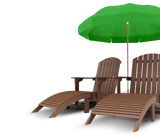 Holiday money
Ring the bank
Call your bank before you leave and let it know where you're travelling to and the dates you'll be gone. This will avoid having your credit/debit card frozen for unusual activity abroad.
If you bank online, you may even have the option of letting them know your travel plans with a few mouse clicks.
Pack the essentials
Passport
Visa
ID
Tickets
Reservation numbers - hotel, car hire
Foreign currency
Credit card
Rumour has it that buying a few bits and bobs in the airport departure lounge will create a trail of your activities which your bank can then see.
But letting them know with a quick phone call or online is far safer and more reliable.
Foreign currency
There are lots of ways to spend while abroad, but the most popular and easiest is cash.
Finding the best deal on foreign currency may take a bit of time and planning, but make sure you don't leave it to the last minute.
Buying currency at the airport is highly unlikely to get you as good an exchange rate as online or on the high street.
Credit cards and prepaid cards
Packing a credit card can be a good idea, as it can provide you with a level of protection thanks to the Consumer Credit Act when buying the sort of over-priced, ill-advised tat that's reserved for holiday shopping.
A prepaid card can be another useful way to stay in control of your holiday spending.
Arrange travel insurance as soon as you book your holiday - it may protect you from losses if you're forced to cancel or postpone your trip
At home
Check your home insurance
If you're planning a long trip, you may need to check your home insurance.
Most policies offer cover when your house is unoccupied for less than 30 days in a year, so if you're away for longer than a month your insurance may become invalid.
Consider taking out unoccupied home insurance, and get a neighbour or friend to come over and check that your home is secure while you're away.
If you're travelling in winter, take precautions to make sure you don't return home to frozen or burst pipes.
Remember your pets
Arranging care for your pets will hopefully be something you've already sorted, whether they go to family or friends, or spend a week in a kennel.
Make sure those left in charge are aware of any of your pet's dietary needs, and that pet insurance details are easily located in case they need to visit the vet.
More and more people are travelling with their pets, and this is another thing to consider before departure.
Documents
Travel insurance
The last thing you want while on holiday is to fall ill or lose valuables, but if the worst does happen at least you're protected with travel insurance.
Arrange travel insurance as soon as you book your holiday - it may protect you from losses if you're forced to cancel or postpone your trip.
Make sure you pack a copy of your travel insurance documents for reference or, better yet, download a PDF version to your e-reader or tablet.
Pack the EHIC
If you're travelling in Europe, make sure you have your European Health Insurance Card and that it's still valid.
It can cover you for emergency healthcare, sometimes for free or at a reduced cost.
Get your head in the cloud
It's a good idea to keep copies of all your important documents in your emails or in the cloud.
There are plenty of secure, free services such as Google Drive, Micosoft OneDrive and Dropbox which give you digital storage space online for your travel tickets and information, so they're easily accessible wherever you are.
If you're taking your mobile phone abroad and plan on using it, don't rely on your regular tariff
Staying in touch overseas
Protect your gadgets
Unless you're taking the opportunity to escape technology and are leaving your gadgets at home, you'll want to make sure that your smartphone, tablet and fancy camera are all protected while you're away.
Your travel insurance may cover these, but you might already have cover as part of a packaged bank account, credit card or home insurance policy.
Extra protection might seem like a good idea, but doubling up on cover may end up causing complications if you need to claim.
Check your tariff
If you are taking your mobile phone abroad and plan on using it, don't rely on your regular tariff.
You might want to pay a bit extra for add-ons that give you talk and internet time abroad, so check with your network before leaving to find out what it offers.
If you don't arrange an add-on and you have a smartphone, make sure you switch off your mobile roaming option when abroad.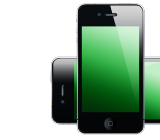 Failure to do so could land you with horrendous charges for data usage. When you need to download data, do it through free wi-fi.
Alternatives to mobiles abroad
There are lots of ways to keep in touch when abroad, including buying a local Sim card, Skype calls, using mobile phone apps with free wi-fi and buying an international calling card.
Be safe on social networks
We've all seen the horror stories on the news of teenage parties gone wrong when parents are away, but whatever your age, don't broadcast your plans on Facebook and Twitter.
You could unwittingly be letting burglars know there's a house sitting empty, so wait until you get home to talk online about your time away.
Now for the packing
Packing is probably the most boring and painful aspect of holidaying, but packing efficiently can make the process a lot less tedious.
Download and print off our checklist to make sure you've packed everything you need.
By Emily Bater
[SeanSocialShare]