Guide to holidays in Cornwall
If you do like to be beside the seaside, booking a holiday in Cornwall might be a great idea.
Key points
Cornwall has something for everyone – with a large variety of things to do, as well as beautiful scenery to take in
Cornwall isn't just for caravanners. There are plenty of cottages and unique hotels to stay in
Lots of places are dog friendly, but make sure you check which beaches you can and can't take dogs on in the spring and summer months
If your perfect holiday includes ice creams on the beach, cider in the sun and stuffing your face with delicious pasties, then Cornwall might just be the place for you. 
Holidays in Cornwall 
Found in south-west England, Cornwall is a top spot for a UK hol, most likely due to its beachy locale. Most of the county is surrounded by the sea and boasts almost 300 miles of coastline. So whichever spot you pick, you won't be far from those sweet sea views. 
Cornwall has it all… It's family friendly and perfect for a couples' getaway, but also a top choice for camping trips, stag and hen dos, and surfing trips. 
Cornish hols come in all shapes and sizes, and can be as lavish or as budget-friendly as you like. A staycation may be a more affordable way to have a vacation, but comparing deals will really help save some pennies.  
Places to stay and caravan holidays in Cornwall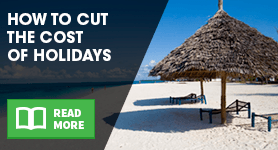 Cornwall is full of fantastic places to stay, but is also well known as a popular UK caravan destination. 
There's a large variety of places to pitch up. For cheap caravan holidays in Cornwall, opt for a more basic caravan park. But if you're willing to splash out, you could have the choice of caravan parks with bars, restaurants and swimming pools. Among the most popular campsites, you'll find Parkdean and Haven holiday parks. 
Static caravans are also an option, for all the joy of caravan living with a lot less hassle. 
But don't worry if you're not into any kind of caravan – Cornwall's still got you covered. Cornwall is chock-full of cute cottages, quaint B&Bs, boutique hotels and even yurt holidays. 
Dog-friendly holidays in Cornwall 
If you want to take your pooch for the holiday it really deserves, luckily Cornwall is rich in pet-friendly places. You'll find pubs, cafes and restaurants all willing to set your dog a place at the table. The dog-friendly vibe also extends to lots of hotels and caravan sites. 
Not only that, but Cornwall has some fantastic walks on offer with plenty of beaches, woodlands and coastal paths. So you and your number-one pal can get out and see the sights.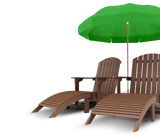 Just remember to check which beaches are dog friendly.† Some beaches only allow dogs in the winter months, so come summer you may have to be more careful. 
Cornwall school holidays 
It may not surprise you that Cornwall gets a little busier in the school holidays, especially in the summer break. Due to the demand you may see prices go up. Comparing prices online can help to secure a great deal.  
If you are taking your kids for some Cornish fun in the sun, it's a good idea to plan some things to do.  
Naturally, heading to the seaside would be a good idea, and Cornwall has a huge number of beaches to choose from – including eight Blue Flag beaches to visit. 
For fun days out there's Holywell Bay Fun Park, Lappa Valley Steam Railway leisure park, Dairyland Farm World, Newquay Zoo... The list goes on! 
Did you know...?
The Cornish method for eating a cream tea is jam first then cream. If you layer your scone the other way around, you should be in Devon
Places to go and things to do in Cornwall 
Luckily a Cornish staycation won't be boring. There's plenty of options for things do to in Cornwall come rain or shine. Here are just a few suggestions: 
Head to the Eden Project and experience a rainforest without leaving the UK. 
Try surfing. Cornwall is a hotspot for surfing and has plenty of beaches and breaks. So once you've embarrassed yourself on one, you can move onto the next.  
After some nightlife? Newquay is your best bet. Start off with beers by the beach, and then on to the clubs. This is the go-to location for stag and hen dos. 
If you're into festivals, Boardmasters takes place in Newquay every year. By day there's surfing and skateboarding competitions, by night the music starts.  
Head to Padstow if you're a Rick Stein fan – he practically owns the place. He has restaurants, hotels, shops and a cookery school all based in Padstow. 
You could go to St Ives. This picturesque town has beautiful sandy beaches, winding streets with independent shops and restaurants, and a Tate art gallery. You may even meet a bigamist with seven sack-wielding wives en route. 
Visit Land's End and brag about being at Britain's most south-westerly point. As well as the stunning sea views from the 200ft high cliffs, there's also a 4D cinema for the kids, and even a tiny airport if you fancy popping over to the Isles of Scilly. 
Cornwall as seen on TV 
Fancy a bit of Poldark? With his long flowing locks, and rock-hard abs, who doesn't? Well, in-between drooling at the TV, you may have noticed that the beautiful scenery in the background is in Cornwall. Sexy sexy Poldark tours are available if you're really into it, and feature coastal tin mines and old-timey tall ships. 
If you're looking more TV famous spots to visit, think of the less sexy Doc Martin. The idyllic fictional village of Portwenn is actually located in Port Issac. Guided tours are available for this too, or you can just pop along and have a wander of your own.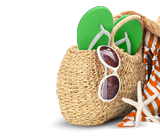 Tips for booking your holiday 
Compare prices. Seems obvious – especially coming from us – but comparing holidays can help you see what's available, and hopefully get the best deal. 
Avoid the school summer holidays if you can. Not applicable for those with children (sorry), but booking outside the holidays will save you both money and time spent in traffic. 
Book in advance. Planning ahead could see you grab a great deal. 
If you have the nerve and the flexibility, waiting until the last minute could result in a major bargain. 
By Chloe Prosser