Get the answers to FAQs on holidays, then compare prices to find the right trip for you.
See also:
How do I find the right holiday?
When choosing a holiday there's a lot to consider including destination, when you plan to travel, whether it's a long-haul trip or short break and how many people are travelling.
Read more in our beginners' guide to booking a holiday.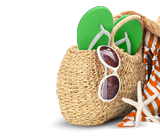 When's the best time to book?
All circumstances will vary, but holiday firms will typically charge different prices for the same trip depending on factors such as demand and how long away the booking is.
It's possible that this would see the price rising the closer it gets to the date you require, but then falling in the final weeks, days or hours as the company seeks to fill a vacant room.
Which holiday should I choose?
There are thousands to choose from depending on what you want from your holiday, including:
Last-minute getaways
Summer holidays
Beach escapes
Ski resorts
City breaks
All inclusive
Self-catering
What types of holidays are available?
Amongst the types of holiday on the market are:
All-inclusive holidays: These incorporate the majority of services in the price, and may include refreshments, excursions, amenities and activities
Self-catering holidays: This refers to a type of holiday accommodation, such as a cottage, villa or apartment, where the fee is charged for the lodging and you must make your own arrangements for food, activities, etc
Long-haul holidays: Trips to destinations such as Australia, the USA and Canada
Family holidays: Holidays with accommodation suitable for children and that may include arrangements for children's activities
City breaks: Holidays to popular cities such as Prague, Paris, Amsterdam and Madrid
UK breaks: A chance to enjoy the United Kingdom's destinations and sights
What should I consider before booking a holiday?
Amongst the things to take into account are:
Consider all charges and costs including taxes, insurance and other fees
The destination and what you want to do while you're away
Does the location you plan to stay in cater for your needs?
Have you budgeted for all your spending?
How can I get an upgrade?
The obvious answer is to ask - nicely!
What if the holiday firm goes bust?
If the tour operator is a member of ABTA (The Travel Association) then you can expect compensation, while holidays may be covered under the Air Travel Organisers' Licensing (ATOL) scheme.
If you pay between £100 and £30,000 on a credit card you'll be protected under the Consumer Credit Act. Your travel insurance may include cover for failed tour operators, but not all policies offer this - read your terms and conditions.
Any other questions?
See if you can find the answers in our holiday guides.
By Sean Davies