Let's Goa-na holiday! Compare cheap holidays to Goa
Western India, coastline along the Arabian sea, backpackers' hostels, the Shantadurga Temple, Butterfly Beach, seaside resorts and the Tomb of St. Francis Xavier. Any ideas on what we're talking about? Yes – holidays in Goa! We'll just pretend you guessed right, and didn't look at the title…
Key points
The best time to holiday in Goa would be between September to March, after the monsoon ends. If you don't mind the heat and humidity, you might enjoy the hustle and bustle of the busy tourist season in April and May
All-inclusive and package holidays are a popular option. Goa is famous for its beaches so there are plenty of luxury resorts, as well as budget accommodation for backpackers
Book your holiday early to take advantage of savings. You could even save money on a last-minute trip if you like being spontaneous
The biggest attraction in Goa is the 80-mile-long coast, but there's also something to be said about the nature reserves there and the Indian culture and history.  
Perhaps surprisingly, Goa is also a hotspot for nightlife and, as a mostly Christian state, it's a great place to celebrate Christmas. But you'd have to book your holiday early as it's a popular destination for a festive party.   
When's it best to holiday in Goa? 
Goa has three main seasons; the cool season (November to February), summer (March, April, May and October) and the monsoon season (June to September).  
The best time to visit Goa is after the monsoon season ends, as the weather will be cooler between November and March. But try to avoid the peak tourist season (December to January) as holiday prices rise. 
It can get very hot during the summer in Goa, and the weather is also very humid. If this doesn't bother you, then it might be worth looking into visiting during this period, as prices (and the crowds) are fairly low.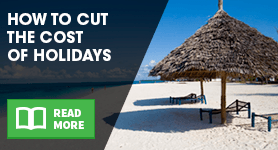 Types of Goa holidays 
The majority of holidays in Goa are package holidays, with all-inclusive board at a luxury beach resort, but there are plenty of backpackers looking for an inexpensive trip too.  
But what kind of Goa holiday do you want? Let's take a look at some of your options.  
All-inclusive holidays 
All-inclusive is a type of board basis, which just indicates what meals will be included in the price of your room.  
Here's a list of the board types you'll commonly come across when comparing Goa holidays, to help you figure out the most suitable option for you: 
All-inclusive – breakfast, lunch and dinner. Can include some drinks and snacks, depending on the hotel. 
Half-board – breakfast and dinner are included. 
Bed and breakfast (B&B) – breakfast only.  
Room only – No meals are included with the cost of your accommodation.  
Generally, the fewer meals you have included in the cost of your room, the cheaper the price will be. You also have more freedom with options like B&B or half-board, as you only need to be at the hotel for breakfast and/or lunch.  
Package holidays to Goa 
A package holiday is made up of your accommodation, flights and – sometimes – your airport transfers or car rental.  
If you'd rather not fiddle about with organising your Goa flights, hotels and airport transfers separately, then consider comparing holidays instead. Package holidays make it easier to keep an eye on the total cost of the holiday and to view your holiday details.  
Did you know...?
Goa has around 7,000 licensed bars! That's quite a lot for India's smallest state
Luxury and budget Goa holidays 
After a bit of luxury on your holiday to Goa? There's lots of four and five star hotels in Goa, mainly concentrated along the coast. Most of these hotels will have facilities like a spa, gym, indoor and outdoor pools and free WiFi, so you can share your holiday snaps easy-peasy.  
Alternatively, cheap accommodation is also available in abundance, again mostly scattered along the coast. Budget-friendly accommodation in Goa ranges from hotels, lodges, guesthouses, hostels and low-cost resorts.  
Things to do in Goa 
There are roughly 30 beaches in Goa for you to choose from. The northern areas are more developed than the south, which means you might be able to snap up a good package holiday deal.  
While it's acceptable to wear a bikini on the beach, topless sunbathing is illegal and it's considered disrespectful to wear skimpy clothing anywhere else. Covering up when you're exploring Goa can also help protect you from overexposure to the sun, and gives you the perfect excuse to show off that new sundress!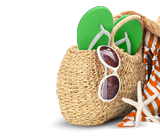 Dolphin spotting, snorkelling, jet-skiing, white-water rafting and kayaking are some of the adventurous water sports on offer in Goa. There's also the traditional banana boat ride available at beaches like Cardolim and Baga.  
Goa has an abundance of wildlife, so you might be interested in talking a walking tour in the jungle, visiting the elephants or a wildlife photography course. There's also a few wildlife sanctuaries for you to get your fix of Goa's flora and fauna.  
For an alternative to your traditional hotel accommodation, you could try some jungle camping for the night in north Goa. 
In terms of getting your party on, Goa's got lots to offer. You could go all out partying at the discos and clubs, have a tipple or two in a pub, relax with a pint at a beach shack or go on a night cruise.  
While you're making merry, you might come across Feni, which is an alcoholic spirit made in Goa. Its alcohol content is pretty high (40-45%) so pace yourself, otherwise you might find yourself twerking on the dancefloor, chundering in the toilets and not remembering a thing the next morning (except for the horribly embarrassing photos your mates took!).  
There's usually lots of celebrations and festivals on between October and February, like Christmas and the annual Goa carnival. You won't be left wanting for shopping destinations either, as Goa has plenty of markets like those in Baga, Anjuna and a Saturday night bazaar in Arpora!  
For some culture and history, you could visit Old Goa, the former capital of Portuguese India. You can see a range of architecture jumbled together, such as the Basilica of Bom Jesus, the Church of St Cajetan and the 16th-17th-century Se Cathedral.  
Some tips on getting your Goa holiday cheaper 
Booking a holiday can be confusing. But now you've read our guide to comparing Goa holidays, you've hopefully gained a bit of a knowledge boost that'll help you pick a trip to suit your needs.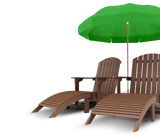 Here's a few tips that could help your budget stretch as far as it can: 
Compare package deals against separate flights and hotels 
Take advantage of early-bird savings or last-minute deals 
Avoid peak travel times and be flexible with your holiday plans  
Our final suggestion is to compare Goa holidays using a comparison site (like us). You could say Goa compare... 
By shopping around you can see what holidays are on offer for the lowest prices, and filter your results by things like star ratings, board basis and budget to find Goa holidays that better suit you. 
With your Goa holiday and travel insurance sorted, all you'll have to worry about is what on earth you're going to pack?!  
By Amy Smith