Who let the dogs out? A holiday in Gran Canaria could provide the long-awaited answer
The 'Great Island of Dogs' is a popular Spanish holiday destination, located off the north-west coast of Africa. Read on to find out all the info we've dug up on holidays to Gran Canaria.
Key points
If possible, holiday in Gran Canaria during school term time, and avoid peak tourist times like school holidays and Christmas
With great weather year round, plenty of hotels and lots of things to do, you'll be spoilt for choice when it comes to comparing holidays in Gran Canaria
Early booking or last-minute deals could save you a bit of money on your Gran Canaria holiday
A variety of beaches, the volcanic landscape, unique flora and fauna and a healing climate are just some of the draws of holidays in Gran Canaria.  
We've got Gran Canaria facts coming out of our ears here at GoCo HQ, so read on to get the low-down on Gran Canaria holidays.  
Holidays to Gran Canaria 
Gran Canaria is the second-most populated island and the third largest in the Canaries.  
There are lots of theories as to where the Canary Islands' name originated, from dogs and birds to North African tribes.  
Wherever the name came from, the Canary Islands have over 12 million visitors a year. The population is only around 2.1 million, which means for every resident, there are 5.7 tourists!  
But what kind of holiday is best in Gran Canaria? Well, it's possible to get your flights, hotel and airport transfers all booked individually, but it can be much more convenient to book a package holiday instead.  
Package holidays to Gran Canaria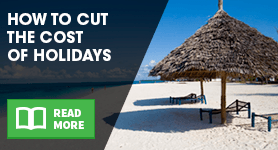 A package holiday combines your flights, accommodation and, usually, your airport transfers into one price. This makes it easy to keep track of your holiday details, and the total cost of the holiday.  
Even though it's easier to book a Gran Canaria package holiday, shop around to find out whether it's cheaper to book your holiday elements separately.  
Board types 
Your board type refers to what kind of meals you want included in the price of your accommodation.  
To figure out which board type suits you best, think about what plans you're likely to have while in Gran Canaria. Whether you plan to spend the day out and about or poolside will have an impact on your meal requirements.  
If you're planning on relaxing by the pool, lounging on the nearby beach or taking advantage of your hotel's facilities, then all-inclusive might suit you best. This board type gets you breakfast, lunch, dinner, and (sometimes) a range of drinks and snacks included in the cost of your accommodation.  
Half-board includes breakfast and an evening meal, but you'll have to pay separately for lunch.  
For more all-day freedom, a bed and breakfast (B&B) board type might suit your plans best. 
Going to be off roaming the island from dawn until dusk? Going for a room-only could save you from wasting money on meals you won't be at your hotel for, while allowing you the freedom to choose when and where you have your meals and drinks.  
Self-catering villas and apartments are also available, if you want to be the master of your meals.  
The rain in Spain falls mainly…  
…in the winter months. June, July and August are mostly rainless, with July, August and September being the hottest months of the year, generally.  
July and August are the busiest times of year in Gran Canaria, as well as December and January. Other busy periods revolve around the school holidays, so if you want to visit Gran Canaria when it's a bit quieter, try to go during term time, around June and September.  
Things to do in Gran Canaria 
Gran Canaria has plenty of top-notch beaches, like Las Canteras and Puerto Rico de Gran Canaria, where you can practice your doggy paddling, have a go at some water sports or work on your tan. For something a little different, check out the Maspalomas dunes – a duned desert-beach by the sea.  
Looking for child-friendly entertainment? There's plenty of boat tours you can take the little tykes on for things like dolphin spotting.  
Did you know...?
The canary bird was named after the Canary Islands, not the other way around
There are plenty of zoos, water parks and entertainment parks around the island, as well as interesting museums, including the science museum in Las Palmas de Gran Canaria, and cave tours.  
For you nature buffs, there's Nublo Rural Park, a Biosphere Reserve and the island's biggest natural zone.  
If you're interested in townscapes, take a trip to Puerto de Mogan, Agaete and Vegueta Old Town to absorb a range of architecture and atmospheres.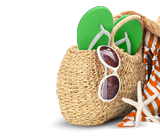 How can you make your Gran Canaria holiday budget stretch? 
It'll come as no surprise to know that we recommend comparing Gran Canaria holidays, to find the one that suits you best, for a (hopefully) cheap price!  
Consider things like board type, star rating and your ideal budget to narrow down your search. And remember that cheapest doesn't always mean best, so shop around to find something that floats your boat.  
Booking early or late could also save you some money on your Gran Canaria holiday, and being flexible with your travel plans allows you to take advantage of off-peak deals. 
By Amy Smith