Don't rely on the luck of the Irish to find a cheap holiday
Are you looking to celebrate St Patrick's Day in style, planning a rugby weekender with your mates, or simply looking to explore some of the coolest tourist attractions within striking distance? Ireland is a fantastic holiday destination to satisfy all manner of taste buds. 
Key points
If you're afraid of flying, ferry crossings are a great alternative
Dublin is a great destination for sports fans and music lovers, the odd stag and hen do, as well as traditional tourists
Northern Ireland is a great holiday destination without the added hassle of leaving the boundaries of the UK
If you're thinking of making the trek across the Irish Sea, you're going to need to mull over just how you're planning to holiday in the Emerald Isle. Luckily, there are a few options to consider. 
Package holidays to Ireland 
While it's easy to look at Ireland as a domestic destination and overlook the package option, there are plenty of package deals available for British tourists that wish to book flights and accommodation together. 
In fact, some package holidays to Ireland can offer serious savings. 
In addition to being convenient, it's not unusual to find great deals on four and five-star hotels this way, with hundreds of pounds shaved off the overall bill. 
Meanwhile, some packages also include free airport transfers and discounts at the hotel restaurants. So it's definitely worth weighing up the package options as well as the individual prices.
Catch a ferry 
If the thought of flying leaves you reaching for your nearest sick bag, fear not – there are other options (provided you don't get seasick as well). 
Ferry holidays to Ireland are a good way to avoid the pitfalls of flying while still getting you from A to B. 
They also give you the option to bring your car with you, giving you far more freedom to explore once you get there. 
A number of train companies also offer 'rail and sail' deals, making holidays to Ireland by ferry both affordable and relatively relaxing. 
Most trains and ferries are animal-friendly too, allowing animal lovers the option to easily take their pets on holiday as well. 
Coach trips to Ireland 
If you don't mind a lengthy journey, coach holidays to Ireland are another great alternative to flying. 
However, the bad news is that even direct trips through the night can take over twelve hours to get there. 
On the plus side, coach journeys can be very economical, and coach providers like National Express often offer attractively low ticket prices. 
Top Ireland holiday destinations 2018 
With so much on offer in Ireland, it's hard to know just where to start. 
If your heart's set on an Irish excursion but you're not sure where to plant your flag, why not consider one of these top picks as your holiday destination this year?
The Republic of Ireland and Dublin 
As Ireland's capital, Dublin is one of the top tourist destinations in the Emerald Isle. 
With literally hundreds upon hundreds of bars to choose from, it's hard not to enjoy yourself in the fun-loving city of Dublin. 
Live music often spills out onto the streets, and the litany of watering holes make this city a firm favourite for stag and hen parties nationwide. 
Dublin is also home to both Croke Park and the Aviva Stadium, making it a common port of call for many sports fans.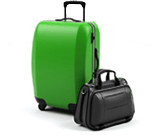 Meanwhile, Slane Castle lies just 30 miles north of the city, and has played host to countless rock legends - including Guns N' Roses, Bon Jovi and, of course, U2. 
For those looking for a bit of Irish culture, Dublin also boasts the legendary Guinness Storehouse – the city's number one tourist attraction – where you can soak up some of the black stuff while also drinking in the city's history at the same time. 
Meanwhile, Dublin Zoo and The National Gallery of Ireland are also on hand, should you fancy something a bit more traditional. 
Northern Ireland and the Giant's Causeway 
While Dublin is often the first choice when considering destinations across the Irish Sea, holidays to Northern Ireland offer enough great attractions to rival its southern counterpart. 
One of the most popular tourist attractions in the north is the Giant's Causeway. 
One of the UK's greatest natural wonders, the Giant's Causeway, is a sight to behold, and is said to be the work of feuding giants
The natural wonder is the result of a volcanic eruption over 65 million years ago. However, the legend of feuding giants constructing the columns is far more intriguing and tourist friendly. 
Regardless of the origins, it's a sight to behold, and is considered to be one of the greatest natural wonders in the UK. 
Similarly, if history is your thing, Belfast is also the birthplace of the legendary Titanic. You can commemorate this feat by visiting Titanic Belfast, and diving into the sunken history of the ill-fated vessel. 
Meanwhile, for the TV addicts, Northern Ireland is home to dozens of Game of Thrones filming locations, including the iconic castle of Winterfell. If you know your Lannisters from your Targaryens, the GoT guided tour is a must. 
Cork and Blarney Castle 
From cathedrals and churches to markets and museums, Cork is a city rich in history and not short on traditional tourist attractions. 
However, Cork also has a unique take on the standard city tour in the form of the Fab Food Trail.† If you have a healthy appetite for a foodie adventure, the FFT is a must. 
If you're looking for something a little more atmospheric, the prison walls of Cork City Gaol make for a memorably eerie experience.
And the visually impressive Blackrock Castle Observatory at Cork Harbour features a number of interactive exhibits, as well as a planetarium and a cinema. 
When it comes to castles, no trip to Cork would be complete without a visit to Blarney Castle - home to the famous Blarney Stone. 
Legend has it that a kiss of the ancient limestone gives the gift of the gab, which - if true - is a pretty cool souvenir to return home with. 
Compare holidays to Ireland 
If you're looking for cheap holidays to Ireland, there's surely a great deal to be found, wherever you decide to go. Shop around, weigh up the options and find what's best for you. 
The versatility of the Emerald Isle makes it the perfect holiday destination, without having to trek across the globe to get there. 
By Martyn Grant