Don't end up somewhere Lanza-grotty, compare holidays to Lanzarote... ¡Salud!
Canary decide where to go on your hols? Then take a look at Lanzarote holidays – compare deals to get a great price.
Key points
Many of the big tour operators offer all-inclusive and package holidays to Lanzarote
Lanzarote may be a package holiday favourite, but more independent travellers are coming to explore the Canary Islands
Playa Blanca is a popular resort with families
There's something for everyone on Lanzarote. The easternmost of the Canary Islands is home to party towns and quiet marinas, crazy volcanoes and beautiful beaches. 
For years Lanzarote has been a top destination for package holidays, and it still does that better than anyone. But now it's becoming a destination for independent travellers too. Many come for the hiking, brilliant wine and spooky landscape of Timanfaya National Park. And of course the year-round warm weather. So whatever you're after, here's our guide to Lanzarote holidays. 
All-inclusive holidays in Lanzarote 
Looking for the ultimate stress-free holiday? Then consider going all-inclusive in Lanzarote. Sort your hotel, flights and transfers, plus your food and drink before you go. All you have to decide then is which sun lounger is best for you!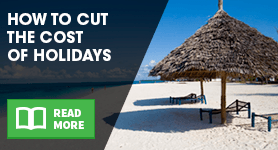 Lanzarote has many options when it comes to all-inclusive resorts. Playa Blanca on the south coast is a very popular resort with families and couples looking for a relaxing time. Consider Iberostar Lanzarote Park, Gran Castillo Tagoro Family & Fun and Princesa Yaiza Suite Hotel Resort.  
Wherever you choose to go in the Canary Islands, always compare first to see what savings you could make. 
Package holidays to Lanzarote 
Looking to see a bit more of the island or trying the local cuisine? Then maybe a package holiday would suit you more. Combine the convenience of sorting your flights and hotel with the freedom to explore Lanzarote. 
There's plenty of places to stay on a package holiday in Lanzarote. If you're looking to party then Puerto del Carmen might be for you. While the Old Town retains its traditional Canarian charm, the New Town or 'The Strip' is precision engineered for hedonism. If 'sun, dance, sleep, repeat' is your mantra then look at Gloria Izaro Club Hotel, Aqua Suites Boutique Hotel and Hipotels La Geria.  
Compare what's available with a simple search and find your perfect Lanzarote package holiday.  
Villa holidays in Lanzarote  
Looking to escape the crowds and do things on your own time? Then explore Lanzarote villa holidays. You'll find villas and villa resorts dotted all around the island. Some are in or close to the big resorts such as Costa Teguise, Playa Blanca, and Puerto Del Carmen. Others offer an authentic Canarian experience on the quieter costas or inland. 
Whatever you're after from a villa holiday, comparing first can help you save some euros for the sangria and San Miguel.
How to find cheap holidays to Lanzarote 
If you're looking to save money on a package holiday to Lanzarote then there's a few things you can try:  
Book well in advance - if you have the option, try to book up to a year ahead 
Prices tend to increase the closer it gets to holiday time... But they can also drop at the last minute - if you're flexible with where you go it can be a good way to save 
Avoid the peak times if possible - in Lanzarote these are Easter, July, August and December. 
Do your research and see if you can haggle 
Sign up for alerts and newsletters for cheap Lanzarote holidays offers 
Always try and shop around and compare prices with a comparison site. Like us! 
By Sam Easterbrook