Learn all about Lloret de Mar holidays
Do you daydream about lazing the days away under a parasol on a Blue Flag beach? Or maybe you'd prefer to soak up some Mediterranean culture? Have a read about Lloret de Mar holidays and see if it floats your boat.
Key points
Lloret de Mar is a coastal town in Spain, popular for its Blue Flag beaches and cultural and historical sites
You can get cheap holidays to Lloret de Mar and potentially knock the price down further by avoiding peak travel times, and keeping an eye out for early or last-minute deals
Aside from the beaches, there's lots of nature walks, gardens, parks and cultural architecture for you to enjoy in Lloret de Mar
Lloret de Mar is a coastal town in Catalonia, Spain, famed for its Blue Flag beaches, Fisherman's Wife Monument, Santa Clotilde Gardens and Iglesia de Sant Roma.  
It has a warm to mild climate year-round, making it a great destination for some winter sun. The warm season runs from June to September, with July and August being the warmest months of the year.  
The colder season is between November to March, and there are two main peaks in rainfall: April to May, and October to November.  
June and October are the best times to visit before the crowds descend, but if you want the full blast of Mediterranean heat, then you'll have to brave the crowds of summer.  
Lloret de Mar holidays 
Lloret de Mar's first overseas tourists popped over around 1950, after it had been serving as a host to high society families from Barcelona seeking a peaceful beach holiday.  
The town was gradually converted into a popular tourist destination in the decades since. And with clean, sandy beaches, lots of restaurants, cafes, bars and clubs and plenty of cultural architecture and natural beauty, it's no wonder people want to holiday here!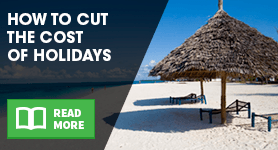 But what kind of Lloret de Mar holidays can you get? Let's take a look.  
Cheap holidays to Lloret de Mar 
Who doesn't want to get their holidays cheaper? Booking a holiday can be a bit confusing, but by sticking with GoCo (and using our comparison service, *wink*) you'll have the edge on your fellow tourists.  
Here's a few more tips to help you get cheap holidays to Lloret de Mar: 
Compare package deals against separate flights and hotels 
Take advantage of early-bird savings or last-minute deals 
Avoid peak travel times and be flexible with your holiday plans  
Lots of travel agents, like Jet2.com, TUI, Thomas Cook and easyJet offer cheap holidays to Lloret de Mar... so shop around and compare to make sure you're getting a great deal.    
Package holidays to Lloret de Mar 
A package holiday is made up of your accommodation, board type, flights and – sometimes – your airport transfers or car rental.  
You may have seen the term 'all-inclusive holidays' floating about. Well, all it means is that you get breakfast, lunch and dinner included in the cost of your accommodation (or package holiday).  
To make organising your Lloret de Mar flights, hotels and airport transfers easier, consider comparing package holidays instead. Package holidays make it easier to keep an eye on the total cost of your Lloret de Mar holiday and to view your holiday details.  
Did you know...?
Lloret de Mar is a popular base for Formula 1 fans travelling to Catalonia to see the Circuit de Barcelona-Catalunya. There's even a Lloret Formula Weekend festival to celebrate the F1 Grand Prix!
Lloret de Mar all-inclusive holidays 
It's one of five main board types you can get. The other four board types are:  
Half-board – You get breakfast and an evening meal  
B&B – Bed and breakfast  
Room-only – No meals are included in the cost of your accommodation  
Self-catering – Your room will come with kitchen facilities for you to cook your own meals  
All-inclusive holidays to Lloret de Mar may be the most expensive, but they're pretty handy if you don't plan on straying too far from your hotel.  
For more dining flexibility, half-board or B&B might be your best bet, as you can get lunch and/or dinner at your leisure, rather than having to be at your hotel at a designated time.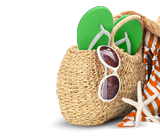 Room-only and self-catering offer the greatest freedom, as you have to organise and pay for your meals separately. This could work out cheaper, depending on the cost and availability of local cafes, restaurants and supermarkets.  
Life's a beach in Lloret de Mar
Yep, like most destinations on the Costa Brava, Lloret de Mar has a fabulous range of beaches to choose from.  
Lloret beach is the largest and most popular, with coarse white-gold sand and plenty of water sports to enjoy, like parasailing, jet skiing, snorkelling and kayaking.  
Fenals is the second-largest beach. It's located in a sheltered bay, and the waters are usually calm and clear.  
If you want to relax on the beach in your birthday suit, Sa Boadella is a peaceful nudist beach, surrounded by thick pine forests.  
When leaving the beach, make sure you're appropriately covered up, as wearing a swimming costume anywhere other than around the beach is prohibited.  
There are lots of festivals and events in Lloret de Mar, like Carnival, Rally Costa Brava, Americanos Fair and Saint Romanus Town Festival.  
The Santa Clotilde Gardens are a vibrant natural space for relaxing and provide great scenery for a leisurely stroll.  
For more unspoiled nature, Lloret de Mar has lots of footpaths and signposted walks for you to try.  
In terms of nightlife, Lloret de Mar is no slouch. There are plenty of bars and nightclubs for you to dance the night away in.  
There's various cultural places to visit, like Chapel of Santa Cristina, Angel Monument, Monument to Fisherman's Wife, Castle of Sant Joan, Church of Sant Roma, the Modernist Cemetery and Iberian settlements.  
So, dust off your flip-flops, grab your sun hat and prepare yourself for plenty of mojitos – get comparing holidays to Lloret de Mar to find a deal to suit your needs and budget!  
By Amy Smith