Learn when and how to book and much more in our top tips for getting the most from your holiday budget.
Top tips
Compare package deals against separate flight and hotel options doing as much research as possible, as early as possible
Haggle with tour operators to get the best price
Book sundries such as airport parking and extra baggage in advance
Booking a holiday nowadays can feel like a momentous task, with thousands of websites offering what seem like fantastic deals, and tour operators jostling for attention with special prices and offers.
Nonetheless, it's easy to end up paying over the odds, and most people are already working to a tight budget. Here's how to make it go further…
The early bird (may) catch the worm
For the very best deals, consider booking as far in advance as possible – according to travel agency Trailfinders, the cheapest time to book is 11 months before you travel.
Of course, that's probably a little too far in advance for most people, but there are still good deals to be had closer to departure.
That said, hotels, airlines and tour operators are getting better at gauging uptake, so prices tend to rise nearer to the time.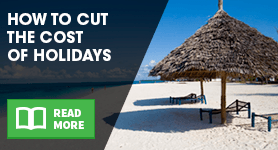 This means astoundingly cheap last-minute deals are a lot rarer than they used to be.
However, if you can be completely flexible with your dates and destination, it's still possible to find a bargain if you have nerves of steel and can wait until the last possible moment before booking.
During the school holidays
If you're bound by school holiday dates, the last week of August and first week of September are usually the cheapest for holidays during the period, although many families opt to wait until the October half-term break for a week away, beating the crowds and securing cheaper deals.
Haggle
It's unlikely you'll be able to haggle down the price of a holiday straight off the bat, but if you do a little research and can show a potential tour operator that you can find the same deal elsewhere for a better price, there's room for negotiation.
If they can't beat the deal, they might offer extras which represent greater overall value, such as free meals for kids or discounted airport parking.
You can't haggle online, though, so be prepared to pick up the phone or visit a travel agent in person.
Package deal or hotel + flight?
Package deals can appear incredibly convenient for holidaymakers, with just the single booking needed.
When it comes to family holidays and breaks in well-known resorts, a package deal may represent good value for money.
However, it's always worth checking to see how much you'd pay if you booked your accommodation and travel separately – particularly if you're going to a more unusual location or you're taking a city break.
Build your own break
If you go down the DIY holiday route, there are several tricks you can roll out to help bring costs down.
When it comes to flights, avoid flying on or around weekends if possible, as airlines tend to hike prices for businesses travellers and those taking long weekend breaks.
Tuesdays and Wednesdays are generally thought to be the cheapest options.
If you're flying long haul, consider an indirect flight, which could shave as much as 20% off the cost – although this will require some research.
If you like a gamble, it's worth checking out hotel bidding sites
It's also generally accepted that booking between three and five weeks ahead of departure yields the best fare offers.
When it comes to accommodation, it pays to contact hotels and resorts directly to see what they can offer or, if you're prepared to wing it, wait until the last possible moment before making a booking, when they'll be desperate to shift empty beds.
If you like a gamble, it's worth checking out hotel bidding sites, where you can bid on a room at whatever price you fancy.
If the hotel has the space, they'll accept your bid and you could save up to 60% on standard advertised rates (after all, they'd rather take some money than no money).
Other sites may offer 'secret hotels' for heavily discounted rates – but you won't know exactly what you're getting until you've booked it.
Pre-book airport extras
Extra baggage, airport transfers and airport parking can eat up a large chunk of your holiday budget if you wait until you get to the airport to book – take care of these things well in advance.
Extra baggage on the day can cost twice as much as it would if you bought it online, and airport parking firms tend to reserve their best deals up until 24 hours before booking.
Pre-booking an airport transfer could save time as well as money, as you won't need to search for a potentially costly taxi to your hotel.
Sign up to travel newsletters
Sign up for email newsletters from airlines, tour operators and travel websites.
See also:
They'll often alert you to sales and deals before general release, as well as highlighting their best offers, which could cut down the amount of time spent searching online.
Save money while you're away
Even after your holiday has been booked it's easy to keep spending unnecessarily.
Check out our guides to using your phone overseas and avoiding credit card charges abroad in order to spend less time paying and more time playing!
By Rachel England
[SeanSocialShare]