Compare cheap holiday deals to Mykonos
Dance from dusk 'til dawn, relax on the beach or take a tour around some of Mykonos' iconic landmarks. Compare holidays to Mykonos and save time and money!
Key points
You can get cheap holidays in Mykonos by using a comparison site like us, being flexible with your travel dates, looking out for early and late booking deals, and comparing travel insurance – just in case things don't go to plan
All-inclusive holidays to Mykonos are widely available, but they're only worth the money if you plan on staying near your hotel all holiday, so you don't miss meals. Half-board, B&B, room-only and self-catering are other options that offer more flexibility
Mykonos package holidays are a convenient way of keeping track of the details and price of your Mykonos holiday, and they tend to be cheaper than booking your flights and hotel separately. But double-check when you're comparing holidays in Mykonos, just to be sure
Mykonos is part of the Cyclades, a Greek island group that can be found in the Aegean Sea.  
Lots of tourists flock to Mykonos for a whole host of reasons, but the ones with the biggest smiles will probably have saved time and money by using a site like us to compare Mykonos holidays.  
Mykonos is a paradise for all types of holiday-goers, with traditional blue and white Stucco houses, lots of white sand beaches and its superclubs, which attract DJs like nectar attracts bees.  
There's also a huge library, an archaeological museum, maritime museum, folklore museum and an agricultural museum, as well as other cultural and historical landmarks dotted around.  
Sound great? So, how can you get your holiday to Mykonos cheaper? Well…  
Cheap holidays in Mykonos 
Our number-one top tip for getting cheap Mykonos holidays is to GoCompare! By comparing holidays to Mykonos, you can view the cheapest holidays that suit your needs, by filtering the results by things like budget, star rating and board type.  
Try to be flexible with your travel dates, as holidaying during the low-season could save you money on your flights and hotel room.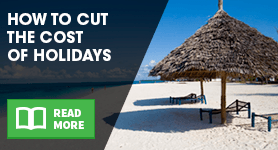 You might also be able to save yourself a few quid by booking an early-bird or last-minute holiday to Mykonos. If hotels and airlines have spare rooms and seats left over, they might reduce their prices because a little money is better than empty rooms and seats.  
Don't forget your travel insurance! If things go wrong, you'll have peace of mind knowing that your travel insurance is there to help you out and you won't have to splash out loads of cash. 
All-inclusive Mykonos holidays 
When you're comparing Mykonos holidays, you'll notice that most hotels offer various board types. All a board type refers to is what meals will be included in the cost of your accommodation.  
With all-inclusive, you get breakfast, lunch and dinner included in the room price. Half-board gets you breakfast and an evening meal while bed and breakfast (B&B) and room-only are self-explanatory. 
Self-catering is another board type you might come across. You'll get a room with kitchen facilities that you can use to make your own meals.  
When it comes to choosing your board type, consider what your holiday plans are. If you plan to be out and about, then all-inclusive might be a waste of money... But if you're going to be poolside all day, then it might be a great option.  
Did you know...?
The island is said to be the location of a huge bust-up between Zeus and the Titans, and where Hercules killed the invincible giants
Mykonos package holidays 
A package holiday is a convenient way to keep track of the total cost of your trip and your Mykonos holiday details. 
Your flights, accommodation and sometimes even your airport transfers are combined into one price, so you can easily see the full cost. 
It tends to be a bit cheaper when you book a package holiday, but shop around to see what works out best for your budget and your circumstances.  
Luxury holidays to Mykonos 
A Mykonos luxury holiday needn't cost the earth, but there's no sugar coating the fact that a five-star hotel will probably cost a lot more than a budget-friendly hostel.  
There are lots of opulent hotels and resorts in Mykonos, whether you're after a romantic getaway or a posh pad suitable for the kids.  
If you're travelling in style with a large group of family or friends, it might be more cost-effective to split the price of a villa between you, rather than individually paying for five-star indulgent rooms.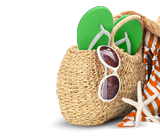 Weather and when to holiday in Mykonos 
Mykonos has a Mediterranean climate, meaning it's warm year-round. It's also usually windy, due to it being an island.  
For the best party experience, the warmest sea temperatures and weather, the best time to visit Mykonos is during the summer (May to September).  
If you can't stand the heat, plan your Mykonos holiday for autumn or spring. April and October are fairly quiet and still have warm weather and minimal rainfall. November tends to be the wettest month out of the year in Mykonos.  
What can you do in Mykonos?  
With about 800 churches, 100 bars and only 31 taxis total, there's lots to get stuck in to in Mykonos, provided you can get around. You'll also find lots of museums, cafes and restaurants.  
In terms of beaches, for water sports aplenty and a party on the sand, check out Paradise beach, or Super Paradise beach for the LGBTQ+ sunbathing scene.   
Psarou is a family-friendly, well protected beach, and Kalafatis is a great spot for scuba diving as it's got a reef along its length.  
Agios Sostis, Fokos and Kalo Livadi beach are also picturesque, but Elia beach, while beautiful with its white sand and blue sea, can be very busy in the peak season. 
For non-beach-related merriment, the famous windmills of Mykonos are worth a visit, along with the nearby Little Venice – so named because of its waterfront buildings, with balconies jutting out over the sea, like in Venice, Italy.  
Plenty of day trips are available, such as the Ancient Delos tour, south coast cruise and city and island tour.   
After exploring the island or taking it easy during the day, get your party on at the pubs and clubs like Club Paradise, Tropicana beach bar, Tru Paradise, Cavo Paradiso and Super Paradise Club.  
Before you reluctantly trudge back to Mykonos Airport, maybe you could treat yourself to an 'I love Mykonos' keyring using the money you saved by comparing Mykonos holidays with us. Or maybe not…  
By Amy Smith