Take a bite out of The Big Apple with GoCompare
With a never-ending list of things to see and do, holidays in New York are almost beyond compare... almost.
Key points
If you're travelling to New York, you'll need to apply for an ESTA before you go. Otherwise you may not be granted access to the US
Booking up very early or very late can result in a steal on the standard rate of your holiday
A quick comparison can help you find some great prices available in an instant, while also highlighting additional options you may not have considered
There's a reason they call New York 'The City That Never Sleeps' - there's so much to do at all hours of the day that you'll struggle to fit even a fraction into your holiday. From Central Park and Times Square to the Empire State Building and the Statue of Liberty, New York is laced with iconic sights around every turn. 
So pull on your 'I ♥ NY' tee, pour yourself a cup of Joe and get in that New York state of mind - we're heading to Empire City. 
About New York
From the yellow cabs to hot dog stands, New York is overflowing with trademark sights, sounds and scents, not to mention the wealth of flavours at your fingertips. However, before you begin salivating over the thought of all the pretzels and pizzas that await, there are a few things worth knowing prior to touchdown. 
If you want to travel to anywhere in the US, you're going to need to apply for an ESTA (Electronic System for Travel Authorisation). For NYC-bound Brits this is a must, and application can be made directly via Homeland Security's official ESTA website.† A successful application grants you entry to the country for trips of 90 days or less and negates the need for a US visa.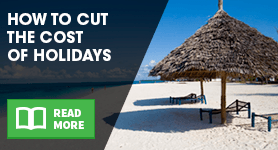 Tipping is also customary, so it's worth keeping a few extra dollars in your wallet/purse at all times. As a rule of thumb, the New York Times recommends tipping a dollar a drink at a bar; $2 a day for hotel maids; a dollar or two per bag for bellhops; and a 15-20% tip for waiters and cab drivers. 
On the subject of taxi cabs, there's a lot more to the art of hailing a cab than the movies would suggest. To avoid aimlessly waving around jazz hands like a sidewalk audition for Broadway, make sure the cab is free and available before you attempt to flag it down. If the centre light highlighting the cab number is lit, hail away. If the 'OFF DUTY' sign is on or no lights are lit at all, the cab isn't in service or it's occupied. 
It's also worth avoiding cabs during rush hour. There's a reason for the phrase 'New York minute', and traffic during rush hour can be frantic at worst and hectic at best. As such, it may be wise to leave the cabs to the locals during this time and explore the subway instead. The subway lines are well linked across the city (with 722 miles of track, no less) and a great alternative way to get around. 
Things to do in New York 
Over the years, New York has been described as both 'The Capital of the World' and 'The Centre of the Universe'. As such, it should be no surprise that there's a lot more to New York than just traffic, coffee and bagels. 
New York is a melting pot of diversity, with a wide range of people and ethnicities residing within. The restaurants reflect this with a myriad of flavours available throughout the city. From the authentic Asian delights of Jing Fong in Chinatown to the kosher dishes of Jewish-run deli, Katz Delicatessen (famously the setting for that memorable scene from When Harry Met Sally), the sheer variety of food on offer from one street to the next is enough to satiate the fussiest of palates. 
Better still, the nightlife is just as lively, with everything from jazz spots and dive bars to improv comedy clubs and movie theatres – and EVERYTHING in-between. 
Did you know...?
The original Woodstock in 1969 was actually held in New York, taking place on a 60-acre dairy farm in the town of Bethel, 80 miles from Manhattan. The legendary festival lasted four days, from 15 August to 18 August, and saw music icons such as Jimi Hendrix, Santana and The Who perform in front of over 400,000 people.
Meanwhile, if entertainment is high on your list of priorities, why not take in a live show from one of the many venues in the city? The bright lights of Broadway runs musicals and stage shows seven days a week, while the legendary Madison Square Garden hosts over 320 shows a year, with regular events on a weekly basis – ranging from musicians, comedians and pro wrestling to boxing, basketball and ice hockey. 
No trip to New York would be complete without a visit to The Statue of Liberty. One of the most recognisable landmarks on the planet, the towering sculpture stands 93 metres tall and attracts around 3.5 million visitors a year. Adults tickets will set you back around $25 ($16 for kids) - which includes a ferry to Liberty Island and Ellis Island - while access inside the statue, up into the head will cost extra. 
If you're looking for something a little lighter on the wallet, the Brooklyn Bridge is also somewhat of an overlooked tourist attraction. Completed in 1883, the bridge links Brooklyn to Manhattan and features an elevated pedestrian walkway for visitors. Better still, it also offers great views of the Statue of Liberty as well and makes for a memorable, scenic walk to break up the day.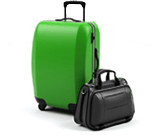 New York is also, of course, home to the sombre space once graced by The World Trade Center. Re-christened Ground Zero, the land now hosts a tribute to those lost in the devastating attacks, featuring twin reflecting pools lined with the names of the victims engraved in bronze. While undoubtedly an emotionally charged visit for any tourist, it's a must for anyone who wants to pay their respects.
If you're still hungry for more New York sights and delights, there's plenty more on offer to keep you busy from touchdown to take-off, from the Empire State Building and the NY Botanical Garden to the Bronx Zoo and Shakespeare in the Park. And we haven't even scratched the surface on Christmas holidays in New York (NYE in NYC anyone?)! 
With all this and much, MUCH more, the only thing you won't find in New York is boredom. 
Where can I find the cheapest holidays to New York? 
Holidays in New York can be pricey if you don't keep your wits about you while you're away. A simple taxi ride from the airport to Manhattan can cost well over $50 on its own! However, that doesn't mean that budget holidays to New York are an impossibility. If you're savvy during the initial booking process, there's plenty of simple tricks that can help you offset some of that expense and bulk out your spending money nicely in the process.
See also:
Flights to New York
New York airport transfers
Like many things in life, timing is everything when it comes to booking your holiday. If you know when and where you want to go, an early-bird booking can often translate into an early-bird discount on the overall cost. Advanced holidays are commonly cheaper than those made later on. What's more, it gives you peace of mind knowing your holiday is signed off and good to go, while allowing you longer to get your finances in order for the trip itself. It really does pay to be organised, so the earlier you book, the better. 
Having said that, last-minute holidays to New York can also be a real steal, if available. Travel agents often begin cutting their holiday prices as a means of filling unsold slots and aren't afraid to channel their inner Edward Scissorhands the nearer it gets to a date. An off-the-cuff booking late in the day could see you jetting off to NYC for a bargain price. However, this route isn't without risk, as there's no guarantee that flights and hotels will be available. Nevertheless, it's a great option for those seeking a spontaneous getaway. 
Meanwhile, package holidays to New York can work out cheaper than booking up each element individually. Travel agents often buy rooms and flights in bulk, which translates into lower rates for them and lower rates for you. What's more, travel agents are also privy to industry offers that aren't publicly available. They can also be catered towards those with children, which can be pretty handy if you're seeking family holidays to New York. 
In addition to cheap package holidays to New York, another potential money-saver is the almighty all-inclusive route. While this may seem more expensive initially, all-inclusive holidays to New York could prove to be a valuable investment, particularly if you plan on overindulging and spending a lot of time within the confines of your hotel. 
Lastly, but not... leastly... one of the quickest and easiest ways to cut the cost of your holiday is to do a simple search with GoCompare. A few taps of the keyboard or screen can help you compare holidays to New York in seconds, highlighting some hopefully bargainacious New York holidays. So, go on - whaddaya waidin fowah? Get outta heeyuh! 
By Martyn Grant