Enjoy cheap holidays to Santorini with GoCompare
Make sure you have a good camera, because it's going to get a lot of use in your wonderful holiday in Santorini.
Key points
When booking your holiday to Santorini, research and compare to see if a package holiday works out cheaper than booking everything individually
Santorini has plenty of beaches on which to soak up the sun, but also hosts a range of other activities and entertainments
If it's a cheap holiday you're after, it's wise to book up well in advance
Home of the blue-domed houses, the Red Beach and famously beautiful sunsets, Santorini is a colourful island resort in Greece. It's an ideal holiday location, and receives hordes of keen tourists every year. Fancy a trip?  
Holidays in Santorini 
Santorini is world-famous as coastal eye candy, and the torrent of holidaymakers who visit tend to make the most of that. With spectacular views out over the waters of the Aegean Sea, its gorgeous architecture and fabulous sunsets make it a prime destination for honeymooners. 
There are wonderful beaches too, but there's so much more than sea and sand to make Santorini a great holiday choice. From its tomato museum to the ancient ruins, Santorini has plenty to offer for tourists of all stripes.  
Cheap holidays to Santorini 
Getting a cheap holiday to Santorini doesn't have to be too difficult. For example, combining the cost of the flight and the accommodation into a package holiday could make for a cheaper experience than booking everything individually.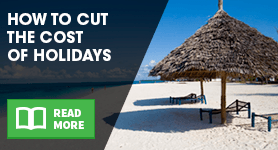 If booked far enough ahead, a week's stay for two in Perissa could be as little as £880 for room-only accommodation and flights. The key point there being how far ahead it's been booked. A good rule of thumb for a cheap holiday is to book it as far in advance as possible. 
Just as important as when you book your holiday is what board type you want and where you choose to stay. Room-only and bed and breakfast (B&B) are your best bets for keeping your accommodation costs down. That said, a bed-and-breakfast in Santorini might be more expensive upfront than a room-only resort. To give you a rough idea, seven nights in the 9 Muses resort for two people could be as much as £530 per person including flights.  
Self-catering is worth looking into if you're a budding chef, as you'll be given cooking facilities (though not necessarily all the ingredients for an attempt at the local cuisine).  
Other board types include full board, where all the meals are included in your room price, or half board, which adds dinner on top of breakfast. 
Arguably the most cost-effective board type is all-inclusive. As the name suggests, everything's included: all your meals, all your drinks, poolside snacks, and even some entertainments in certain resorts. Upfront this can present quite a high price, but if all you want is mezze by the pool before you enjoy some banging cocktails in the hotel bar, this is the one for you.  
There are several all-inclusive resorts in Santorini, such as the Mediterranean White. A 5-star hotel, it'll come with a 5-star price tag of about £100 per person per night. But, when you're relaxing by a luxurious pool or on a private beach with free drinks whenever you want them, that's the least of your concerns!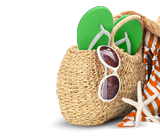 The only issue with all-inclusive resorts is that you may feel restricted to staying in your hotel. You are of course free to do as you please, but if you've bought all your meals ahead of time, buying one while out and about may feel superfluous. 
So, if you'd prefer complete independence, you might do well to book both flights and accommodation separately. Taking a bed and breakfast will save trying to find a good café while you've got a post-ouzo head on, but finding your own flights could get you some very cheap ones if you're savvy in your search. 
Things to do in Santorini 
Santorini has been battered into shape by several volcanic eruptions, the most recent of which is credited with inspiring the legend of the lost city of Atlantis. The natural landscape this has sculpted is one of beautiful marine seascapes, towering cliffs, and colourful beaches – the Black Beach on the east coast and the Red Beach on the south coast are both volcanic products. So, if you want to work on your tan and enjoy some vitamin D, you've plenty of interesting beaches to choose from.  
But if that's not enough for you, there's plenty of other activities to enjoy as well. You could check out the ancient history of the island in the Museum of Prehistoric Thera, which features a range of finds from a pure gold ibex figurine to fossilised olive tree leaves.  
See also:
Flights to Santorini
Flights to Greece
For a more modern approach to Santorinian history, you could visit the Cultural Village and explore the traditional way of life. The venue's rooms all show off different aspects of old Santorini, with a particularly notable gallery of photographs taken before the 1956 earthquake.  
If unusual museums are your thing, you could also check out the Tomato Industrial Museum. Part of the Santorini Arts Factory, it explores the history of the cultivation of the cherry tomato and its associated tomato paste. We only said it was an unusual museum, not necessarily an interesting one… 
For those who like a tipple or two or three, there's a slightly kitsch wine museum at the Koutsoyannopoulos Winery. You can explore the process of wine making, and you can even join in on the grape-stomping process (that's the technical name, we promise!). Best of all, the price of admission covers a session of wine tasting. Cheers!  
Top tips for a cheap holiday in Santorini 
Ultimately, the best way of finding a cheap holiday in the sun is to compare all the varieties on offer. 
Feeling daunted by the challenge? Spoilt for choice? Well, that's where we come in. We can help you compare holidays by board type, location, amenities and more. 
So what are you waiting for? 
By Nick Dunn